The breadth of our IPTV solutions is matched only by our ability to tailor them to your unique needs. Offerings include:
FULL HEADENDS
As the leading integrator of full video headends in the telecommunications industry, we enable customers to use existing fiber and/or DSL lines to gain full IPTV capabilities. For optimal control, these networks require the lowest bit rates (MPEG-4 SD and HD) to run over their networks, and our full headends can include MPEG-4-AVC or hybrid MPEG-2/MPEG-4 content.
TRANSPORT HEADENDS
For companies that want a competitive video offering with lower capital expense than a full or hybrid headend, our transport headends provide an optimal solution that includes local channels, middleware and encryption. We also work with transport aggregators to deliver content at the lowest cost.
VIDEO-ON-DEMAND
One of the largest growth areas for telecommunications companies, Video-on-Demand can be a powerful differentiator in a competitive market. It allows customers the opportunity to rent movies without leaving their home, and can be offered Free on Demand or as Subscription on Demand. AVI works with aggregators to provide easy, economical access to this service for our customers.
VIDEO STREAMING FOR OTT
We help a wide range of customers leverage inexpensive video streaming to grow their broadband revenue. This service enables telecommunications providers to retain and/or upgrade subscribers that can't get video services currently. In addition to being an attractive alternative for subscribers who do not want to pay for a premium package, it can be a powerful tool to upsell broadband.
The diagram below shows how our adaptive multiscreen streaming solutions provide an alternative, cost-effective solution for streaming media: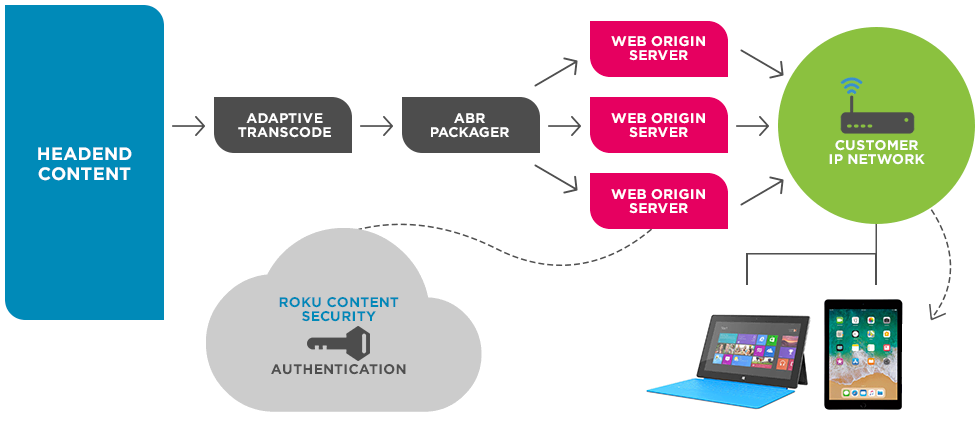 Headend content is transported into the ABR domain in traditional IP Multicast traffic. Content can be in MPEG 2/4 standard format.
The Adaptive Transcoder will take the IPTV content and convert the MPEG traffic into multiple IPv4 unicast streams. Each stream is compressed into different bandwidth packages for ease of delivery across various access networks.
The ABR Packager ingests the multiple bandwidth profiles and converts the streams into a particular format for the end users' media player. Common service types are HLS (Apple), RTMP (Adobe Flash) and Smooth Streaming (Microsoft)
The Web Origin Servers receive the content that is converted from the Transcoder/Packager and store the files directly within the web directory. The servers interact directly with the end users' requests for content and provide quick delivery of streaming media.
Pre-packaged and customized OTT-specific marketing packages are available as part of an integrated package that includes promotion, bundling and rollout (see Marketing Services).
CAMPUS VIDEO/IPTV
The delivery of multiscreen video is fast becoming a necessity for college campuses. With campus video, you can offer multiscreen IPTV to tablets, TVs, smartphones and laptops anywhere on a campus network and benefit from built-in DVR capabilities. You can be up and running in under 60 days, delivering multiscreen to IOS, Android, Roku, Apple and Chromecast TV.
NETWORK MONITORING
Our Network Monitoring Services (NMS) are based out of a Network Operations Center (NOC), staffed 24/7/365. Built for automated notifications of equipment warnings and failures that have the potential for service outages, NMS is an efficient, cost-effective way to monitor equipment from a remote location, freeing customers from having to dedicate their own operational resources to monitoring. Features include:
Automated alerts and notifications of equipment failure, outages and alarms
24/7/365 system monitoring
Elimination of monitoring hardware and maintenance costs in the system
Multiple tiers of service to suit many budgets
System library and capabilities span multiple markets and equipment manufacturers
MARKETING SERVICES
In addition to providing technical deployments of video, ongoing service and upgrades, we also offer a range of marketing packages and support. Offerings include flyers, postcards, web banners, billboards, window coverings, bill inserts, eblasts, branding stickers and more.