Video is rapidly becoming the communication medium of choice in many organizations because of its effectiveness in informing and engaging employees, customers, partners, and vendors.
The recent State of Video in the Enterprise report found that 98 percent of employees surveyed believe improved communication is the primary reason video use is increasing. The downside of video has always been the expense associated with maintaining enough bandwidth to provide a quality experience.
In this second blog of our Internet Protocol Television (IPTV) series, we'll discuss how businesses are using IPTV to reduce costs, provide better user access management, and improve video quality IPTV.
As we discussed in the first blog in the series, IPTV enables three types of content delivery: live streaming, video-on-demand, and time-shifted or delayed video. This technology has become ubiquitous in the consumer world thanks to content providers like Hulu, Netflix, and Amazon. Today the business world is finding many beneficial use cases for live and on-demand video with employee training and corporate communications topping the charts.
In this blog, we'll take a closer look at four reasons IPTV makes sense for business.
Stream Television or Company Video in Lobbies
Use IPTV to distribute digital content across your IP network. Whether it's a corporate lobby or a hospital waiting room, you can stream live TV or company videos to visitors while they wait. Not only does access to TV and streaming content improve the visitor's experience, but it can also promote company messages, the latest news, or unique offers as well. The versatility of IPTV means that you aren't limited to accessing content through installed displays or smart TVs—you use desktop computers and mobile devices as well.
You can also use IPTV in airports to display information about airlines, flight details, and many other types of video. Businesses can also install these systems for hotel lobbies, student centers, and corporate cafeterias, among many other areas where employees or others are frequently present. Doing so will make the most of your business's communication capabilities.
In short, wherever there's a smart TV, display with a set-top device, or internet access for computers or mobile devices, you can access content distributed through an IPTV system.
---
Related Video
---
Improve Training Employee Programs
If you want to make sure it's easy for employees to access learning videos or compliance training, an IPTV content distribution solution is ideal. Employees can access on-demand training videos anytime or tune into live training sessions for a more engaging and interactive experience.
According to the same enterprise video report, 89 percent of large enterprises and 69 percent of smaller companies use video for training purposes, making it one of the top use cases. Another advantage of streaming video over the IP network with IPTV is how easy it is to monitor activity and control who sees what.
IPTV Use for Digital Signage
Another great way to engage employees is through the implementation of digital signage in the workplace, and as businesses make the switch to more IP-based solutions, it makes sense IT personnel are opting for digital signage.
Digital signage can allow businesses to spread any kind of information through the network, effectively communicating with employees at any time. You can also use such signage to contribute to branding efforts by displaying your company name in locations such as lobbies where visitors are more likely to see them.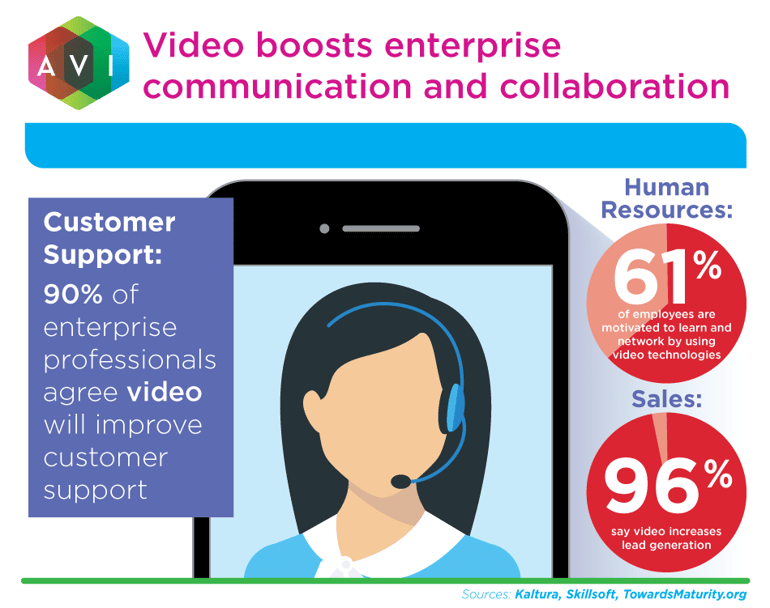 Add More Security to Your Systems
Security is a top priority for businesses today, as hacking and other security risks continue to develop. Many of the biggest security threats tend to come from the employees themselves, as people are more likely to take vital documents and information without a specific policy in place to prevent this.
Through the installation of an IPTV system, you can maximize your company's security by ensuring all content is unable to be copied and distributed without the proper authorization. You can simply set up a user or group authentication process that makes sure your content is only visible to those who have permission to access it. This is specifically done through AES encryption that effectively locks your content to outsiders.
Learn More
Whether you want to use IPTV for training, digital signage, company-wide live video presentations, or all of these, it can be so valuable to your business. You'll have full control over your systems to broadcast many types of videos or messages throughout your facilities, enhancing employee and customer communication.

To learn more about how IPTV can help you with your content production and broadcasting, read this case study and see how Midco saved on video production costs.