Editor's Note: AVI Systems updated this blog post on Jan. 25, 2021, to provide further clarity and insight into the changes to wireless microphone regulations.
You might not be in the audio industry, but every industry uses audio solutions and that means the FCC's changes to the bandwidth available for wireless microphones can impact everyone.
Wireless microphones transmit sound to speakers, amplifiers and recording devices without a cable connection. Their uses include broadcast media, music venues, corporate events, and more. Wireless microphones can include hand-held or body-worn styles, including in-ear monitors.
Regulations are difficult to keep track of in the best of times, but when changes are being made it becomes even harder. Here are some likely questions about the FCC's changing regulations, as well as answers that will keep your service compliant and uninterrupted.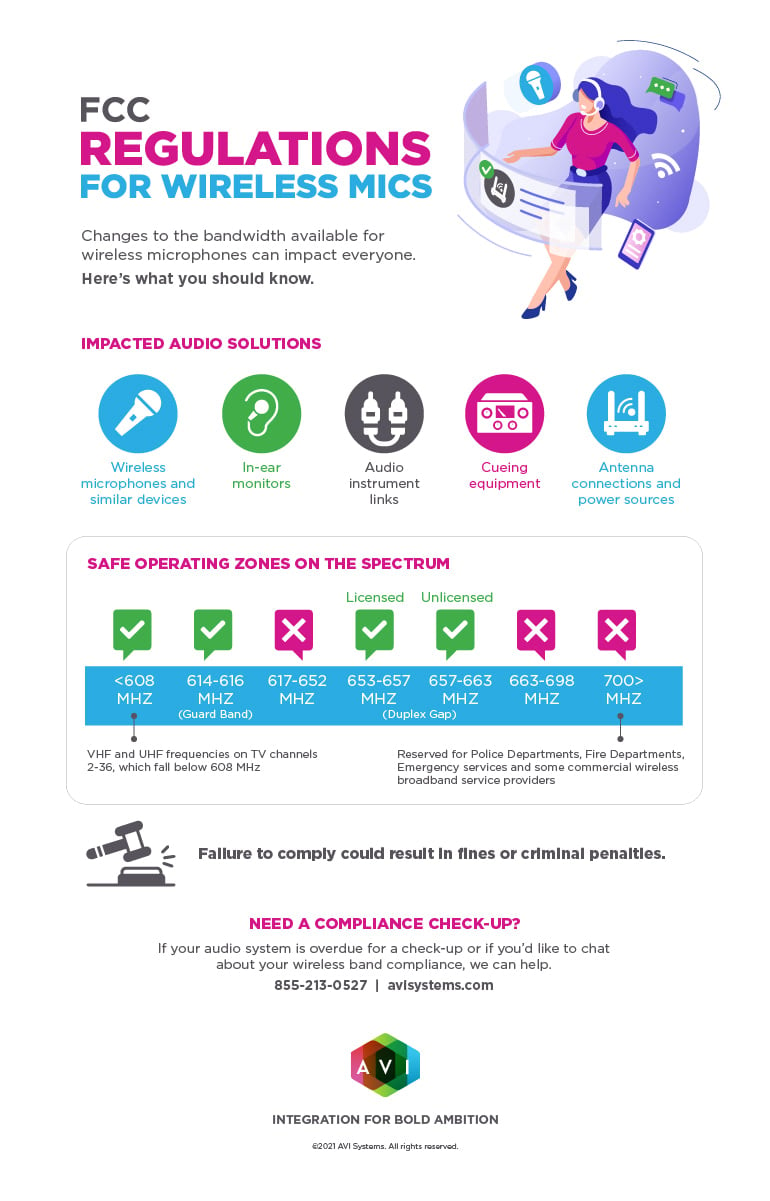 What You Need To Know About FCC Regulation Changes

Question: What regulation is changing?
Answer: The FCC allows wireless microphones to operate on both a licensed and unlicensed basis. Most wireless microphones use spectrum in the TV band. However, starting in 2017, the FCC has been limiting the amount of spectrum available to wireless microphone users.
In particular, almost all of the spectrum in the 600 MHz band has been repurposed. By July 31, 2020, all wireless microphones had to cease operating at the frequency. That means some wireless microphones are prohibited by the FCC:
The manufacture, import, sale, lease, offer for sale or lease, or shipment of wireless microphones or similar devices intended for use in the United States that operate on the 600 MHz service band frequencies (617-652 MHz and 663-698 MHz) is now prohibited.
In addition, wireless microphones cannot operate in the 700 MHz band, which is reserved for:
Police Departments
Fire Departments
Emergency services
Some commercial wireless broadband service providers
Question: Why is the regulation changing?
Answer: The FCC has repurposed spectrum in the 600 MHz band for use by wireless services, including bandwidth for smartphones.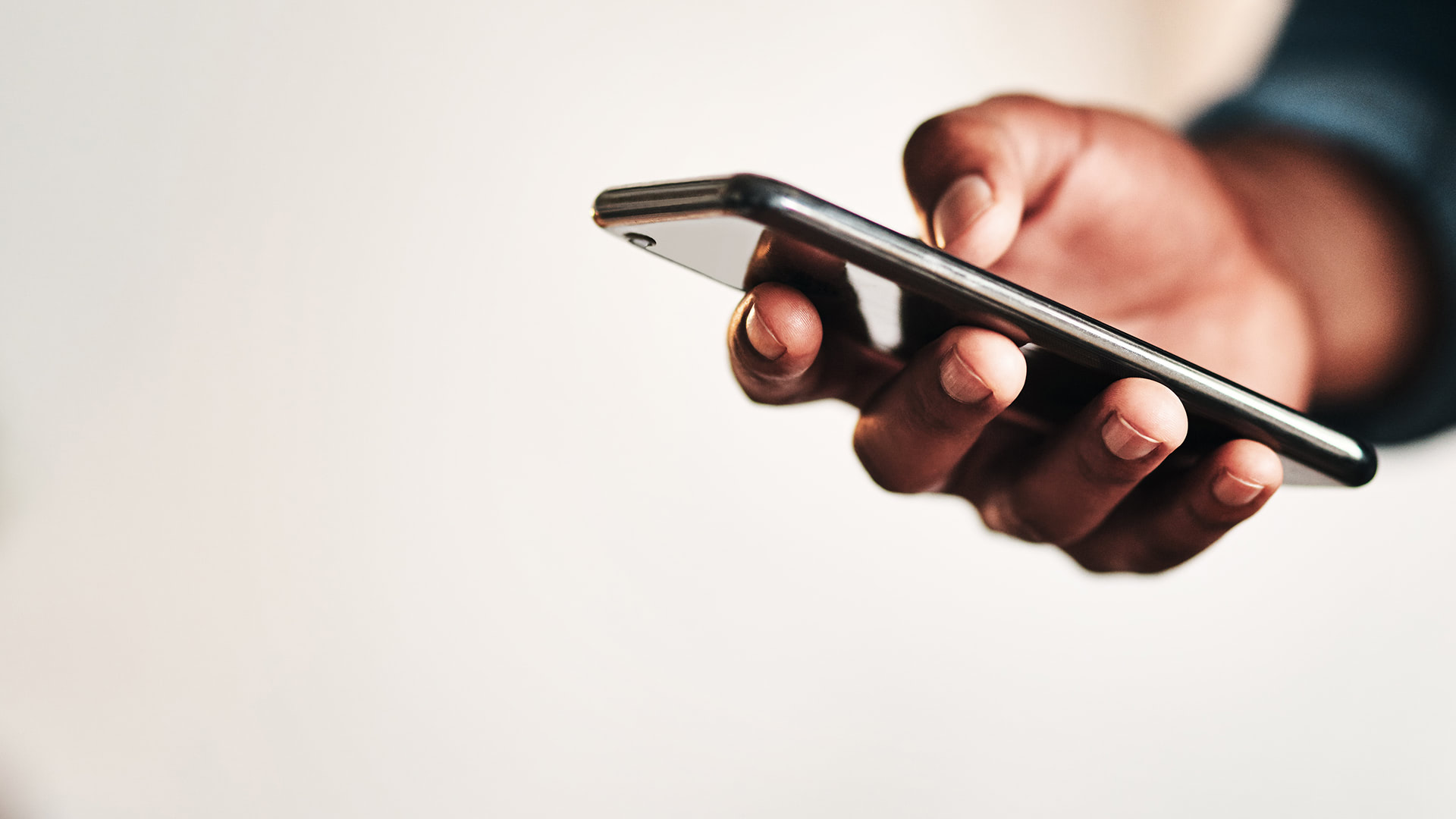 Wireless microphones in the 600 MHz band that interfere with these new licenses may be required to cease operation in that band sooner than the 2020 deadline.
Many frequencies continue to be available to wireless microphone solutions, including VHF and UHF frequencies on TV channels 2-36, which fall below 608 MHz; certain frequencies in the 600 MHz guard band, or 614-616 MHz; and, certain frequencies in the 600 MHz duplex gap, or 653-657 MHz for licensed use and 657-663 MHz for unlicensed use.
"Contacting the manufacturer may be the most effective way of determining whether a particular wireless mic is affected by the transition and may need to be modified or replaced," the FCC writes on its website. "Additionally, information on the frequencies used maybe be provided in the user manual of the particular model."
Question: What audio solutions will be impacted?
Answer: Wireless microphones and wireless devices similar to wireless mics, including in-ear monitors, audio instrument links and cueing equipment will be affected by the new bandwidth regulations.
Antenna connections and power sources will also be impacted. According to the FCC, the best way to determine whether your current wireless microphone system will be impacted is to contact the manufacturer to determine what frequency is being used.
Question: Why does compliance matter?
Answer: Failure to comply could result in fines or criminal penalties, according to the FCC.
Compliance is especially important if you are considering a purchase of a new wireless microphone system or upgrading a current system. If you are purchasing a new system now, be sure it meets the new regulations, not the ones currently being phased out.
Question: Where can you go for help?
Answer: System manufacturers or a qualified service provider can help you determine what frequency your current wireless microphone system is using. Users in the 700 MHz band can also request assistance and information from the FCC's Consumer Center.
Certified AV integrators can help you choose and deploy a new wireless microphone system and evaluate the state of your current system.
What Can You Do Today?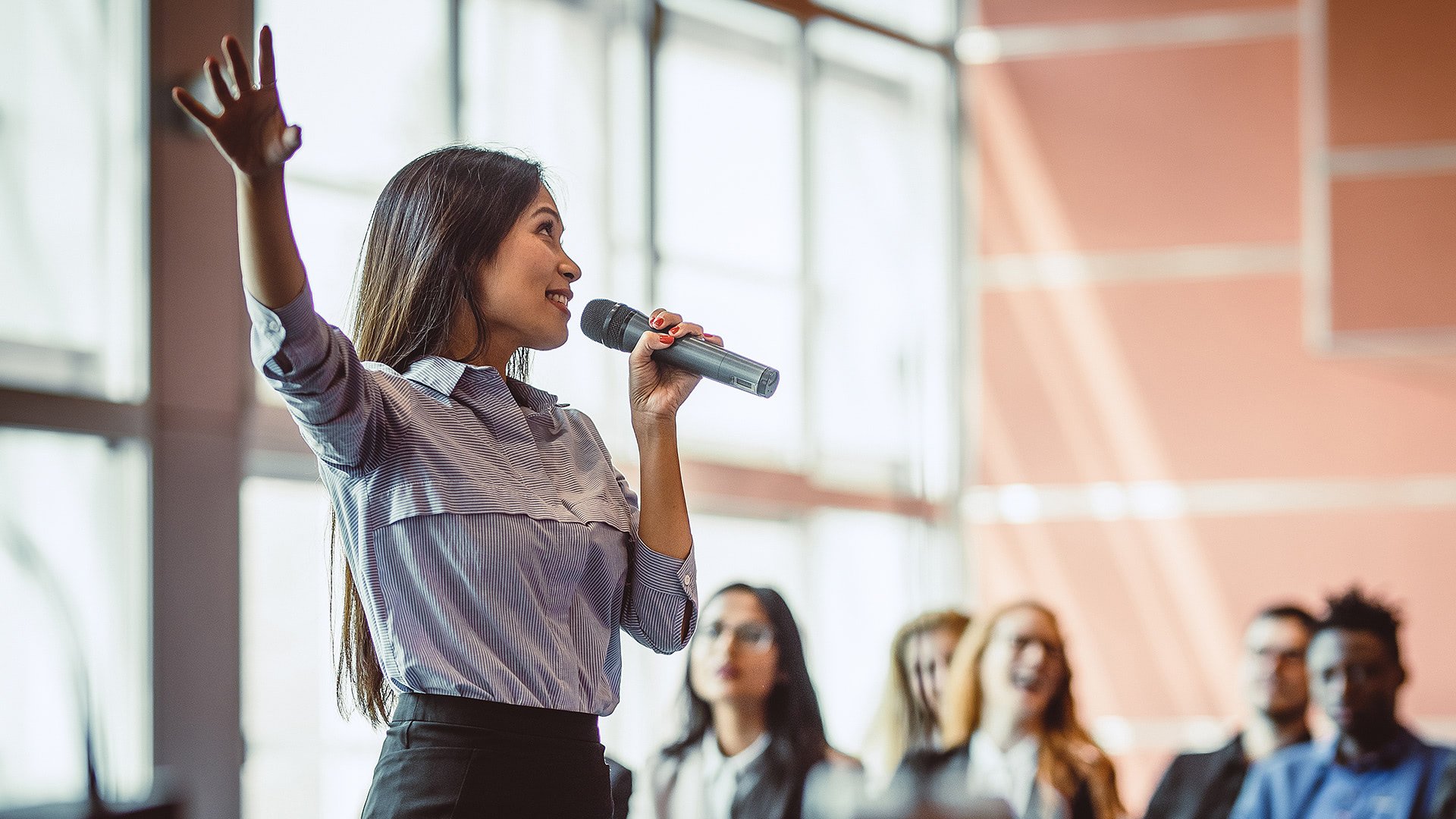 Any wireless microphone systems interfering with wireless broadband licensees in the same bandwidth can be forced to cease operations with as little as 120 days' notice.
Rather than scrambling to find and deploy a new wireless microphone system, take steps today to determine whether your system will meet compliance standards and, if not, what you need to do to be compliant before the being met with fines or criminal penalties.
Acting now can also save you money. Many of AVI's partner manufacturers including Shure, AudioTechnica and Sennheiser are offering rebates to users who trade in an old system and purchase a compliant one.
If your audio system is overdue for a check-up or if you'd like to chat about your wireless band compliance or rebate opportunities, reach out to speak with an expert here.