James Bond, a.k.a. Don Mastro, VP of Sales at AVI Systems, was called away on a mission after receiving a secret dossier from "M." Strapping on his jetpack, he flew off to the Renaissance Minneapolis Hotel, The Depot.
Landing just outside, he raced in and took the stage to address every agent in the audience. The mission: Stop Chaos at all cost and provide Communication Liberation wherever needed.
Welcome to the 2017 National Sales Meeting
[embed width="680" height="400"]https://youtu.be/4vVv8sNl9HM[/embed]
During the opening, agents heard from the leadership team, gaining insight on how to stop Chaos and work together to successfully fulfill their missions.
Afterward, agents were guided through various break out sessions and opportunities to meet one on one with colleagues from other branches of AVI Systems and their counterparts from the manufacturers that joined the NSM.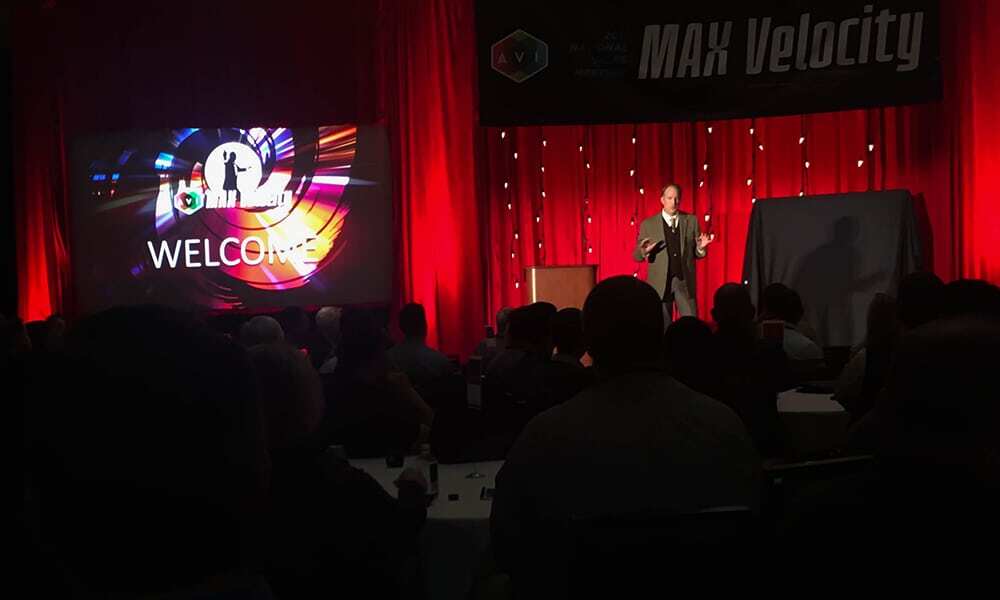 "It was a great time, casual atmosphere," said Kristin Roubie, channel sales manager, Interactive Solutions at Elo Touch Solutions. "It gave us the opportunity to really warm up to each other. I feel like I got to talk to 20 to 25 people" during the first night's evening activity -- a sort of speed dating to learn about the technology at the show.
Roubie had a 70-inch display at her booth, along with smaller displays ranging from 22 to 10 inches. She demonstrated the way Elo displays run a proprietary Android player, which she says gives people the opportunity to easily display their own content, like a website.
And, the booth was adorned to fit the Bond theme. "I have my marquee lights, martini glasses," she continued. "Everybody seems to be having a lot of fun with the theme."
Walking up and down the Depot Pavilion, you'd see life-sized James Bond cutouts -- including a photo booth with 007 himself in his signature pose -- Blackjack tables, movie memorabilia and clips from the movies, toy pistols, and more. The theme definitely took hold.
"The Bond theme is entertaining, it's something different, definitely different than the normal sport coat and tie," said Tom Novotny, key account manager-ProAV at LG.
LG modeled its booth after the Bond movies, with the OLED Wallpaper being the main focus of the setup.
Novotny said the booth caught attention at the show, pulling people in to check out the setup and talk about what went into it. "We got a lot of wow-factor with the 86-inch stretch and the OLED display," he said. "They were pretty impressed."
Many of the booths had different games that agents could play to win prizes or points for their teams.
At the beginning of the NSM, every agent was designated to a team. There were 16 in total, which were under two nations: Victory and Triumph Nations. Each agent contributed to the success of the team by playing games, also known as "Agent Training Exercises."
Agents tried their luck at tying bow ties, escaping from bonds, playing 007 trivia, competing at the High Roller Table during "Casino Night," and deciphering CodeRaker, a labyrinth for a scavenger hunt with a prize and a ton of points waiting at the end.
Some manufacturers also hosted raffles, Blackjack, and target practice, giving away prizes like Google Homes.
Throughout the NSM, teams competed for the top spot. At the end of the event, each team rallied under their respective banners, pooling points for a direct face-off. Victory Nation led over Triumph going into the "Final Wager" -- one last chance to bet it all and win bragging rights for the nation.
The highest scoring team from each nation represented the rest of their comrades on stage. The final objective: Answer one last trivia question.
Each nation had to put forth a final wager before the question was revealed. They both bet it all.
The winner?
It was Victory Nation. (Congrats, again.)
After it was all said and done, agents came together to close the NSM.
"As traveling salespeople, we spend a lot of time on the road," said Bart Wood, director of sales, US Central at QSC. "It would take me a whole year of my life to see everybody that I see in a couple of days."
There were 69 exhibitors slotted for the NSM. AVI Systems sales professionals came to town from all over the country. And, on the last night of the NSM, everybody could enjoy food and drinks, live music, a Grand Prix challenge (Mario Kart competition) and games, and a chance to just catch up.
"It's exciting to have an integrator to do business with that's positive, has great leadership," Wood said. "We look forward to growing with you guys."
More Pictures from the NSM