The debate over tablets in schools has taken many twists and turns over time. It's always hard to predict what will happen with new and future technologies, but once it's in the hands of the general population, they decide how they will use it.Many thought tablets would replace textbooks and worksheets, cutting back on paper waste and meaning students would no longer be taught using outdated information and materials.
At this point, textbooks are still around but classrooms do use tablets as a supplemental learning tool. Students have embraced them. According to a recent Pearson survey, most students say they would like to use mobile devices in class work more often, according to a Pearson survey. Teachers, on the other hand, love some aspects and have concerns about others.
There are some reports that paper use in schools is on the rise, so the question of whether tablets can cut paper use is up in the air. The Environmental Protection Agency reports that paper use in the U.S. has grown 126 percent in the last 20 years—from 92 million tons to 208 million tons. Technology hasn't provided all the answers when it comes to paper waste. There are also other concerns about mobile technologies in the classroom including cost, password management, wear and tear, security, and whether they interfere with building friendships and having face-to-face conversations.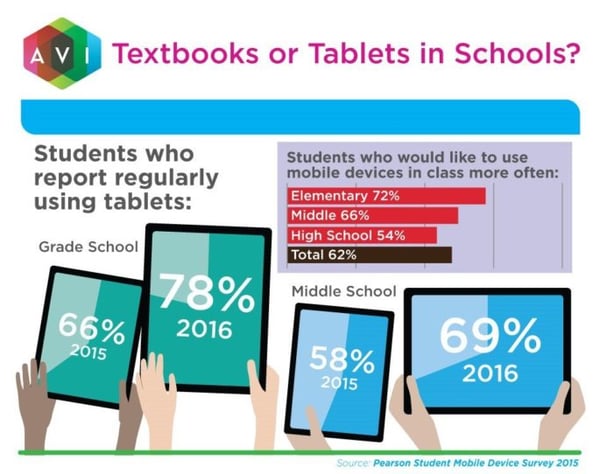 But mobile technologies in education have been beneficial and have opened the door to a whole generation of interactive learning. Apps can make learning fun and effective for students, but there are audiovisual technologies that improve the school experience for teachers and even parents.
Teachers can share and receive materials with their mobile devices, and parents can be more engaged with the school using their mobile devices. There are so many opportunities to use mobile technologies in education now, from providing apps for real-time access to a child's grades and assignments to digital signage that links to a parent's mobile device to deliver surveys or remind them of events.
Whether your goal is to replace paper assignments with mobile apps or to improve communication between home and school, there are many solutions that facilitate that. From digital signage to projectors and presentation systems that link to mobile devices, an experienced integrator can help you find solutions to fit your goals.