As we become immersed in 2018, your visions of crushing New Year's Resolutions may be quickly replaced by the reality of buffering, low bandwidth warnings and frustrated users. With Cisco projecting that by 2021, 82 percent of IP traffic will be video, finding a better way to distribute video content at a reduced cost will be a hot priority in 2018.
There's no shortage of video streaming solutions, protocols, and software. To help you sort through the options, we enlisted the help of Kris Apfelbacher, director of IP Video Solutions at Dascom Systems Group, an AVI Systems company.
What is IPTV and why are we seeing so much focus on it now?
IPTV is a protocol that delivers live linear stream in IP format. It's an alternative to traditional cable or RF delivery options. IP is where all delivery of video is going because you can leverage existing IP networks—even wireless—to provide content to mobile devices. This enables the end user to get the content when and where they want it.
Part of the decision for the way you should distribute video content depends on which devices you want to get to and the type of content. RTSP is easier to handle for corporate LAN (as far as protocols), but if you want to deliver content to apps or stream TV, then you will need IPTV—a streaming-based solution that can be on-demand as well.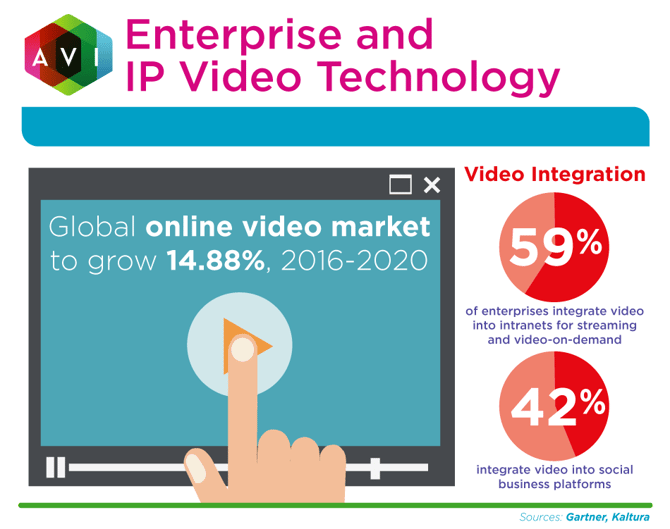 What types of organizations are migrating to IPTV systems?
We've focused primarily on delivering solutions to MSOs (multiple service operators) and pay TV providers. With the acquisition of Dascom by AVI Systems, we can bring our knowledge of IP video to a broader audience. Any organization that wants to stream live television or distribute on-demand videos through a custom app can benefit from IP video. We've recently worked on projects in corporate, higher education and houses of worship.
How are higher education institutions and houses of worship using IP video?
Colleges and universities choose IPTV because live TV signals and on-demand content can be delivered over their existing network as opposed to having it only delivered to a college dorm or certain campus area that must have a specific TV. There's also increased functionality that comes from choosing an IP-based service – creating recommendations and accessing other streaming apps. You have more flexibility over what you can distribute and to what devices. IPTV systems really become a recruiting tool for that school. They are offering a type of technology/advanced solution that maybe another school doesn't offer.
Houses of worship have been using free options like YouTube, but a custom IPTV solution on a private customized app gives them the branding look and feel they want. It also allows them to set up push notifications and feature recommended videos. They can create a more solidified on-demand presence of the content they want to show their congregations or viewership.
What are some other reasons businesses are turning to IP video?
IP video allows you to scale your solution, enables you to use existing wireless distribution as opposed to a coaxial or some RF delivered video. Authentication is also a built-in solution with IP delivery so you get better and more flexible ways to control user access than you get with a traditional solution.
---
Related Video
---
What do IT professionals need to know about IPTV and security?
When you get into the IP distribution world, you open yourself up to having to do IP-based security which is a lot different than traditional security for video delivery. It used to be more of a cable protection issue. Now you need to consider outside access and any unmanaged delivery. If it's still going to be corporate based, LAN based, then it's going to be more of the network admin control level.
Authentication can take multiple steps. It can be as simple as restricting certain channels and content libraries based on the user's access level. You can add some sort of a digital rights management (DRM) solution that would stop outside sources from viewing the content. You can even take authentication down to stream-based encryption if you needed to.
What else should IT pros consider when migrating to IP video?
Access. As mentioned, IP-based solutions support multiple authentication methods. You'll need to determine access levels for employees and guests and how that gets locked
IP Segregation. You'll need to segregate your different IP VLANs and everything else to make sure it's purely segregated for that video delivery. It shouldn't have any content that could be exploited to gain access to systems or data on your corporate LAN.
Throughput Issues. Delivering video over wireless is an advantage but it can create throughput issues because the video is a bandwidth hog. So there are definitely throughput considerations and wireless mesh considerations to work through to ensure a user moving from access point to access point doesn't drop the video.
Learn more
If you'd like to discuss your IP video needs with one of our experts, simply request a consultation. You can also see how other organizations are working with AVI Systems to deploy IP videos.