You've likely seen digital signage in places like Times Square or the Vegas Strip, but you don't have to be the Rockettes to take advantage of this technology. You'll find many applications in enterprise, education, health care, retail, and more.
If you've ever thought about introducing digital signage at your organization, it's easy to become overwhelmed with the technology. Considerations like resolution, pixel pitch, and screen size all come into play. Common questions include:
What type of display do we need?
Where should we install it?
What content should we display and how will we manage it?
Is our investment at risk of quickly becoming obsolete?
Luckily, digital signage is not as mysterious as many think. Here are some answers that will help you make informed decisions about installing and implementing digital signage:
What type of display should I choose?
When it comes to digital signage, LED is the big player. LED stands for light-emitting diode. An LED display is made up of columns and rows of individual LED packages. LEDs are significantly brighter and therefore less affected by ambient light conditions, both indoor and outdoor. They have brighter colors and richer contrast than their LCD predecessors. What's more, LED displays draw far less power.
As you can see, the size and location of your display are major contributing factors to the type of display you choose. For small, indoor displays or larger, outdoor presentations—like an interactive map of your corporate conference—LED is the way to go.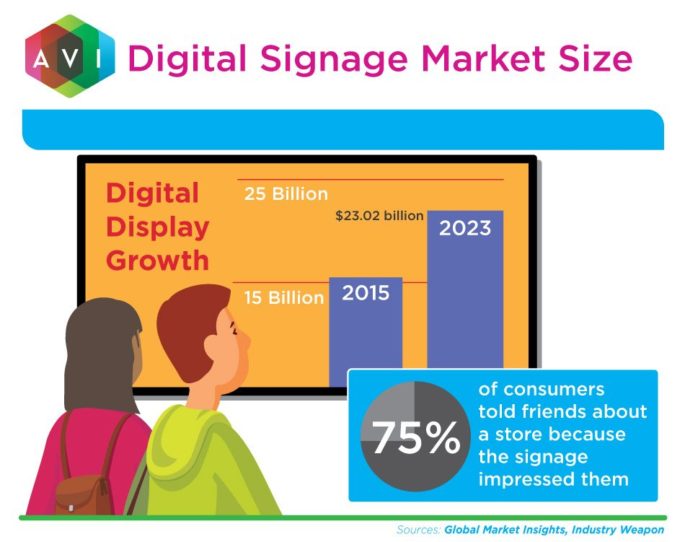 Where should I install my display?
As digital signage technology evolves, the possibilities for where you can install digital signage continue to grow. Digital signage has been commonly been used for wayfinding and can often be found in training rooms, lobbies, and other common areas.
But, don't limit your plans for digital signage based on your space. Curvable technology like that of NanoLumens enables digital signage to cover arches and wrap around columns. Your displays can also hang from the ceiling in spaces like an open floor concept break room. New lightweight technology can make that happen safely and affordably.
What should I put on my display and how can I manage it?
You can use digital signage to display customized personal content, such as employee reminders or conference room schedules. If you don't have the resources to create content, you can use a service that will create or customize material for your signs. There are also services you can subscribe to for content.
You can designate a content manager from your organization or your integrator can point you to a subscription service as well as solutions like players and content management systems. With the right tools, it's easy to personalize content based on location, as well as update it in real time.
What if the signage I choose becomes obsolete?
There is no question that digital signage technologies are evolving rapidly. There are no guarantees that the solution you choose this year won't be outdated by next year. Working with a professional integrator that is knowledgeable about the latest technologies and can forecast coming trends is one way to ensure you're making a sound investment.
Another option is choosing an "as-a-service" program to future-proof your investment. NanoLumens offers an ADVANTAGE technology renewal program that gives companies access to state-of-the-art digital display technology while ensuring access to upgrades. The program protects your investment because your solutions will always be up to date.
Need more information? Read this article to discover how other organizations use digital signage.