Before Nate Ross got into the audiovisual (AV) industry, he was a "tech junkie" who enjoyed playing with gadgets and discovering new ways of doing things.
"I had no clue about the industry before I got into it," said Ross, market research analyst at AVI Systems, who is one of the leading organizers for the second annual IGNITE Golf Tournament. "Once I got involved in the industry, I was really amazed at how much I didn't know about the industry and just how much is out there."
As a young professional, Ross came across a position associated with InfoComm, which led to him becoming "immersed" in AV.
REGISTER FOR THE IGNITE GOLF TOURNAMENT 2017
"Ever since then, I honestly couldn't see myself going anywhere else because I love the industry," he said. "I'm very thankful that I was able to get into the industry."
The hard part today, though, is that the AV industry is struggling to attract younger professionals because of a smaller talent pool. And, Ross said, "it's the fact that we're not getting to them early enough.
That's where IGNITE comes in. AVI Systems is hosting the second annual IGNITE Golf Tournament in partnership with various manufacturers to connect those already in AV with young professionals who are interested in a career within the industry.
WHAT IS IGNITE?
IGNITE is an NSCA Education Foundation-funded program, focused on raising awareness about the commercial technology industry, explaining the opportunities in AV to students, and taking "the helplessness out of recruiting for integrators."
In other words:
"IGNITE is an NSCA program, supported largely by its members who work together to attract, engage and encourage students to join the commercial electronics systems industry -- because technology is cool."
You can read more about the program here: https://igniteyourcareer.org/
Ross said that "IGNITE is a great foundation," because of the work it does around encouraging young professionals to consider a career in AV.
"IGNITE is all about getting into schools, setting up job fairs, having the materials ready for manufacturers and integrators to simply access those generations, those people," Ross said. And, the program has a serious impact.
At last year's event, AVI Systems and 18 partners raised more than $20,000 at the IGNITE Golf Tournament.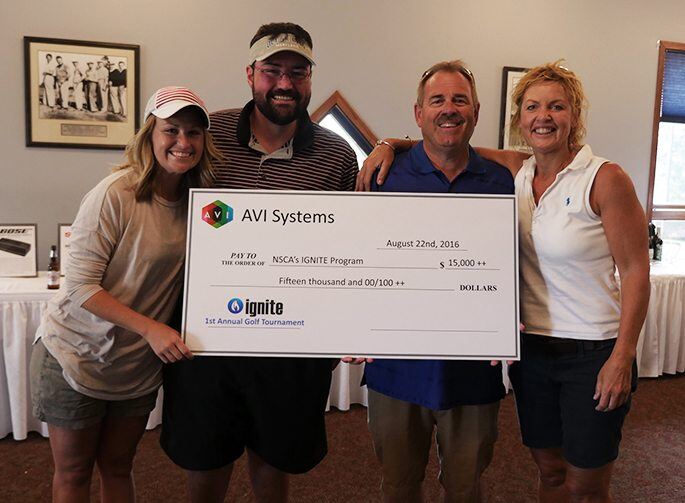 In a previous post on AVI Systems' blog, Chuck Wilson, NSCA Education Foundation executive director, said "I was so impressed with the entire event and how well organized it was."
"It was a huge success," Wilson said, in the post. "AVI Systems truly cares about the future of our industry as demonstrated in the way its staff pitched in to support this great cause. I'm very grateful for the time and effort of each and every AVI Systems employee, and for the generosity of its vendor partners."
WHAT YOU GET OUT OF IT
The IGNITE Golf Tournament bring integrators, manufacturers, customers, students and young professionals together for a full day of playing golf and networking.
"It starts to help develop relationships and bonds that you necessarily might not have over a sales call or phone call," Ross said, adding that it fosters comradery among the players. "[And] everybody enjoys getting outside, whether they enjoy playing golf or not."
For young professionals, it gives them the opportunity to talk with those who have been in AV, and hear their experiences in a more informal setting. Also during this time, manufacturers can connect directly with customers and find out what they're looking for in technology solutions.
"And obviously, the last thing is you get out of work," Ross said, with a smile.
EVENT DETAILS
When: Monday, August 14, 2017 – Shotgun start at 10 a.m.
Where: The Wilds Golf Course, 3151 Wilds Ridge Ct, Prior Lake, MN 55372
Format: Scramble
Teams: Consist of one AVI vendor, two AVI customers, one AVI representative
EVENT SCHEDULE
9 a.m.: Registration
9:45 a.m.: Instructions / Send Off
10 a.m.: Shotgun start
11 a.m.: Boxed lunch delivered
3 p.m.: Hors d'oeuvres and happy hour
3:15 p.m.: Prizes – Raffle, Silent Auction
5 p.m.: Adjourn