We've all pondered the old philosophical question, "If a tree falls in the forest and no one hears it, did it make a sound?"
The same concept can be applied to the reach of your audio efforts. Whether it is a presentation at a conference or a classroom lecture, when it comes to audio there is another question you should ask yourself: "If you distribute a message and no one can hear it, did you really say anything at all?"
Once limited to the background as music playing or fuzzy announcements made over a PA system and piped into classrooms, audio can now be an interactive and engaging tool to spread your message to a focused audience or to capture the attention of anyone within hearing distance.
Reaching Everyone With The Right Audio
Interactivity is the new buzzword in the audio industry, and smart speakers are the avenue. According to research conducted by National Public Radio and Edison Research, 39 million American adults now have a smart speaker device -- such as Amazon Alexa or Google Home -- in their house. That's up 128 percent since January 2017.
According to a report from the Consumer Technology Association, 44 percent of U.S. adults plan to buy a smart speaker sometime this year.
Additionally, many phones, tablets and laptops now feature smart speaker technology. This proliferation of smart speakers at home is opening up opportunities for interactive audio in the enterprise sector as well.
Digital Assistants
Ever wandered around a store searching for an employee to answer your question? What if you could just walk up to a smart speaker located at the end of the aisle and get an answer from a digital assistant right away?
Voice-activated digital assistants in the retail space reduce service gaps and create higher satisfaction because they can help immediately, whenever and wherever they are needed. Voice-activated digital assistants also have applications in the medical field.
Many health care providers use dictation software to transcribe medical notes and records, for example, but more advanced software includes a voice assistant that can quickly search a note or record and then speak the information a nurse or doctor is looking for.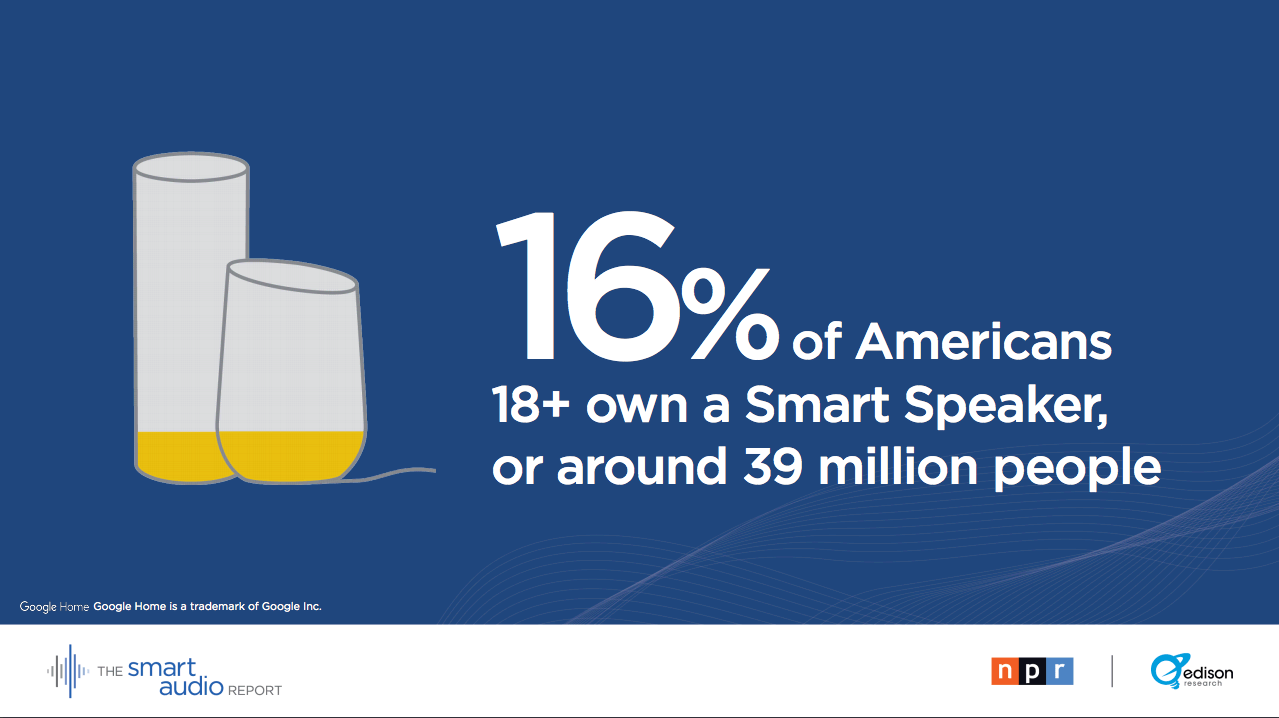 In another example, Boston Children's Hospital partnered with Amazon Alexa to provide a service called KidsMD. Parents can converse with Alexa about symptoms of common childhood ailments such as colds and ear infections and get customized information from the hospital, including advice about how to treat a child at home and when to go to the doctor. Since 2016, parents have logged more than 100,000 interactions with Alexa through KidsMD.
IoT Interoperability
Connecting smart speakers with other smart devices through the Internet of Things creates opportunities for interactivity in everything from controlling the temperature in a room to scheduling a meeting to making a purchase.
Hotels, for example, could install smart devices in guest rooms to control factors that impact the guest experience such as temperature and lighting. Guests could use smart speakers on their phones and tablets to speak to the connected devices and make adjustments.
Smart speakers connected to meeting room scheduling software would allow employees to simply speak to a company-provided smart speaker or their phone or tablet to reserve a conference room or schedule a meeting.
Digital assistants soon will be able to take notes, call up details within those notes and even start the meeting for you, all at the command of your voice. By connecting video data to interactive audio, the system could recognize who is missing from a meeting and send them a reminder. Audio will also eventually be used to control meeting room collaboration tools such as interactive displays, soft video conferencing codecs, or other presentation tools.
Artificial Intelligence
Smart speakers and their related apps can also be paired with artificial intelligence (AI) technology.
The airline KLM, for example, offers a digital packing assistant, called Blue Bot or BB, through the Google Home smart speaker. The service bot helps customers with a voice-activated packing list and will schedule a reminder on Google Home for items the customer can't pack immediately.
But the bot also uses AI resources to be self-learning and become more personalized the more a customer uses it. Even though BB is not influencing an immediate purchase, it provides opportunities for developing and strengthening customer relationships, which could lead to increased future purchases.
Keeping Your Audio Compliant
The wider the audience your audio is reaching, the more important accessibility becomes. Section 508 is the government regulation that deals with IT accessibility.
Federal regulations require closed captioning for video and multimedia presentations, as well as audio description. Smart speakers in large stores, parks, museums, medical centers and/or offices can be connected to small screens that display closed captions and audio descriptions as the device speaks.
Maximizing Audio Impact Through Proper Installation
The final—but arguably most important—factor in the success of your smart speaker application is to make sure you put it in the right place.
When considering a smart speaker solution for your organization think about the layout, traffic flow and the functionality you are trying to achieve. A smart speaker tucked in a remote corner of a big box retailer won't be much good to customers who want fast answers, just as a digital assistant designed to schedule meetings won't get much use if it's in a conference room that's always occupied.
The impact of your audio solution is maximized by installing it in a place it can be easily found and heard. Need installation advice? Find a professional near you.