Profanities, wardrobe malfunctions, and announcing the wrong name as an award winner are only a few of the slip-ups that can occur during a live event broadcast. That fact may stress out event organizers, but to the audience, knowing that anything can happen is part of the appeal watching a live event.
Many TV programs were live until film technology really took hold, but recently, television has come full circle to take advantage of a renewed interest in live broadcasts. Viewers are tuning in to see live musical performances on network TV. Sporting events and music festivals are also live streaming in efforts to increase audience size and revenue.
Live video is where it's at even for business, as Facebook live videos get three times the engagement and ten times the comments of non-live video. But business leaders may wonder whether live streaming engagement translates to real value.
To companies, live video can increase reach, improve internal communications, and increase ROI on events. Why limit yourself to a local audience of hundreds when you can reach thousands more online?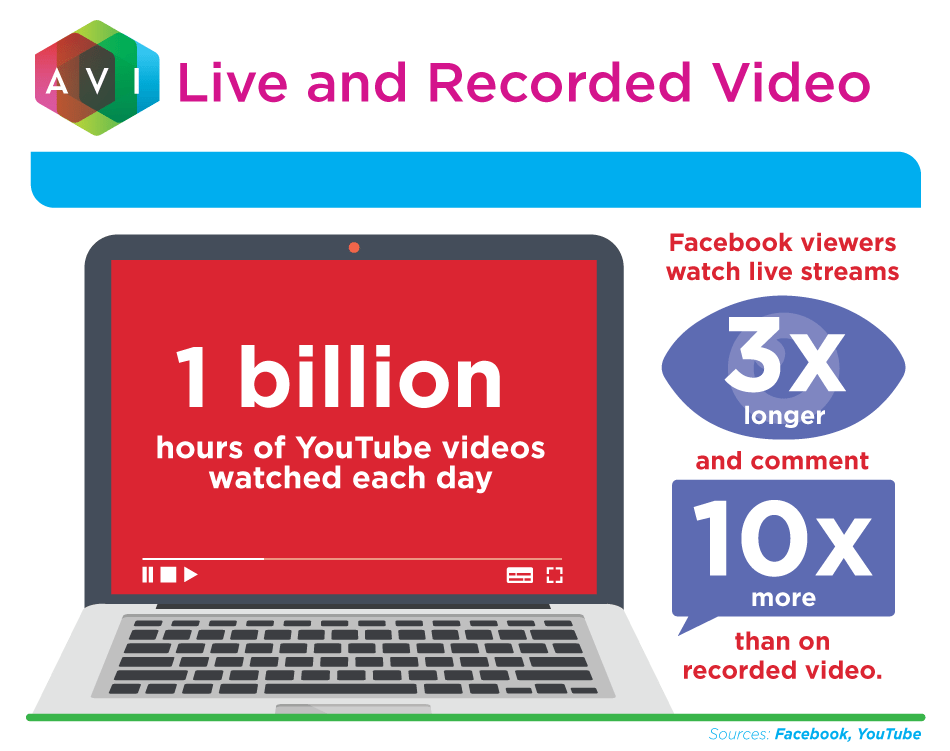 To maximize the benefits of live streaming, here are issues for companies consider:
Technologies
As an individual, you can turn on your smartphone camera and simply start a video. However, when streaming for business, you want to present your company in a professional light. Consider using high-quality cameras and audio—especially for more formal presentations.
Make a list of all the kinds of events your company may want to stream—trainings, public announcements, how-to demonstrations, trade shows, etc. Your greatest streaming needs will affect the kinds of equipment you'll purchase, the number of solutions you'll need, how mobile you'll want them to be, and more. Your IT team can provide guidance on bandwidth requirements and whether you'll want a dedicated internet connection to avoid disruptions to your streams.
Storage
You can increase the value of live events by saving video to create future content. Consider how you will save and manage all that video for future use. When capturing live video, you will need to consider what video equipment or software to use. Many marketing teams try using consumer apps, but videos sometimes get saved to an app's servers or the streamer's device, making them hard to impossible to track and organize.
For company-owned content, you can try a cloud storage or digital asset management tool for organizing videos. That way, your content will not get misplaced, forgotten, or lost completely if an employee leaves your organization (or simply forgets to back up their hard drive).
Strategy
Once you're set up with the tools you need, you will want to make sure your team knows where they should stream, what social platforms they should use, and who will stream what and where. Decide what kinds of settings you need set for internal events. Decide what kinds of events will be for public consumption and what you will want to save to be shared with the marketing, sales, and training departments.
It's also important to establish policies about what kinds of events should and shouldn't be streamed from company accounts, as well as what kinds of things should or shouldn't be said or done on live video.
YouTube, Instagram, and Facebook have live streaming features, and apps like Periscope are dedicated just to live streaming. You can stream from your own site, but if you're looking to increase your audience, social platforms can get more eyes on your videos.
Once you start live streaming, you will start to see what kinds of streams interest your audience and be able to make the most of your company's activities and events.