In part two of this blog series, I referenced the evolution of the premise of the "Smart Workplace" and the trends that are fast approaching. The trends center around a shift from building efficiency at the heart of any Smart Workplace, to a wider approach: Using technology to connect and engage employees – and even advance corporate culture – in their work environments.
We've seen such paradigm shifts before. For example, retail companies reinvented their store experiences to convince shoppers they needed to go to a physical place to make certain purchases. Airline loyalty programs are another tactic designed to prioritize the customer experience. Their club lounges attract us to spend more time within their curated brand experience, and we use their mobile apps to consolidate our entire itinerary in order to streamline our travel.
These examples are similar to the realities of how we choose to support employees as they work their way through the shifting priorities and evolving needs of a workday.
Focus on Proven Ideas
Many companies that credit employees as integral to their success, are already seeking to direct their Smart Workplace focus. To do so successfully, we only need to focus on proven concepts.
Despite the undeniable opportunity, the sheer scope of tackling a Smart Workplace initiative at an enterprise scale might appear daunting, particularly as all the uncertainty and continual new realities of COVID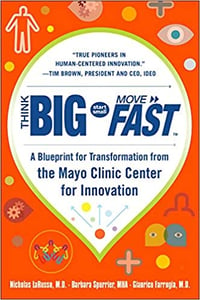 consume our day to day. Nevertheless, I am reminded of Mayo Clinic's blueprint for transformation and the premise of – Think Big, Start Small, Move Fast.
"Think Big" in terms of the long-term vision of where Smart Workplace could and should go over time.
"Start Small" in terms of first steps but ensure that every smaller step is complementary to that overall vision compass. Even seeking existing portfolios well suited to limited initial investment to reduce risk.
"Move Fast." Aim for learning vs perfection. Seek to move forward quickly with a mandate for consecutive initiatives, or the vision and its opportunities for success will never be reached.
So How Do We Start?
You may be familiar with Maslow's Hierarchy of Needs pyramid. Leading Smart Workplace software platform developer Thing-it developed a pyramid built upon similar principles for Smart
Workplace. It starts with the essentials of what an employee practically needs to function effectively in a modern work environment. It then works its way up through practical enhancements, culminating in the more intangible emotional propositions that support community and culture but are only possible with the right foundations. I would suggest organizations consider the pyramid in both prioritizations of focus and to reinforce the need for alignment required between the tiers to achieve an overall vision.
Many readers of this blog perhaps don't have the executive mandate to drive a Smart Workplace initiative a global scale, so where might you start within your portfolio of responsibility to be a change catalyst? Here's a brief look at how varying roles inside an organization can start building foundations and business cases to help drive wider organizational Smart Workplace momentum.
For the Facility Manager:

Starting at the bottom of the pyramid, Hot Desking is really the first entry point to a more agile and dynamic Smart Workplace environment. If staff cannot feel comfortable, they will have a place to work in between the collaborative engagements that drove them to the office, then the scales rapidly start to tilt in terms of them finding reasons to participate remotely. A hot desk management software initiative has a natural tie to meeting room booking workflows, becomes a foundation for a better understanding of one's user base, and as long as the initiative is pursued with an understanding of future Smart Workplace expansion it can become a key catalyst for next steps.

For the Collaboration Technology Manager: It's clearer than ever that the foremost reason employees want to be in the same physical space together is an improved collaborative experience, so it's a natural premise to prioritize the meeting experience as the first pillar of the Smart Workplace. But even more attractive is that the meeting room is equipped with more user-centric technology than almost any other space in the modern office. This means much of the infrastructure is often already in place or easily added - from calendar integration to room scheduling displays, and facility digital signage to enterprise management platforms. These tools allow you to cut your teeth in building not only the technical but also the operational and management structures of Smart Workplace. Once in place, the lessons learned in the meeting space can serve expansion outward across the entire built environment.
For the Project Steering Committee: New build "projects" offer an opportunity for proof of concept of a much broader and integrated Smart Workplace approach IF the mind shift can occur of moving from building a novel one-off "flagship" space. A project charter that is clear in its goals to align to truly scalable propositions, and sponsorship across the organization's senior leadership that the project is indeed a learning opportunity tied to the wider organization's Smart Workplace journey. This offers a greater license to make mistakes but also justifies a budget for proper due diligence and planning that goes beyond the project-specific RoI business case. The caution in this instance is that these projects can be lengthy, the need for deep consultation and planning extensive, and the organizational maturity to understand what its needs are limited, meaning it's highly supportive of the Think Big principle, but challenges the start small/move fast premise.
The good news is that we've made major progress in moving toward functional Smart Workplace realities in recent years. The question is, whether within enterprise organizations or those who support them, who will have the courage to invest and reap the early adoption rewards of tomorrow's Smart Workplaces? We hope you'll join us at the front of that queue and start the discussion.
Want to learn more about smart workplace trends? Take a look at this article in which AVI examines the Intelligent Enterprise.
Editor's Note: Byron Tarry is Managing Director and CEO of AVI's engine for global delivery, GPA. For more information on how we can help you deliver "better" on any global technology delivery program you may be considering, visit www.thinkgpa.com.