Unfortunately, the Vikings just weren't able to #BringItHome.
(That's okay, though. We'll make it to the Super Bowl next year, right?)
Vikings fans trudged home in disappointment after Sunday's game against the Philadelphia Eagles, who claimed their spot in Super Bowl LII with a 38-7 victory.
The Eagles meet the defending champions, the New England Patriots, on Feb. 4 at U.S. Bank Stadium in Minneapolis, Minnesota – the home of the Minnesota Vikings.
No matter which team you hope comes out on top this year, if you're at the Super Bowl, you are in for a show and an experience like none other.
Looking at the Minneapolis skyline, you can pick out the grand stadium with little difficulty. Not only is it huge, but the building's design is unique – donning an angular profile and enough glass to rival that of a New York City skyscraper. (A lot of it is actually transparent ETFE, or ethylene-tetra-fluoro-ethylene, which is "lighter and more economical … than glass," according to Network World.)
The stadium is designed with Minnesota's northern climate in mind, along with its culture and Nordic roots. "People say this building looks like a ship. We like that. People say this building looks like an ice shard. We like that," Bryan Trubey, EVP, and director of sports and entertainment at HKS Architects, told Network World.
Check out this video by U.S. Bank Stadium to hear what people think of the venue:
HKS Architects is the global firm that designed U.S. Bank Stadium.
It's a beautifully architected, $1.1 billion building with a lot to offer its 66,200 patrons, who will bear witness during one of the most televised events in the country.
The stadium is a multipurpose space, built to host a range of events, including sporting events from the high school to professional levels, music concerts, conventions and tradeshows, corporate events, and more.
Being able to accommodate so many different kinds of events takes a robust technology setup. And the stadium has it.
If you're going to the Super Bowl this year, this is what you'll find at U.S. Bank Stadium – as far as technology goes.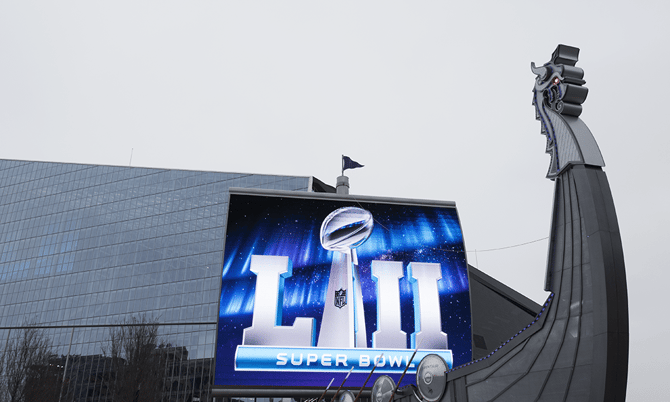 The Technology at U.S. Bank Stadium
Not sure if you've heard or not, but Justin Timberlake will take to the stage during the Super Bowl's Halftime show for the third time, and P!nk is singing the National Anthem too.
During the halftime shows, you'll likely be exposed to dazzling light displays, thanks to the stadium's LED system that can adjust color temperatures and flick on and off quickly to create a vivid experience.
Although the stadium's LED lighting system is impressive – and a first for an NFL stadium – it's only one part of what makes this place so … awesome.
The stadium has an assortment of advanced technologies in place to give visitors a comfortable experience viewing the action, finding their way around, ordering food from their seats, and seeing it all replayed on giant screens high overhead.
U.S. Bank Stadium has $60 million invested in technology, according to the Pioneer Press.
The stadium boasts 31,000 square feet of video boards and displays, showing everything from replays to advertising, and more. You won't be able to miss the massive 120-by-68-foot end zone display on the west side of the stadium or the 88-by-51-foot display on the eastern end.
In addition to the hundreds of displays around the stadium and broadcast equipment are 38 5K ultra-high-definition cameras that are used to create an immersive experience. The cameras were brought in as a part of Intel's freeD technology, a joint undertaking between Intel and the NFL.
"Intel freeD technology creates dynamic and immersive experiences for football fans, enabling views of the greatest plays from every angle," Intel said in a statement. "This technology will bring a new level of compelling commentary to live broadcasts as well as digital and mobile NFL platforms."
U.S. Bank Stadium is "one of 11 facilities in the league to offer Intel® freeD™ technology," according to the Minnesota Vikings.
"Games at freeD technology-enabled stadiums will allow fans to access and share highlights via NFL.com, the NFL Mobile app, the NFL YouTube* channel, and across NFL team digital offerings," the Minnesota Vikings wrote in an article. "Fans will also experience the enhanced replays in-stadium for closer views of the action on the field."
Talk about being immersed in the game.
But, even before you walk into the stadium, you'll likely be greeted by the Viking's longship, "Legacy Ship," which has a huge Daktronics display for a sail.
Technology is everywhere in and around the stadium, and that includes your mobile device.
U.S. Bank Stadium and the Minnesota Vikings have separate apps that provide general information, navigational help, food services, and more for event attendees.
U.S. Bank Stadium App:
Minnesota Vikings App:
The apps are meant to make everything from getting to your seats to finding the shortest bathroom line convenient and easy.
Workers in the stadium will also have iPads and tablets handy for you to order food and other merchandise.
All of these mobile devices and yours can connect to the stadium's Wi-Fi -- the antennas for which are disguised at the end of seating rows inside the handrails and underneath some seats.
That said, you shouldn't have issues connecting to the Wi-Fi, and cell coverage shouldn't be an issue either. The distributed antenna system, or DAS, which was provided by Verizon Wireless, makes it so that basically wherever you are, you're dialed in – regardless of carrier too.
And while you'll enjoy the immersive and omnipresent technology in the stadium, there are also some technologies that'll fly under the radar, almost completely. But, they are no less important.
Security and surveillance systems provide scrupulous coverage of the concourses, seating, and elsewhere. Cameras were strategically placed around the stadium to allow security to cover every detail, including being able to read larger text on a t-shirt. There's also talk of drone technology and license plate recognition.
"The Vikings team put a lot of care into the fan engagement, which includes ensuring their safety," Patrick Talty, U.S. Bank Stadium's general manager, told Security Magazine. "They spent money on technologies, to ensure that security is robust."
U.S. Bank Stadium has you covered end to end, from security and safety measures to advanced technology around every corner to enable the best possible viewing and interactive experiences.
"We believe it's the right mix of technology, and the most advanced for what we were looking to do," John Penhollow, vice president of Corporate & Technology Partnerships with the Minnesota Vikings, told the Pioneer Press.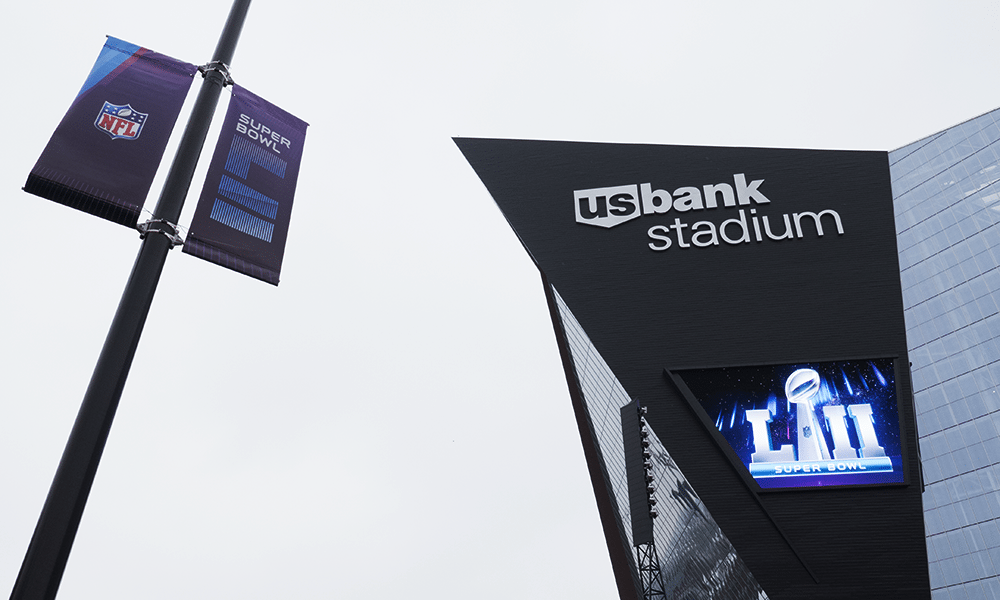 ---
Creating an Experience with Technology
AVI Systems has worked with sports teams and universities to outfit stadiums, training facilities, and similar areas with technology to enhance the fan experience, while also making it a better environment for the players. You can learn more about our projects here.