Rising health care costs are making headlines, but the challenges are complex. One way that some health care facilities are reducing costs is by implementing technologies that make providing services more accurate, available, and efficient—benefiting both facilities and patients.
Here are just some of the capabilities available to cut costs:
Telehealth
Experts predict telehealth will be a $343 million industry by 2020. The practice of providing health care services to remote patients—whether they be down the road or in an isolated area—is still growing in application as well in concept.
It's a wide-open opportunity now with telehealth mobile communication taking many forms—from video conferencing to text messaging to remote health monitoring. Health care providers can now easily consult with patients via video conferencing tools on handheld tablets, but telehealth means much more than that. Mobile exam equipment can be used at patient homes, in remote clinics, or in mobile patient care units. The equipment—for uses like remote blood pressure monitoring—can easily transfer data to health care providers in another location in real time.
Telehealth translates to savings for patients who can't or don't want to travel from remote areas. For health care providers and facilities, mobile communication means increased revenue from patients who would not have otherwise made an appointment. It also cuts down on the costs of missed appointments and increases patient participation in their own care, causing them to show up for follow-up care more consistently. Ultimately, telehealth allows health care providers to reach more patients in less time.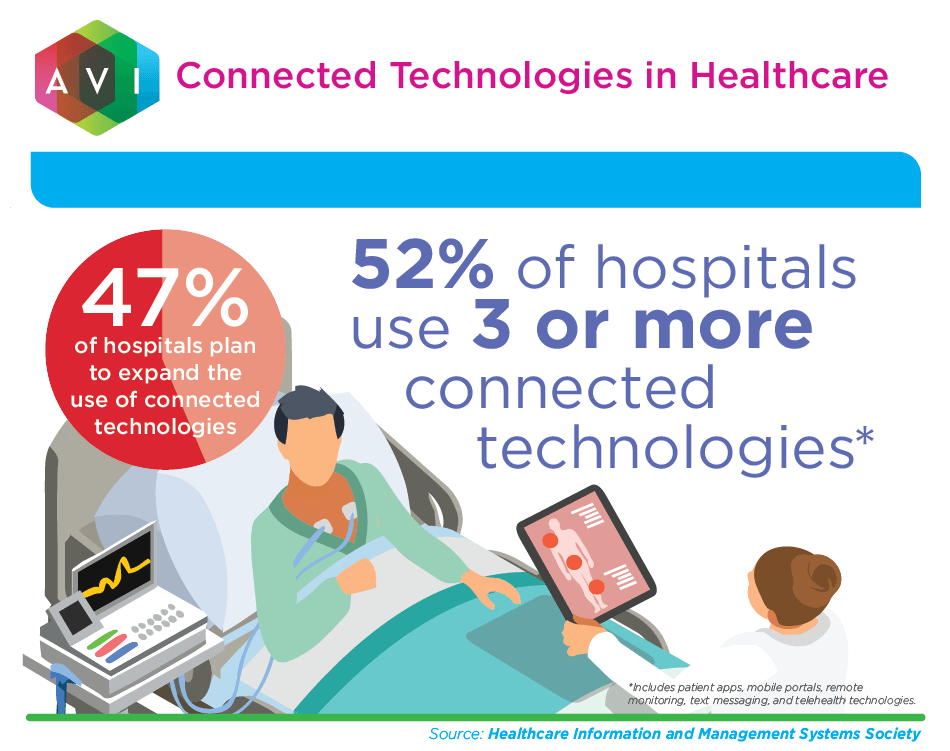 Interactive Signage
Signage can reduce the need for extra staff members who are needed to provide directions, help patients check in, and more. Now with interactive technologies, visitors can find their way around, check themselves in for procedures at easy-to-use kiosks, find information about treatments family members are undergoing, and more. Staff members who used to answer questions all day can take on a bigger workload of other duties as technology helps visitors and patients self-serve when they want and are able to.
Video Consultations
Consultations between members of a patient's team or with a specialist can be done by video in dedicated conference rooms, cutting down on travel paid for by the health care organization. And equipping these spaces with solutions other than just video—like content sharing and interactive technologies—reduces time spent sending information back and forth. Everything that needs to be shared, discussed, and decided can be addressed in a single video conference call. And, faster decision-making results in better patient care.
Virtual Reality
Virtual reality technologies can serve many purposes in health care, from patient relaxation to physical therapy, as well as training of many kinds of medical professionals in simulation labs. Nurses can use the labs to be trained in new procedures, surgeons can work on their techniques, and more.
Virtual training reduces the kinds of risks that can be costly for health care organizations—like the cost of making errors with real, live patients. Fortunately, the costs of these technologies are dropping, meaning even greater long-term savings for health care organizations.
As so many in the health care industry look for ways to cut costs, the kinds of technologies available for care as well as administrative purposes are constantly expanding.
An audiovisual integrator can make sure the technologies work together in the most cost-efficient ways. They can also help with quality assurance and ensure that equipment and functions are safe, secure, and compliant.