Why do some companies grow for decades or more, while others phase out slowly as fast-moving startups take the reins? It may be a matter of stagnation versus innovation.
If your teams spend their days putting out fires with no time to innovate, you are shutting the doors to fresh ideas and dooming your organization to serve the same stale products and services to customers who crave something new.
Unfortunately, a Crowd Companies report reveals that many business leaders face obstacles to innovation in the form of company culture, conflicting agendas, and resistance or inaction.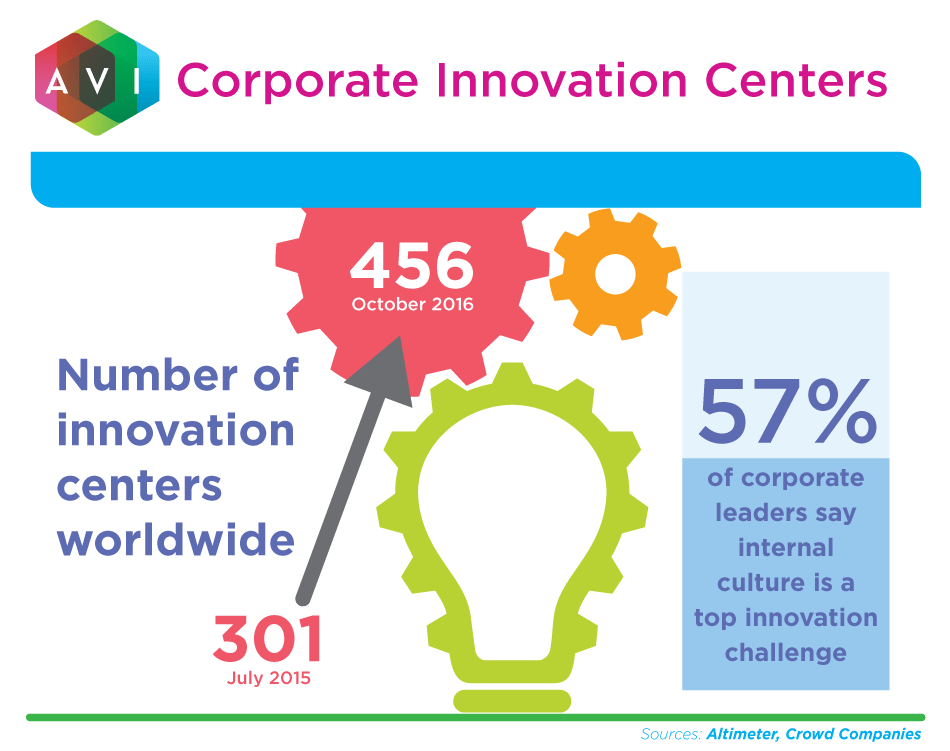 Contrary to what many would have you believe, innovation isn't just for startups. Corporations, as well as research and higher education facilities, are building spaces where they can brainstorm, collaborate, test and share ideas, design products and programs, and build prototypes—all in a space built for risk and creativity and embracing new ideas. They may be called innovation "labs" or "garages," or you may hear them referred to as idea or think spaces.
Large corporations have long provided places (like these identified by CB Insights) where their best and brightest could talk about ideas and even build prototypes. The new versions of these spaces take a page out of the book of startup incubators. They are spaces where ideas and the latest technology take center stage.
A recent Brookings report describes how technology plays a special part in innovation spaces. As part of the process of innovating ideas, the technology is an integral part of the process itself. More than just a tool, innovative technology spurs innovative thinking and contributes to the growth of tech and new ways of bringing ideas to fruition.
Any such space is going to be designed around the goals of the organization, so they can vary by the size and type of room or space, by goals, by technology, and more. What innovation spaces have in common, though, is they go well beyond the makeup of the average meeting room. They offer a number of high-tech tools designed to let users focus on new and even disruptive ideas.
Some companies create custom innovation space additions to their buildings or campuses. Some idea labs and innovation spaces are set up in actual garages or warehouses. Others are set up in conference spaces that are jazzed up to support more than the well-planned meeting. They invite—and even inspire—the energetic exchange of ideas because the spaces are enticing and the technology is state-of-the-art.
How you equip each room will depend on your industry and aims. But you can start with looking at what others are doing with their innovation spaces.
Tech Decisions has shared the equipment list for the University of Washington's "idea incubator." While its use is focused on health science education, many of its features would work at almost any innovation space: video walls, whiteboards, a wealth of power outlets, group-friendly furniture, and more.
Other innovation space equipment can include:
Large displays
PCs
Wireless connectivity to displays for BYOD
Interactive whiteboards
Phones
Video conferencing equipment
Video recording equipment
Other technology like 3D printers, VR headsets, immersive tech, data visualization and analytics, artificial intelligence, or anything else that will spark the big ideas for your employees
Whatever technology you choose, an innovation space will ultimately be a place where employees feel comfortable and where they get excited about collaborating and sharing their big ideas.