THE CHALLENGE
The City of Fargo held public meetings using obsolete technology in a building that originally opened in 1958. As digital mediums became more prevalent, city leaders realized the need to provide constituents with high-definition broadcasts on public access television as well as new social media outlets like Twitter, YouTube and Facebook. To transition to HD, the City would need to overhaul its broadcast capabilities.
Fortunately, plans to construct a new City Hall, including an entirely new, state-of-the-art meeting space, got off the ground in 2016.
"As we planned our new City Commission Chambers, we kept in mind that the vast majority of residents will never attend a meeting in person," said Gregg Schildberger, director of communications and governmental affairs for the City of Fargo.
ABOUT CITY OF FARGO
Population: 124,844
New City Commission chambers opened to the public in February 2019
150,000 square-foot-structure houses 12 city departments and 225 employees
City Commission meeting space hosts 25-plus meetings each month and accommodates up to 207 people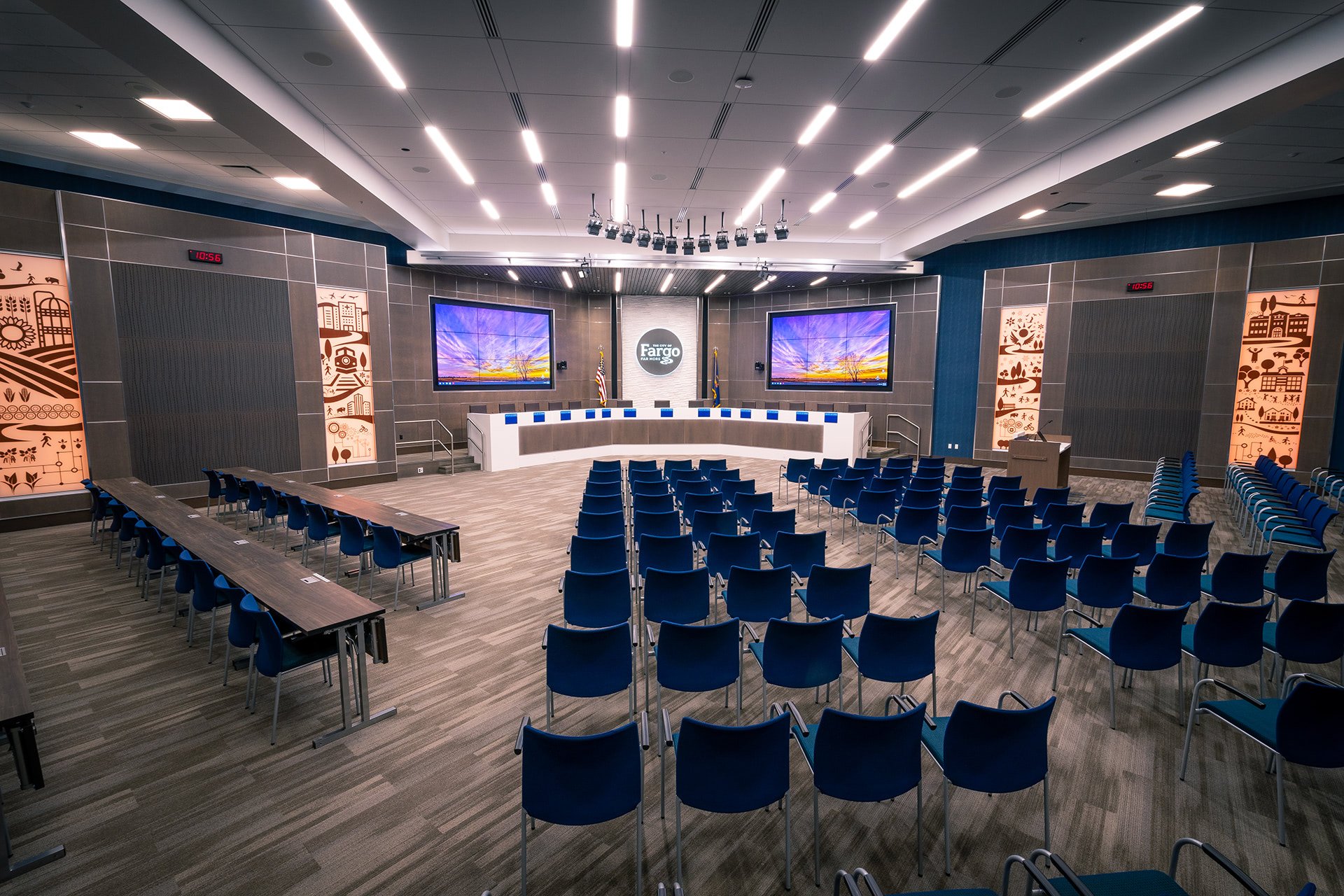 THE SOLUTION
Partnering with AVI Systems, the team focused on how to create more transparency, reaching residents who attended meetings in person, and those who watched on public access TV and livestreams on the City of Fargo website, Facebook, Twitter and YouTube. To enhance audio and visual capabilities, the team installed eight high-definition cameras in the meeting space — seven fixed cameras and one mobile camera — all controlled with the push of a button.
EQUIPMENT USED IN THE INSTALLATION INCLUDES:
8 4K pan-tilt-zoom cameras
2 wired podiums with computer monitors, microphones and ceiling recessed document cameras
13 dais monitors and microphones
Ross Video Switcher and Legislative Control System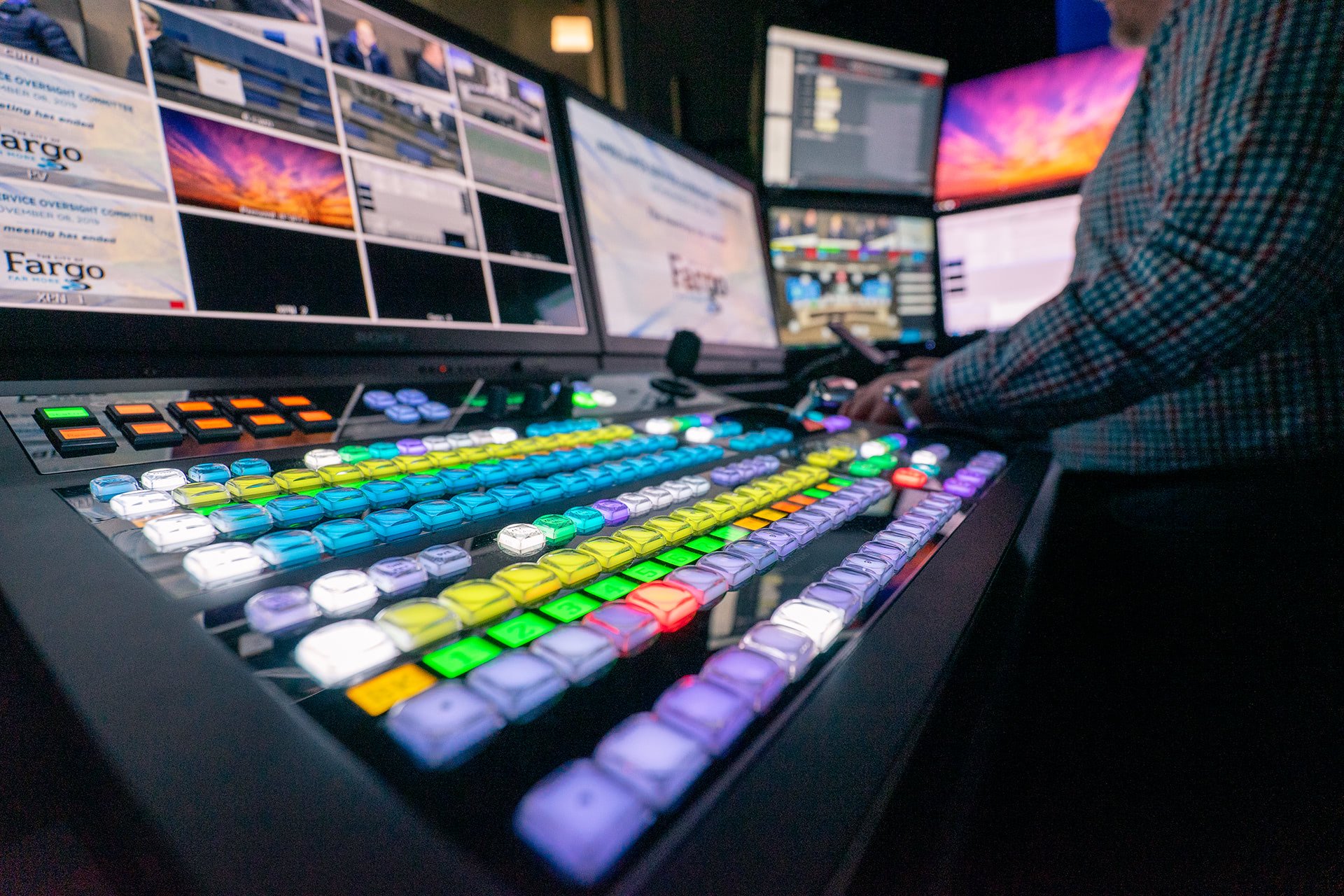 The Commission dais, which seats up to 15 people, is flanked on both sides with two large Planar displays measuring approximately 12 feet wide by 7 feet high, each containing nine video panels. Off-board electronics ensure the display panel processing and power are managed from the control room, eliminating noise and the potential to overheat. Shure microphones are placed at each dais seat to ensure that individuals on the commission are easily heard by those listening and watching. And commissioners each have a small video display at their seats to view any information projected during a public meeting.
"The new system has improved our workflow dramatically," said Brian Sellin, creative services manager for the City. "The old system required manually repositioning cameras on the fly during meetings. Now we can quickly change cameras to focus on whomever is speaking and the broadcast image is seamless and sharp. And, when we need to conduct a press conference in our lobby area, we can use the mobile camera, which remains connected to the chamber's AV system."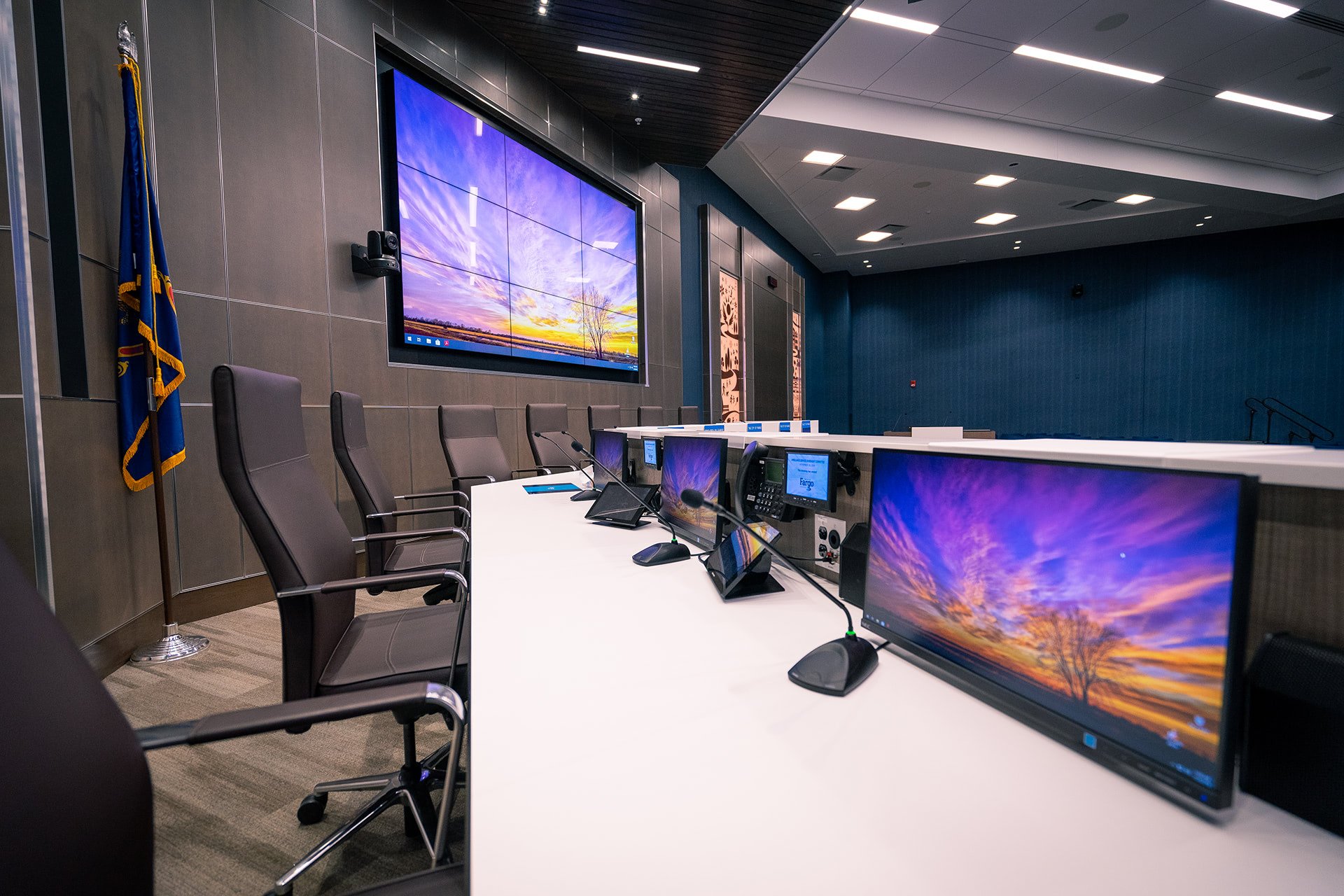 THE RESULT
The Fargo City Commission conducted its first meeting in its new chambers on Feb. 11, 2019. Nuances in the design of the space, including two podiums used by staff and the public, special audio loops to accommodate the hearing impaired, and an elevated area for news media cameras, further enhance the functionality of the chambers.
"Because of the scale of this project, we quickly realized how archaic our old system was," said Dr. Tim Mahoney, Mayor of the City of Fargo. "Now, residents who watch our meetings remotely don't miss a thing. Even the Governor has commented that ours is one of the best chambers in the entire region for public meetings."
NOW, RESIDENTS WHO WATCH OUR MEETINGS REMOTELY DON'T MISS A THING. EVEN THE GOVERNOR HAS COMMENTED THAT OURS IS ONE OF THE BEST CHAMBERS IN THE ENTIRE REGION FOR PUBLIC MEETINGS."

- DR. TIM MAHONEY, MAYOR
"During the course of this project, we called on AVI specialists from San Diego, Chicago and Minneapolis for their expertise," said Trent Slyter, AVI Systems. "Our AVI Process enabled us to deliver on the design and integration of equipment — and we'll continue providing PRO Support to ensure this meeting space stays state-of-the art."
Schildberger added that AVI's expertise helped create the best possible system within the city's budget. "They understood our vision so we could build a feature-rich space and put it to use on day one. We've taken the mystery out of our meetings so the public can better understand what its elected officials are doing."