In 2016, Missouri Botanical Garden began developing plans for a new outdoor exhibit unlike any it had created in its 150-plus year history.
The attraction, called Flora Borealis, was designed to be an outdoor, nighttime multimedia experience including a one-mile journey through several Garden locations that featured a combination of lights, projection blending, and sounds to bring the Garden to life for visitors.
Get a free AV assessment today to learn about new and engaging technical solutions for entertainment venues.
Jonathan Blair, Senior Manager of Events at the Garden, partnered with AVI to assist with the massive project, which included creating the show concept, sourcing equipment rated for outdoor use, syncing AV elements, installation, testing, and support.
"THIS WAS A HIGHLY COMPLEX SHOW USING PRACTICALLY EVERY FORM OF HIGH-END AV TECHNOLOGY. OUR WORK WITH AVI SYSTEMS RESULTED IN A VERY POPULAR, ONE-OF-A-KIND PROGRAM THAT GARDEN VISITORS WILL REMEMBER AND TALK ABOUT FOR YEARS TO COME."

JONATHAN BLAIR, SENIOR MANAGER OF EVENTS, MISSOURI BOTANICAL GARDEN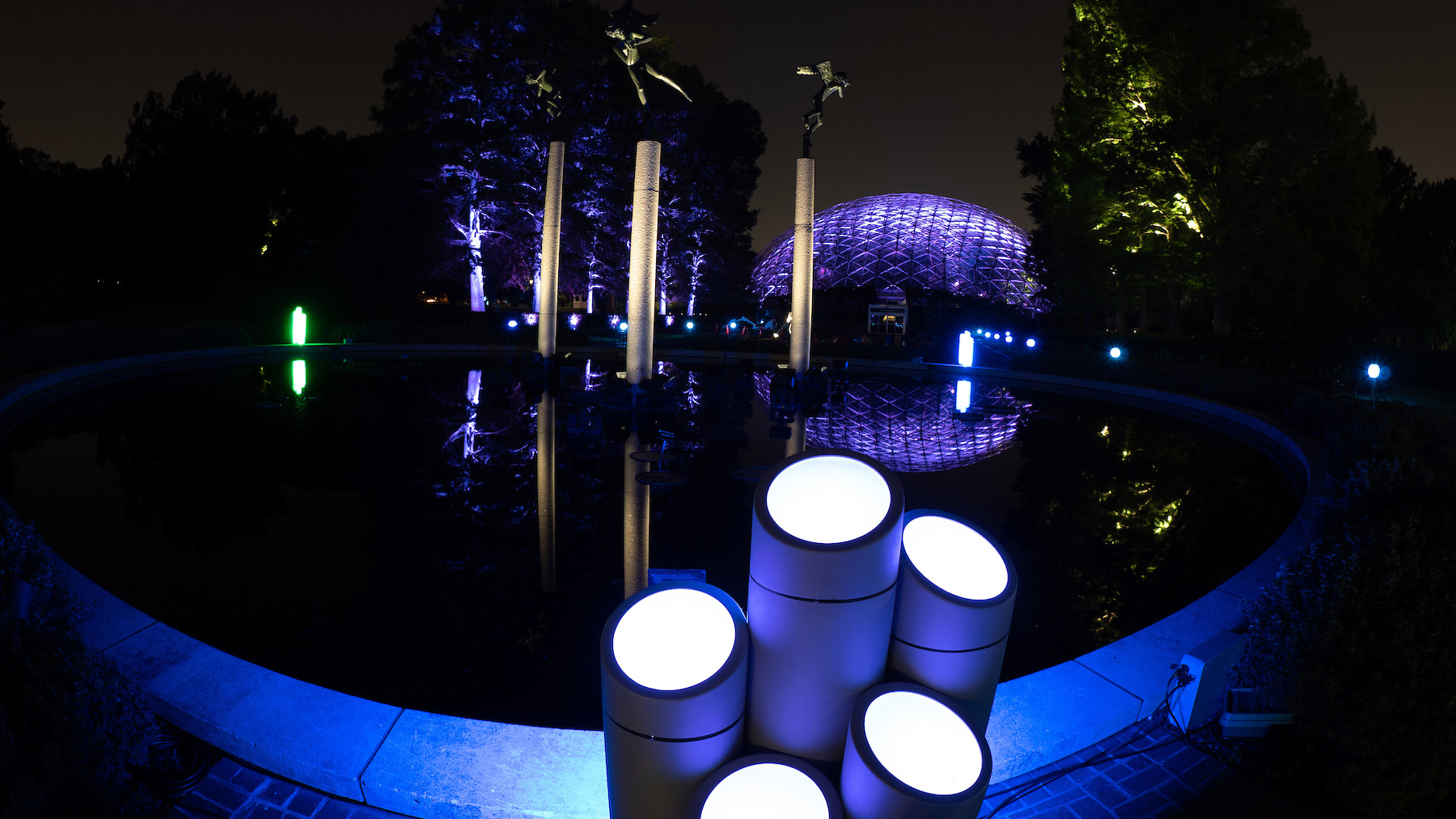 The Solution
AVI entered into a PRO Development agreement with the Garden to provide a solid foundation for project planning, equipment requirements, owner requirements, project milestones and budget adherence.
The fiber network-based AV exhibit is filled with soundscape and imagery transported from zone to zone on its own cable system.
The mile-long walking experience includes several outdoor video vignettes displayed on various Garden objects.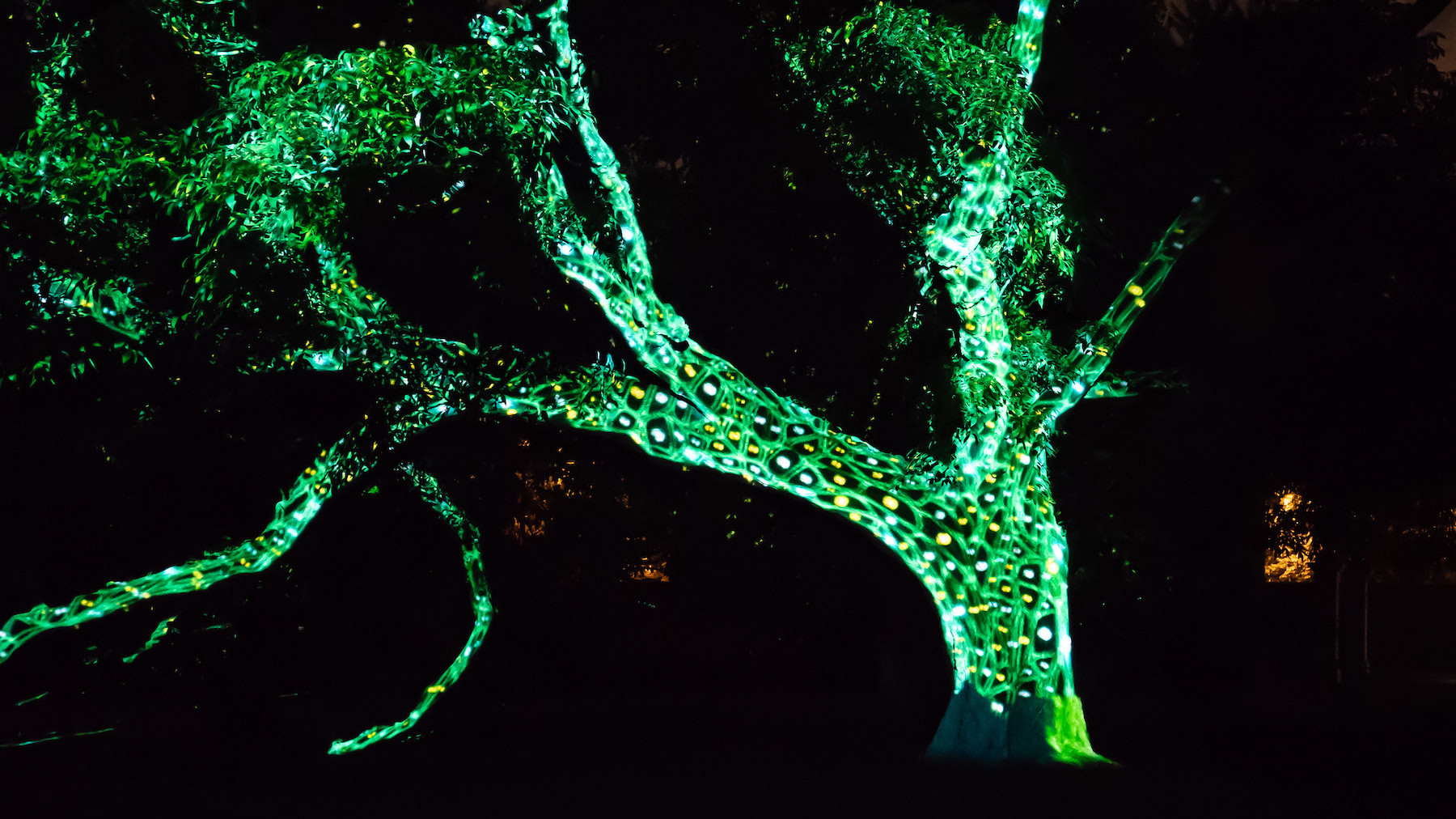 A laser light display is connected to sound and video components, culminating in one large system on an isolated network.
AVI procured all of the sound and video projection equipment, and project managed the installation.
They provided ongoing system certification and supported the show to ensure operation throughout 80-plus event nights. In addition, AVI helped repurpose some of the equipment for other events once the Flora Borealis show season ended.
EQUIPMENT USED IN THE INSTALLATION INCLUDES:
Christie Digital partnered with AVI Systems to assist with creative concept, projection mapping, and video components
Dante Audio Network system
Pandora's Playback System for projection blending, audio-visual playback and control
Network switches to route all audio, video, system control, and playback
Signal transport
Fiber backbone to support long signal runs
Harman Audio Amplifiers, speakers, and network audio conversion
The Result
The interactive exhibit includes stunning visuals that educate and entertain visitors.
Projection mapping technology allows the Garden to display images on irregularly shaped structures including an Amur cork tree and the facade of the Gardens' Tower Grove House, the country home of Garden founder Henry Shaw.
The five-minute story line includes visuals mixed with audio tracks with music and sound effects that come from every direction.
In 2019, a new exhibit, "Garden Party Nights," will repurpose the robust technology used in the Flora Borealis exhibit. The Garden Party Nights theme includes new lighting locations, new audio and new projection content for visitors to enjoy throughout the season.