Imagine for a moment you walked into a bank and saw the employees using computers you remembered from the 1980s.
Or, you went to make an appointment at your doctor's office and the receptionist pulled out a giant scheduling book. Or, you tried to do some online shopping from a store and their website wouldn't load on your mobile device.
Would you feel inclined to continue patronizing those businesses or feel safe giving them your personal or financial information?
Decreased consumer confidence is just one of the underlying costs of outdated technology. While some companies, especially small businesses or those with a tight IT budget, might be wary of large capital expenditures for technology updates, muddling through legacy IT systems will cost more money—and potentially more damage—in the long run.
11 Ways Technology Updates Save You Money
When it comes to technology updates the adage "you have to spend money to make money" holds particularly true. Once the upfront investment is made, technology updates save money in a variety of ways.
Increased productivity. Research shows that a PC that is only four years old averages 21 hours of downtime a year. That's two-and-a-half working days gone, just like that. And that doesn't include the time employees spend waiting for outdated programs to load or machines to reboot. Outdated software that can't track key business processes also force employees to find workarounds or constantly "reinvent the wheel" and that wasted time quickly translates to decreased profits.


Decreased security risks. Data breaches have become somewhat inevitable, but regular software security updates are designed to plug security holes and minimize damage when breaches do occur. If, however, you are using outdated software or an outdated operating system that is no longer supported by the developer, there are no more software patches or security updates to protect you from a breach. Just one serious data breach could put you out of business altogether. After their massive data breach during the 2013 holiday season, retailer Target had to pay millions of dollars in damages, including some individual awards as high as $10,000.


Improved customer satisfaction. The most common ways customers interact with your company or brand—online, over the phone and at the point of sale—depend on technology. If your customer-facing technology is outdated, your customers' experiences are negatively impacted and they might just go away. Technology updates mean improved customer satisfaction for them and improved revenue for you.


Better system compatibility. The older your hardware or software, the harder it is to make it work with newer technology. Instead of your system dictating what tools and applications you use, the tools and applications you need to efficiently and effectively run your business should dictate the technology investments you make.


Reduced maintenance costs. You might think keeping a legacy system running is saving you money because you're not making a large capital expenditure to get something new but, in terms of maintenance, older systems are much more expensive in the long run.


Increased mobility. In today's global workforce, mobility is efficiency and efficiency is money. Technology updates that give employees in every industry the ability to work anytime from anywhere is a major contributor to a healthy bottom line.


Better supported growth and scalability. Older technology is not as flexible as new technology. In other words, older technology—whether hardware or software—simply can't do as much. If your business requirements have changed but your business technology hasn't, your potential growth, innovation and key profit drivers suffer.


Reduced failure rates. The older hardware and software is, the more likely it will fail. Technology failures carry myriad costs—immediate and future—including data recovery costs, the cost of lost productivity due to downtime, and the potential loss of customers frustrated that your services are unavailable due to a system failure.


Protected brand reputation. According to a recent study by Microsoft, 91% of consumers surveyed would stop doing business with a company because of outdated technology. And those consumers are just the tip of the iceberg when it comes to the damage outdated technology can do to your brand reputation. You haven't just lost the one customer who sat on hold for an hour because your phone system is outdated, or the one customer who couldn't find the right floor because the lobby digital signage was out, you've lost every friend and acquaintance and review reader they told about their experience.


More successful hiring. Tech-savvy millennials now surpass baby boomers as the largest group in the workforce and, according to a Workforce study sponsored by Dell, 80% of millennials say workplace technology influences their job decisions. Not only that, but 42% say they would leave a job because of unsatisfactory workplace technology. Every company's bottom line depends on an agile, motivated workforce, and up-to-date technology is one way to attract and retain the best of the best.


Reduced regulatory compliance risks. For companies with government-sanctioned compliance regulations, outdated technology carries a large financial risk. For example, if your company is required to be HIPAA compliant, it is a violation of the law for you to use outdated, unsupported software and other technology solutions. The possible fines can easily be more than the cost of technology updates to support regulatory compliance.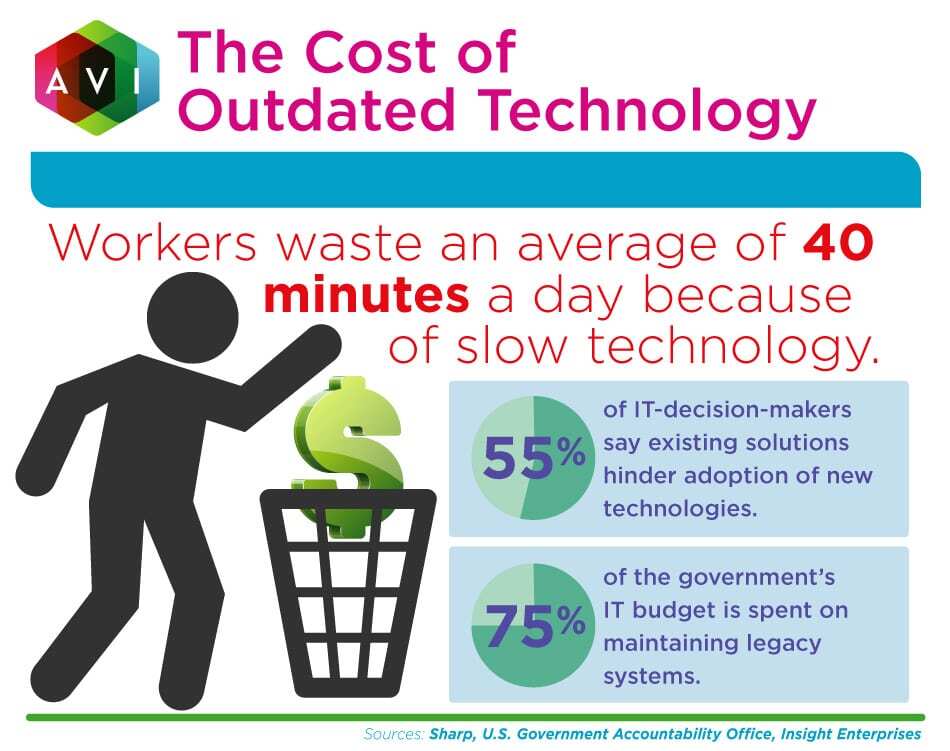 Benefits of AV Standardization
When it comes to making technology updates, the upfront expense is just one piece of the puzzle. You also must consider the Total Cost of Ownership (TCO). TCO includes both direct costs—such as the price of a new computer—and indirect costs—such as maintenance and downtime.
While it might feel like you are saving money by avoiding the upfront, direct cost, your savings are short-lived. Indirect costs account for 80% of TCO and they increase exponentially the older your system gets. A professional inventory and assessment of your existing technology can help you prioritize technology updates and save you money in the short- and long-term.