There are plenty of ways to waste time at work: long lunches, internet surfing, office gossip, and more. But some workplace time-sucks are less fun, like dropped video calls or the hunt for a conference room. Fortunately, many can be easily eliminated with simple technology upgrades.
According to Sharp research, 64 percent of workers could increase their productivity with newer technology. Some time is wasted because older equipment no longer works quite right, but you're also wasting time if there are better options available.
Most time-saving technology upgrades will require some financial investment upfront, but the long-term benefits of increased efficiency and decreased frustration on the part of employees easily make the investment worth it.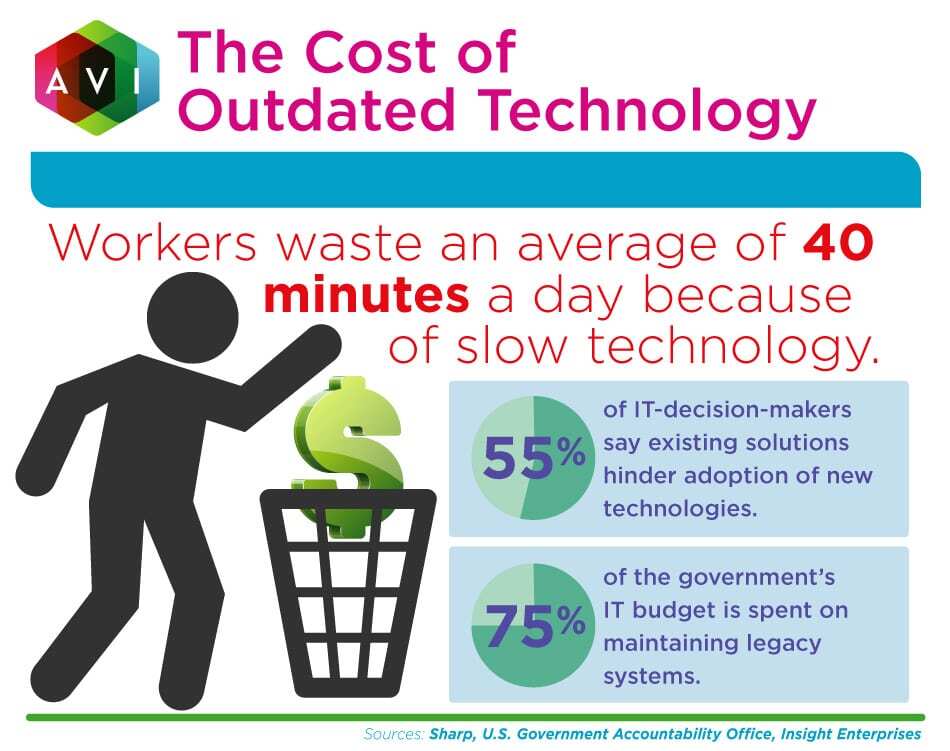 5 Ways to Save Time by Upgrading Technology
Technology time-wasters not only compromise work delivery and hurt your bottom line, but also negatively impact employee morale. Feeling like you're wasting time can be a major frustration.
Upgrades of the following technologies can save loads of time and make your organization a more pleasant and efficient place to work.
Video conferencing. Getting everyone together for a meeting can eat up a good part of the workday, especially if people need to travel from another office location. Video conferencing allows you to meet face to face without having to take the time to go anywhere.
Content sharing. The ability to share content directly on a call or with other participants in the room saves time because everyone can focus on the same document or information at once. Participants don't have to take notes, and the presenter doesn't have to email documents or presentations after the meeting because they can be distributed directly through the content-sharing solution.
Meeting room reservations. Have you ever arrived at your conference room to find out it was double-booked? Aside from the aggravation, the downside is that finding an open space can eat up a lot of time. A centralized scheduling solution can help you find and reserve a space with the capabilities you need without wasting any time.
Displays and digital signage. Visual presentations boost information retention, and that's not only useful for students but also for employees. For effective, efficient meetings, make them visual by adding displays or upgrading the displays to make them easier to view. In fact, digital signage anywhere—whether for employees or visitors—can streamline the dissemination of information.
Automated technology management. Do you have to manually check up on your technology? That process is time-consuming not only because you have to physically monitor every piece of equipment, but you also waste time trying to figure out what exactly has gone wrong when something breaks. A comprehensive communication technology monitoring and management tool lets you know when it's time to service or repair equipment. It can also provide reports about your systems, saving you countless hours compiling and analyzing data.
---
---
Time Is Money
The idea that time is money has never been truer than in today's fast-paced global marketplace. When it comes to updating your office technology, choosing solutions is about more than going with the lowest bid.
It also means looking at how the solution will benefit your organization and your employees in the long run.