Editor's note: This blog post was written in collaboration with the Artificial Intelligence tool ChatGPT by OpenAI.
For decades, most companies worked in a very synchronous way. That is, people came into the office and worked on deliverables together – at the same time. The pandemic changed that, of course, and now the new norm for collaboration is in-person, remote, or a hybrid of both.
The challenge is that while the pandemic made work-from-anywhere tools the norm, many companies still organize and think about work in a pre-pandemic – or synchronous – way.
Gartner explains it this way: "Most organizations use [video meeting solutions and visual collaboration apps] tools to emulate previously existing communication and collaboration experiences. They are missing the opportunity to change processes to reap the full benefit of digital workplace technology investments and initiate new ways of working."
What is asynchronous collaboration? What tools are needed?
Today, companies need effective ways for team members to communicate and work together without being in the same physical location at the same time. This is called asynchronous collaboration, and it's especially critical for global brands with teams in different parts of the world.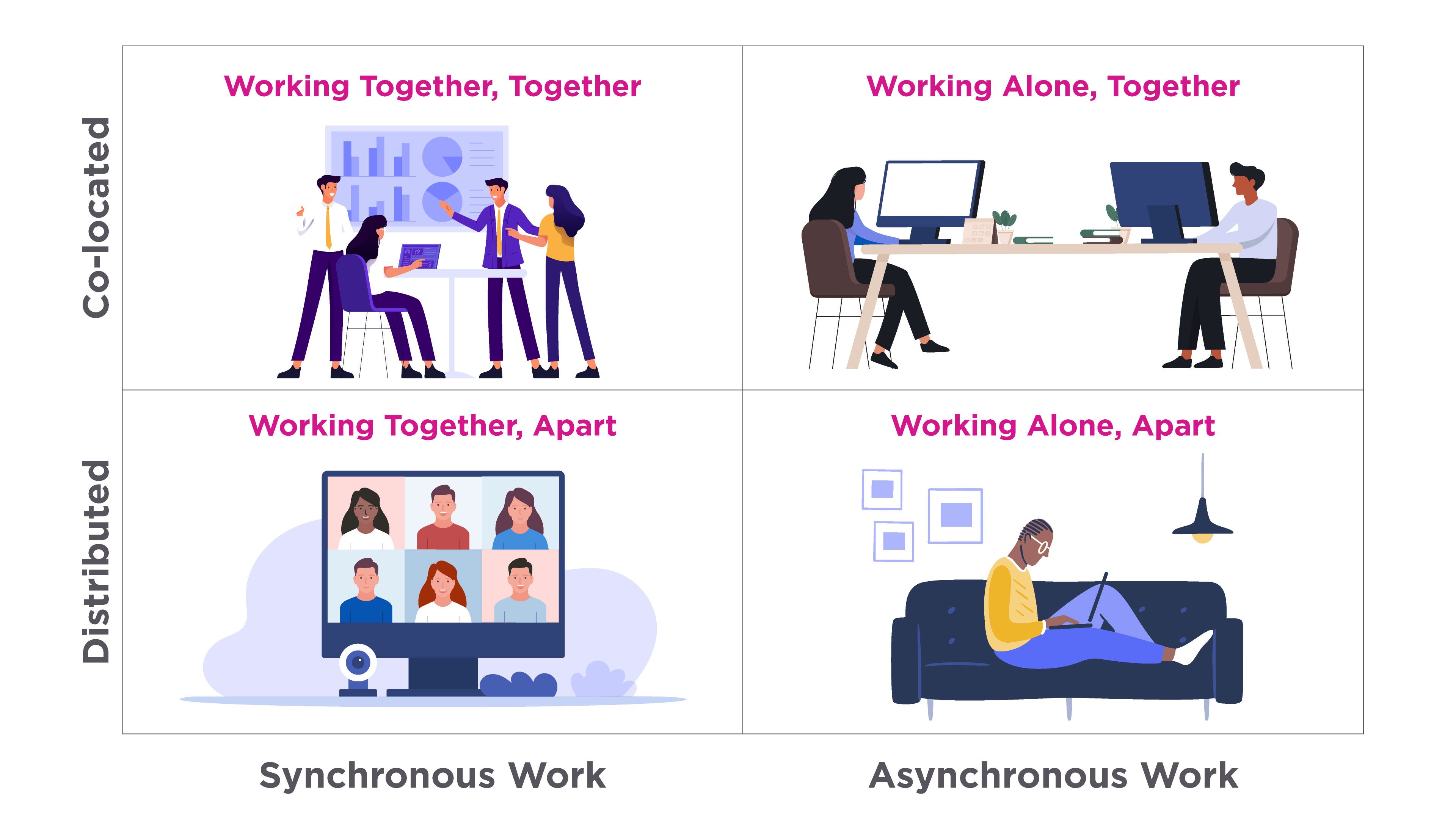 Graphic adapted from 2021 Gartner Hybrid Work HR Leader Survey
This need led to the development of a variety of asynchronous collaboration tools, which allow team members to communicate and work together without needing to be online at the same time. Some examples include:
Project management software

– like Asana and Trello helps team members create and assign tasks, track progress, and collaborate on projects, even if they're not working at the same time.

File sharing and storage platforms

– like Google Drive or Dropbox allow you to share files and documents with other people and collaborate on them in real-time or asynchronously.

Collaboration solutions

– like Microsoft Teams, Zoom, Slack, and Google Workspace have both synchronous and asynchronous tools. The async features like meeting recordings, automated transcripts, and dedicated meeting chats make it easy for people to find out what happened during meetings they couldn't attend.
How do global

organizations

benefit from asynchronous collaboration?
Here are just a few of the benefits of using the asynchronous capabilities of your collaboration tools.
Benefit #1: Greater flexibility and convenience
One of the key advantages of asynchronous collaboration tools is that they allow for greater flexibility and convenience. With these tools, team members can communicate and collaborate on their own time rather than being constrained by the need to be available at the same time. This means team members can work at their own pace and can even continue working on projects outside of traditional business hours.
Benefit #2: Improve the efficiency and effectiveness of communication
Another advantage of asynchronous collaboration tools is that they help improve the efficiency and effectiveness of communication within a team. By providing a central platform for storing and sharing information, these tools can help team members easily access the information they need when they need it. This can help reduce the amount of time spent searching for information and can also help to prevent important information from getting lost or forgotten.
Benefit #3: Promote a sense of community and connectedness
Asynchronous collaboration tools can also help promote a sense of community and connectedness among team members. By providing a shared space for team members to interact and work together, these tools can help to foster a sense of belonging and can help to build stronger connections between team members. This can be especially important for global companies, where team members may be physically separated by great distances.
The post-pandemic era requires a new approach
As Satya Nadella explained in his Microsoft Ignite 2022 keynote: "Work doesn't happen in a vacuum. You need to be great at sync, async, in-person, and remote collaboration. In a previous era, you could get away with one or two of these quadrants, but now you need all four quadrants to be excellent at any given time for work to get done and collaboration to happen."
This is why using asynchronous collaboration tools is becoming increasingly important for global companies. By providing greater flexibility and convenience, improving the efficiency and effectiveness of communication, and promoting a sense of community, these tools can help companies to manage their teams better and to achieve their goals.
Need help with asynchronous tool adoption?
As the largest global systems integrator, we have deep expertise in helping global brands improve their collaboration through tools, training, and support. Plus, we use these tools ourselves to connect our team and customers worldwide.
If you need help planning for, implementing or realizing ROI from asynchronous collaboration tools, let's chat. We're happy to share what's working well across the thousands of organizations we work with and support each year.