If your company sells a complex or experiential product, it can be hard to show your value to prospective customers. That's why for years, companies have turned to customer experience or innovation centers.

These centers allow you to showcase your brand, product, or services in an interactive way. This is particularly helpful for organizations in technology, retail, manufacturing, and energy – where seeing solutions in context helps existing customers and new prospects better understand a potential application.

Usually built around the goals of storytelling, strengthening relationships, and creating dialogue, experience centers consist of a series of spaces such as a:
Gallery area

– where you peak customer curiosity and interest

Briefing area

– where you set the stage for the experience you're walking customers through

Showcase area

– where you pitch your product and show in context what it's capable of

Close room

– where you move the relationship forward and hopefully close your deal
Following are three trends we're seeing across our global customer base that show where experience center design is headed next.
Trend #1: Direct-View LED (DVLED)
DVLED was out of reach even for many enterprise customers as recently as 3 years ago because it was costly. Over time, this technology has become more affordable and attainable and, as a result, is now playing a bigger role in experience centers.
DVLED is a powerful solution because it's not bound to a specific size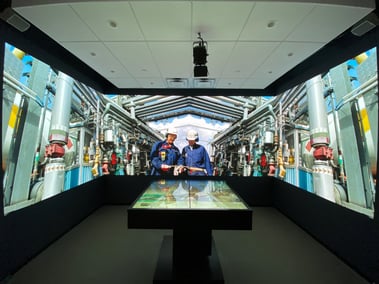 like traditional LED displays. Plus, the color, contrast, and brightness are several times more intense. Combined, these features mean you can use DVLED to create a fully immersive experience of any size – like floor-to-ceiling, for example. This helps prospective customers imagine themselves using your product or service in a completely different way.
AVI recently deployed a DVLED experience center for our customer Emerson Automated Solutions in Houston, Texas (see above image).
Related reading: Engineering a Wow!-Worthy Client Experience
Trend #2: Show Controllers Software
The next trend we see frequently is the implementation of show control solutions like Pandoras Box, Analog Way, and Purple. These tools can automate the experience so you can focus on creating connections rather than managing technology and content. Used correctly, automation can move the dialogue along naturally based on the story you want to tell.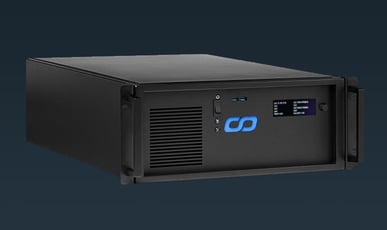 These tools can even sense when you're moving from one space to the next and automatically cue pre-programmed audio, visual, lighting, and environmental effects.
Trend #3: Collaboration Systems
Experience centers are no longer solely for the people in the physical space. The modern center frequently leverages collaboration platforms like Teams or Zoom, paired with broadcast quality elements, allowing remote contributors into an experience.
In particular, we're impressed with NewTek technology. We liked it so much that we added them to our AVI experience center in Minneapolis.
Bonus trend: What's on the Horizon
We're also closely watching what's happening in experience centers using virtual and augmented reality.
For example, some of our manufacturer partners use VR/AR as real-time design tools with their customers. This technology helps them experience what specific AV solutions would look and feel like in the context of a customer's actual space. This includes obvious items like speakers or projection system placement, but it can also predict audio quality issues like echoes – including how to solve those issues.
Is an Experience Center Right for You?
If you're considering an experience or innovation center for your corporate campus, AVI would welcome the opportunity to discuss whether these trends or other AV solutions are right for you.