Summary: Discover how AVI's illustration and render capabilities make it easy to visualize AV solutions in your meeting spaces and confidently make decisions.

When choosing an audiovisual solution for your space, it can be challenging to visualize how everything will look and function when installed. That's why we're used to getting plenty of questions from prospects and customers about how the details will come together. Questions like:

Could a bigger LED display work in this space?
Where will you hide the cabling?
Is this conference room big enough for a curved table instead of a rectangular option?
What if we added a [fill in the blank with your dream solution]
In the past, our account teams primarily relied on their own experience to answer these questions and describe the finished product. But today's software tools help us show customers exactly how a proposed solution will look in their space.
AV Solution Renderings from AVI Systems

Renderings allow prospects and customers to see the exact technology we're recommending in context – whether that's LED displays, touch-panel screens, and interactive whiteboards in a conference room or an esports arena complete with gaming desks, monitors, and custom lighting.
Option #1: Flat Renderings
These 2D renderings illustrate how potential solutions will look in your space. Because we create them using photos you provide (or we take onsite), we can add important details such as furniture, technology placement, and even how the sun and shadows will look at certain times of the day.
Best for: These renderings work well for smaller installations like a conference room or when you want to compare different solutions before making a decision.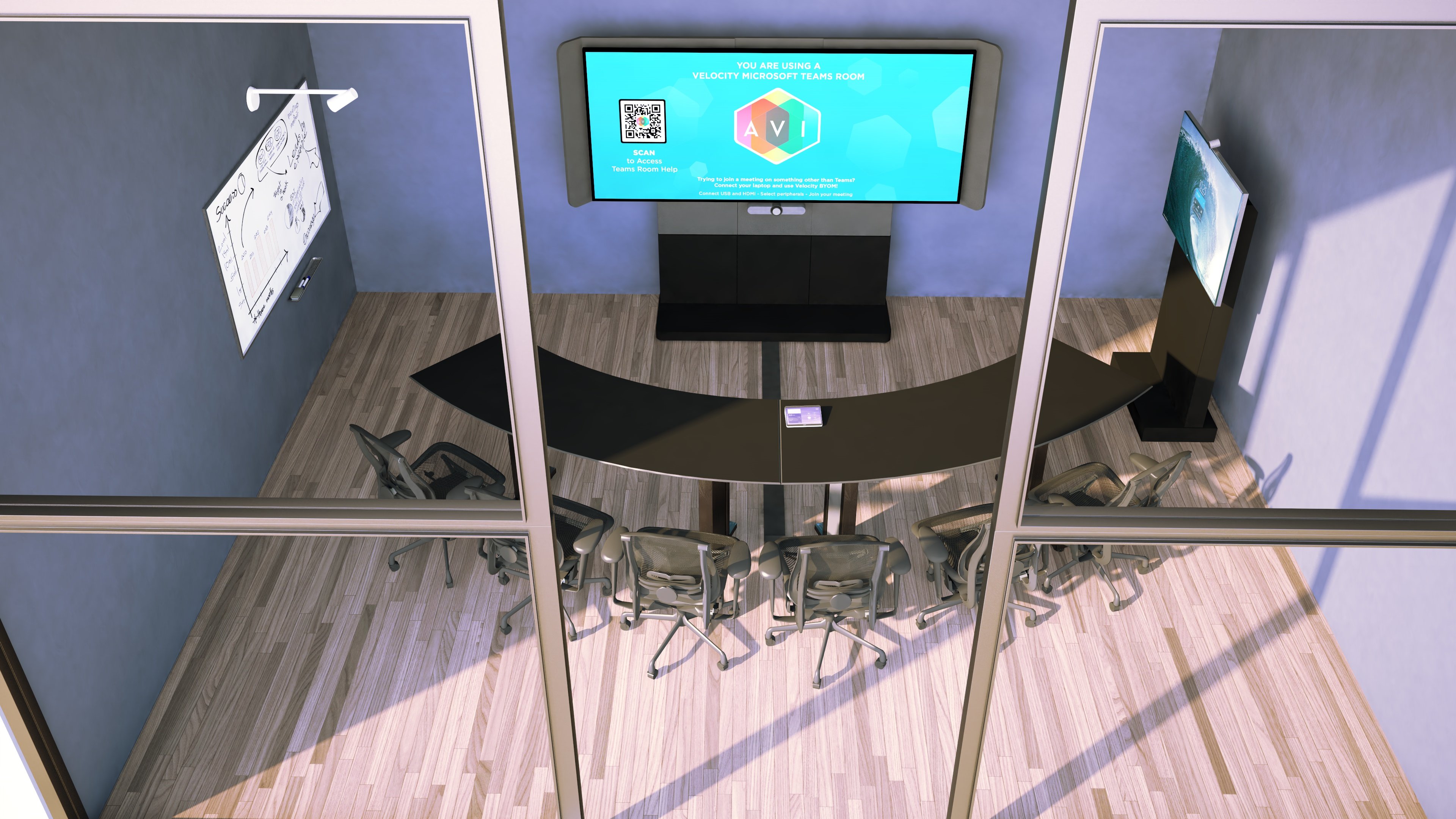 Option #2: Interactive renderings
We also build interactive 3D renderings that allow you to pan around in a proposed space (sort of like the virtual walkthroughs you see in real estate listings). This option provides a more true-to-life experience and includes the specific technology solutions we recommend. Click around to see your space from every angle and get a better perspective on what the finished space feels like.

Best for: These renderings work well if you want to illustrate a before and after of the same space, have a space that users will experience from more than one perspective, or want to share your plans with another vendor (e.g., architect, construction company, interior designer).
Option #3: Immersive renderings
These premium renderings provide a more immersive experience and illustrate essential considerations such as users' line of sight, camera angles, and viewing distance. This additional detail helps you understand what the space will look like and how it will perform with different solutions in place. And because we incorporate the exact specs from manufacturers, these are the most realistic renderings available without using virtual or augmented reality.

Best for: These renderings are best for confirming how specific technology will perform in a space or when you need to make important spec-related decisions.
How Renderings Support End-User Decision-Making

To date, we've seen how renderings better enable our sales team to communicate recommendations to prospects and customers more effectively. We've also had customers tell us that renderings are an effective way to:
Reduce uncertainty about the final product
Raise important questions early in the design process
Compare options or work through ideas before making a decision
Reduce or eliminate costly project changes
Share recommendations with important stakeholders (e.g., executives, board members)
Ensure the solution has the WOW effect they're after
| | |
| --- | --- |
| | "Many of our customers haven't done an AV installation before. So, renderings make it easier for them to imagine how our recommended solution will look in their space. I've also seen how renderings prompt customers to ask important questions that otherwise wouldn't have occurred to them. This is the tool our account teams have been waiting for." – Ken Moseman, Manager of Central Resources, AVI Systems. |
Renderings in Action: A Velocity Use Case
We're using renderings to showcase our preconfigured meeting room solution, Velocity. Because Velocity has multiple options for displays, furniture, and add-ons, renderings make it easy for customers to see how different options will work in their space – no imagination required.
Not sure if you want one display or two? Wondering whether your room can accommodate both a display and an interactive whiteboard? Curious how far a whiteboard camera extends into the space? Renderings make these comparisons and decisions much easier.
Make AV Decisions with Confidence
If you want a way to visualize potential AV solutions in your space, our Engineering team is ready to make that happen. Contact us today to learn more.
©AVI Systems, Inc., 2023