Five years ago, if a large company needed AV equipment for its conference rooms, a facilities manager or IT administrator would contact a supplier. In most cases, a subcontractor then would be hired to install the equipment. Those who needed to manage the status of each project typically relied on emails or spreadsheets.

Complicating the project even more, if an end-user had questions about the technology, he or she would have to call the IT help desk – only to be met with uncertainty, confusion, or an onslaught of questions. If a display was in a conference room, that's a real estate or facilities issue, not an IT asset, right?
AV Has Changed Forever
Audiovisual tools are now at the center of how modern workplaces operate – these tools are no longer a luxury but are business-critical to daily operations. Enterprise-level organizations – especially those with employees across geographies – use AV to help their teams connect, collaborate, and solve problems. We call it Human Impact created through the best use of technology and systems.

Because AVI had a solid foundation before the pandemic, our transition into the next wave of collaboration tools happened seamlessly. We paused, evaluated our approach, and took steps to ensure we could meet changing business needs. The result is what we call our enterprise advantage.
AVI's Experience Gives Us an Enterprise Advantage
When upgrading audio-visual equipment across multiple locations, especially across borders in other countries – equipment that can fundamentally change how your teams work together to drive business results – you need more than a project manager. You need a partner and trusted advisor, and guide to navigate your deployment.

At AVI, we take the time to learn about your technology roadmap and create alignment with what you want to accomplish. Then, we deliver a program solution with a consistent user experience across your enterprise.
AVI Enterprise Teams
We staff programs with dedicated teams, including an account manager, architect, program manager, and service delivery manager. They have access to a consistent internal team of programmers, project managers, and solutions designers.
How your enterprise benefits: The program manager you work with gets to know your culture and standards and coordinates a consistent user experience designed just for you.
Proven Process
We have a unique way of approaching opportunities and follow a rigorous four-step process. Our team builds an architectural strategy, provides guidance, and quickly breaks it down into actionable tasks. Here's how we get there:
Development - a clear path from business goals to a technical solution. We meet you where you're at in your technology evolution process to ensure adoption and, by extension, improve productivity and happiness. 
Design - standards that allow you to scale your workflows and infrastructure reliably.
Integration – plans for our technicians and engineers to test, verify and deliver every piece of equipment, whether you have offices in one location or across the globe.
Support - support that aligns with your IT service management models and offers IT departments a better way to manage help desk requests, training, and meeting support.
Read more about our proven process
How your enterprise benefits: You'll have one holistic solution that integrates audiovisual, unified collaboration, and digital media technologies and is supported by robust managed services. 
Enterprise Planning
We understand how to work with the existing IT architecture. You'll get an architectural design report detailing use cases, the basis of design to complete delivery standards, and acceptance testing and documentation.
How your enterprise benefits: more confidence heading into production based on proof of concept and pilot validation.
Program Management
We take a holistic approach that helps you realize benefits rather than simply managing outcomes. It's what you need for multiple implementations happening in different locations that require flawless execution. Program Management is particularly useful when you must scale your organization's work output beyond what you typically handle.
How your enterprise benefits: a single point of contact provides a simpler, more consistent customer experience. Real-time dashboards, reports, and collaboration tools plus quarterly business reviews keep you up to date and the work on track.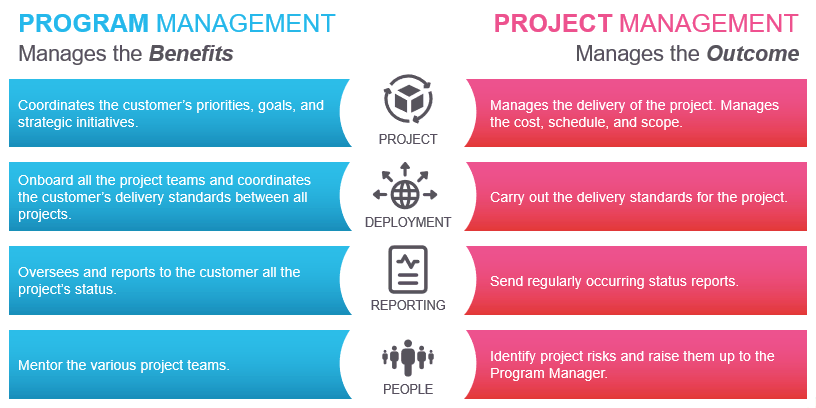 Enterprise Deployment Centers
In response to the complexity of modern workplace solutions, we now build, commission, and test technology and systems before delivery and installation.
How your enterprise benefits: centralized logistics means you are more prepared and have a more consistent implementation. And it's far more efficient to scale. In addition, the amount of time a room is out of service during an upgrade is significantly reduced. Since systems are fully commissioned in our Enterprise Deployment Center prior to arriving at your facility, the rooms are deactivated and reactivated much more quickly.
24x7 Support and Monitoring
We deliver ongoing support to ensure your implementation gets high adoption. This includes services like recruiting support for strategic onsite staffing, onboarding, reporting, and business reviews.
How your enterprise benefits: the personal touch of a global service manager backed with day-to-day service management for things like quality review and escalation.
Global Reach
AVI offers the largest global footprint for audiovisual and unified collaboration technology. As a stakeholder of GPA – we can deliver solutions in 50-plus countries (164 cities worldwide)! We help you achieve better outcomes through simplicity, standardization, and speed to market.
How your enterprise benefits: you can deliver the same audiovisual experience to employees worldwide.
The Result: AV That Performs Like IT
"If you're a large organization with a charter of deploying AV and UC across your enterprise that transforms the way you collaborate and adapts to modern workplace demands, AVI is well-positioned to scale with you, while providing a consistent user experience, regionally, nationally, and globally."
- Roger Patrick, AVI's Chief Operating Officer
When you combine experience and scale, you end up with AV that performs like IT – managed like a program, monitored for performance, supported through managed services, with global logistics managed by a trusted partner.

That's why brands like 3M, Amazon, Boston Scientific, Google, and Ameritrade trust AVI to develop, design, implement and support their enterprise audiovisual solutions.
We Lead with Human Impact
Your audiovisual solutions shouldn't function in a silo. Instead, they should connect with unified collaboration platforms, digital media, and other collaboration tools.

AVI Systems takes a strategic approach and finds the best solutions to help your employees do more. Interested?