When employees think of a healthy office environment, they may look at whether there are ergonomic workstations, comfortable break rooms, or places to walk on their lunch breaks.
Noise is often an afterthought, but background noise and conversations can create stress and productivity problems for those who need to concentrate.
Here are some considerations when evaluating the noise levels in your workplace: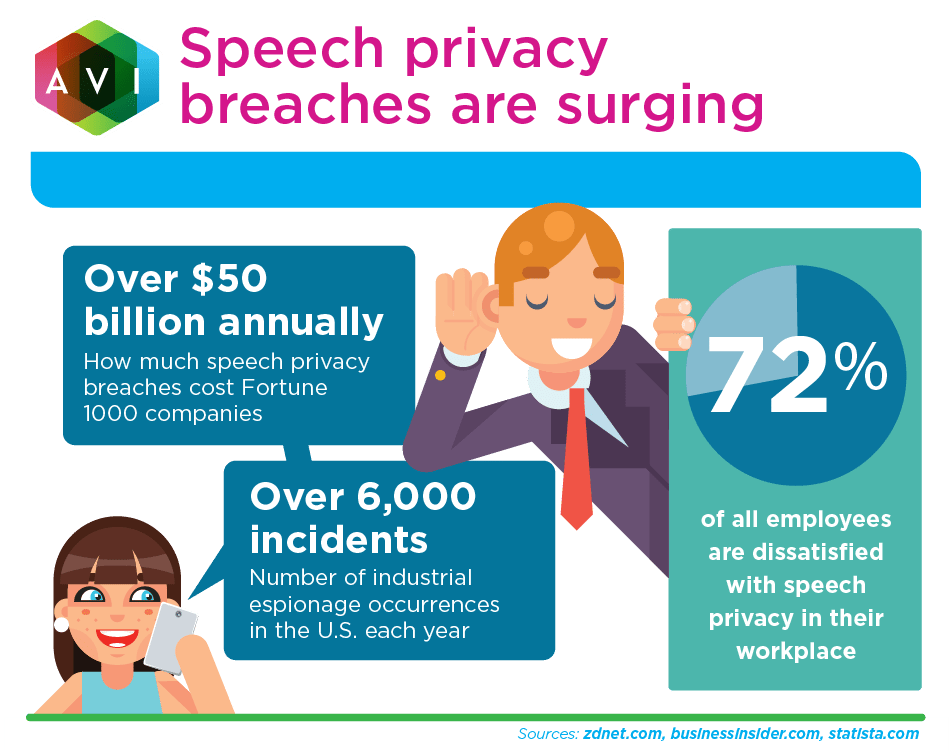 The Flexible Workplace
Since companies have embraced flexible work styles and open workspaces, the workplace looks and sounds different.
Spaces that once contained designated offices and conference rooms have been rearranged to accommodate a mobile and flexible workforce. Some employees may drop in at will, contractors may work in the office temporarily, and in-office workers may work on a variety of projects requiring different kinds of environments. Employees often need to collaborate, focus and innovate within the course of a day.
Trends like hot desking and flexible work options have led to more openness and shared spaces, but sound issues can plague these kinds of workplaces.
Research reveals that background noise can cause performance to drop by 66 percent, so noise issues should be more than an afterthought.
---
See what we've done with our headquarters to create a better sound environment for employees.
---
The Sounds of Work
The sounds of work—like those from voices, music, and technology—create two kinds of issues: distractions and privacy concerns. Repeated interruptions harm productivity, and privacy is compromised when employees easily overhear sensitive calls and conversations.
In addition to participating in day-to-day conversations—which can be annoying to those trying to work—employees can distract their colleagues by making conference calls, watching videos, and moving in and out of spaces all day long.
The types of spaces also affect noise and sound considerations. Whether it's an open space, enclosed space, or semi-enclosed space affects the sound quality for those participating in conversations as well as the noise factor for bystanders.
Evaluate those spaces and ask employees which spaces they are and aren't able to use for quiet work, collaboration, and other types of work they need to do.
Solutions for a Better Sound Environment
Designing spaces that optimize sound when and where it's necessary—and that block or minimize sound when workers need quiet—requires an understanding of your spaces and taking advantage of the right accessories and technologies.
Some solutions are simple like closing doors, changing speaker placement, or providing employees with noise cancellation headphones. Others require a bigger commitment, like adding acoustic panels or altering surfaces. Sound damping, sound masking, and soundscaping are some of the long-term solutions you can use to decrease noise or cover distracting sounds.
Finally, consider designating space by sound needs. You may want to create quiet areas, consultation rooms, collaborative zones, and even innovation areas where employees can play music and be as noisy as they need to be when working creatively.
Considering the sounds of the modern workplace now will save the hassle of addressing issues after they've affected productivity and morale.
---
Read Next