Not all meeting rooms were originally designed to be meeting rooms. Many "acoustically challenging" workspaces are used for conversing and collaborating in today's offices. As we mentioned in our previous acoustics post, there are features you can install for sound absorption and sound masking. Here's a more in-depth look at some ways to address acoustic challenges like unwanted voices and background noise. Speech privacy is a big issue in modern offices where sensitive information is a part of meetings, discussed within the office and with remote clients and employees. Gallup reports that three-quarters of employees say they frequently hear noise while working. Open collaboration areas and huddle spaces exacerbate the issue since there may be no physical barriers to block sound.
The Subtleties of Sound Masking
This is where sound masking comes in. Commercial Integrator reports that sound masking is "underutilized" in open spaces, but that may be because it can get somewhat complex and is often managed by architects and audio professionals. The layperson may call sound masking "white noise," but that is not technically accurate. Sound masking—otherwise known as an acoustic background sound system—sends "unstructured" sound through loudspeakers to mask distracting office noises.
You don't want to hear your co-workers' conversations while you're trying to work, and you don't want them to hear your conversations when you're discussing sensitive information. Sound masking adds an extra layer of security and costs considerably less than completely restructuring your physical spaces.
If it's doing its job, sound masking will go unnoticed. The noise should not compete with your conversations, and the appearance of loudspeakers should be barely noticeable.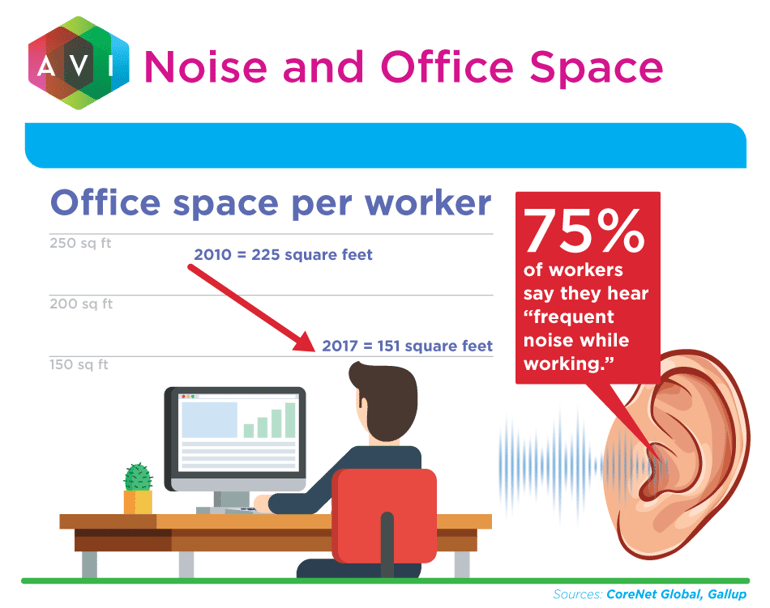 The Advantages of Improved Acoustics
Sounds are a part of office life. People must discuss work, and with many employees working remotely and many companies working with global clients—more of those interactions happen in collaboration areas.
Even in spaces not completely open—like partially closed-off areas or large rooms full of cubicles—10 to 12 people talking simultaneously can create an annoying distraction. Anywhere you can't close doors to block sounds, sound masking will help dampen that environmental noise and allow everyone to focus on their own work and conversations.
According to one study presented by sound researchers to the ICBEN Congress on Noise as a Public Health Problem, better acoustics in open work environments lessen distractions and even cut down on stress.
The Technologies of Sound Masking
Sound masking, though, is not simply a matter of covering up sounds. As Atlas Sound explains, there are varying degrees of speech privacy. Speech privacy levels are measurable, but achieving the desired level can be complicated. That's why it's important to install commercial-grade equipment designed for your needs and your environment.
The TechDecisions staff explains that as part of a standard conference room setup, the sound masking loudspeakers would be hung from the ceiling or placed in the grid or drop ceiling. The sound masking loudspeaker will likely be connected to a transformer that pushes sound to the speaker.
Once you've optimized your space with curtains, ceiling tiles, carpet, etc., for better acoustics, if you still don't have the right sound experience, you may need sound masking technology. The sounds are designed to mainly mask ambient human speech but can also effectively mask other kinds of distracting background noise.
Driven to Productivity, Not Distraction
Whether you're in a field that handles particularly sensitive information—like medical, legal, or financial industries—or a run-of-the-mill office, sound masking can be the difference between wasting cumulative hours driven to distraction and being able to work in a focused and productive manner.