There are pandemic-era IT problems that require your immediate attention, but you can't solve these problems just for today. From meeting room technology to other enterprise-wide IT solutions, you must create future-proof responses to business problems that easily flex and adapt to eventualities.
This is the conversation three guest panelists had with Brad Sousa, CTO of AVI Systems at AVI LIVE – Minneapolis on Nov. 10, 2021. Scott Aspengren, IT manager at Securian Financial, Rachel Lockett, CIO at Pohlad Companies, and Peggy Martinus, VP of sales at Magenium shared several key insights from the return-to-workplace initiatives they've witnessed.
What learnings will endure after the pandemic ends?
When the pandemic shuttered the Securian Financial headquarters in St. Paul, Minn., IT leaders quickly realized it was time to make strategic investments.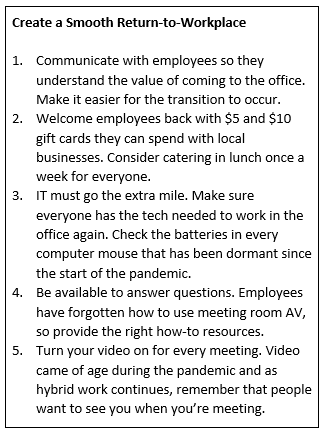 "We wanted to improve our meeting room technology, so the team identified the technology we knew employees would need when they returned to the workplace," said Aspengren. "We also examined the procedures we once followed to determine how effective they would be with the new hybrid workforce. For example, in the past, when people resigned, they gave their corporate assets to their manager on their last day of employment. Today we have new procedures to easily manage things like this."
At Pohlad Companies, Lockett says employees actually got better acquainted with one another because of the pandemic.
"At home, we saw our colleagues' kids, cats, and dogs – and quickly came to understand that we do have lives away from work. But the key thing that I know will endure is flexible work opportunities. Now we all understand that we can work from home and be productive. Making this universal across the organization makes sense – and provides the work-life balance we all talked about prior to the pandemic."
Lockett also says an enduring factor created by the pandemic is being platformed agnostic.
"When we switched to online meetings it taught us that one standard platform was not the way forward. As we designed and built our new facility, we relied on the bring-your-own-meeting approach for conference room design. As people return, they quickly discover that it doesn't matter who leads a meeting – they can choose the platform they're most familiar with and the room adapts."
Does the workforce have a new relationship with the office?
"The answer to this question is complicated," says Aspengren. "It depends on the type of worker. There are extroverts who are ready to go back to the office; introverts, however, are perfectly happy working from home forever. Our Learning and Development group is training all associates for the new hybrid workforce so company-wide we will treat each other equally and make sure everyone has a voice."
"As the pandemic winds down, the relationship with the office will feel different," adds Lockett. "It will be highly frustrating if employees return to the office and then sit on Zoom calls all day with their colleagues who are also in the office. Being together in person creates energy and most of us need that. We must figure out how to use the workspace to connect with each other and create energy with the team."
Martinus agrees: "People aren't going back to the office to sit in a chair and work independently when they can do that at home," she says. "They want to collaborate and be productive and will choose when and how they use the office to work with one another.
"In addition, we now have college grads in the workforce who have never stepped foot in the office and have no concept of how an office is beneficial. I believe we'll see unified collaboration and technology come together to make everyone feel included. The AI involved with these platforms to create dynamic layouts and front row experiences will be instrumental in meeting equity and giving everyone a sense that they're part of the meeting – in person or remotely."
In many cases, the technology you provide to employees will make returning to the office a no-brainer - especially if it's familiar and easy to use. If you have questions about how to move forward with a return-to-workplace initiative employees will embrace, connect with us. Just click this button to get started.