Summary: Our new Velocity Signature meeting space system is designed to meet Microsoft Teams Rooms hybrid optimization specifications.
After more than three years of hybrid work, many companies are ready to up their game and create more seamless and inclusive hybrid meeting experiences. To meet that need, AVI Systems just launched Velocity Signature systems. This expansion of our popular Velocity meeting room systems combines Microsoft reference designs with hybrid-optimized tools to meet the demands of the modern workplace. Let's take a closer look.
Velocity Signature: The goal and designTec
Hybrid optimization improves the experience for remote participants. These systems typically feature intelligent cameras to improve meeting equity, wider displays, collaboration tools like Surface Hub, and uniquely shaped tables to enhance face-to-face experiences.

Not every company wants to take on implementing these designs themselves. So, AVI Systems used its expertise in the enterprise AV space to create a new bundled technology and furniture solution based on Microsoft's reference designs. The result is our new Velocity Signature system.

"Hybrid optimized solutions improve remote participant experiences," said Keith Yandell, AVI's Director of the AV Practice. "These designs are ideal for scenarios where the quality of the collaboration experience is paramount."
Velocity Signature: The specs and details
Velocity Signature systems are available for small, medium, and large meeting rooms and come standard with the following:
21:9 aspect ratio displays in 81-inch, 105-inch, or 130-inch configurations
Intelligent Camera
Touch panel control system
Free-standing display system
Over-floor raceway
Optional add-on features include:
Hybrid-optimized furniture configurations
50-inch Surface Hub collaboration display & stand
Whiteboard camera
Scheduling panels
Customer care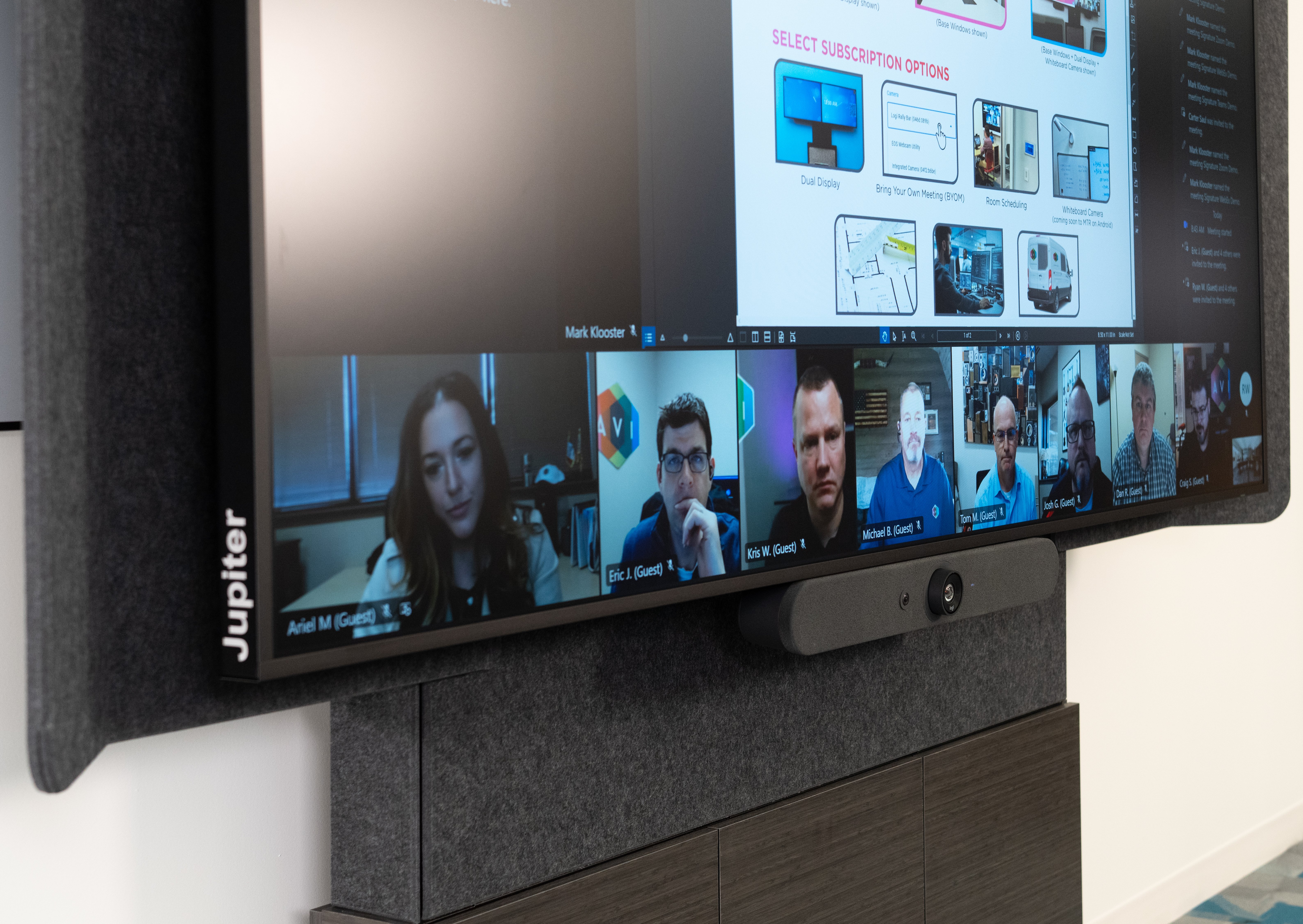 In addition, we've partnered with industry leader Legrand AV to combine optimal furniture with the audiovisual technology needed to support hybrid optimization in a meeting space. This means you can combine the technology and meeting room furniture you need into a single order and have your fully functional meeting room installed by our experienced field technicians. Once installed, your new room is available for use immediately.
Velocity Signature: The cost
Not every company has the budget for a huge capital expense. So, we've priced our standard and signature Velocity systems differently. You can pay a monthly subscription or purchase the technology outright – the choice is yours. Our subscriptions are unique! When you're done with the system, let us know and we'll come and get it. No term or cancellation fee!
Our standard Velocity systems remain available
In addition to our new Velocity Signature systems, AVI Systems will continue offering our standard Velocity systems that support Microsoft Teams and Zoom environments. These systems feature 55-inch, 65-inch, and 75-inch 16:9 displays, Chief Tempo mounting systems, and a variety of options.
Want to learn more about our Velocity Signature meeting room systems?