Editor's Note: This article was contributed by Avocor, one of our many manufacturer partners. Avocor specializes in the creation of display technology for corporate environments.
We're at a fascinating juncture in corporate history. The rise of hybrid work is transforming how we collaborate, connect, and create. To meet the challenges of this new normal, Avocor introduced its L series - a groundbreaking digital display solution, designed to maximize engagement and foster inclusive collaboration.
The Challenges of Hybrid Work

Let's face it. Hybrid work has its fair share of hiccups. Finding a way to ensure remote team members feel as much a part of the collaboration process as on-site team members is not an easy task. The quest for a perfect balance - an environment where everyone feels engaged, heard, and seen - needs innovation. Avocor's L series steps up to meet this challenge.
The Perfect Union of Technology and Design
Offered in two versions - touch and non-touch - the L series display is created to keep pace with the rapid-fire progress of collaborative platforms like Microsoft Signature Teams Rooms. With the capacity to leverage the larger display real estate for features like Front Row, we're eliminating the traditional boundaries between on-site and remote teams.

"Avocor recognizes the demand for improved collaboration experiences," said Keith Yandell, Director US, AV Practice at AVI Systems. "Their touch and non-touch, ultra-wide display solutions meet hybrid-optimized collaboration requirements head-on."
Experience a New Level of Collaboration
The L series fosters an inclusive, collaborative culture, providing an easy and intuitive experience for your employees. Imagine wireless content casting and sharing, multi-user whiteboarding, and interactive touch capabilities, all at your fingertips. This is what true collaboration looks like in the digital age.
Superior Design and Unmatched Performance
But the L series is more than just function; it's about aesthetics too. With modern design principles, it offers clean rounded edges and 105 inches of screen space. Our 5K solutions boast a 21:9 aspect ratio, 3 options for a 5K output, and 33% more canvas on a 21x9 Ultrawide bonded glass display. The result? A display solution that's as pleasing to the eye as it is to use.
Deploy and Scale with Ease: Meet FUSE
Avocor recognizes that deploying new technology can seem daunting. That's why we introduced FUSE - an easy-to-use cloud management software. From deploying to configuring to pushing firmware/software updates, FUSE lets you manage your digital services at scale, no matter where you are.

Achieving the Goals of Hybrid Work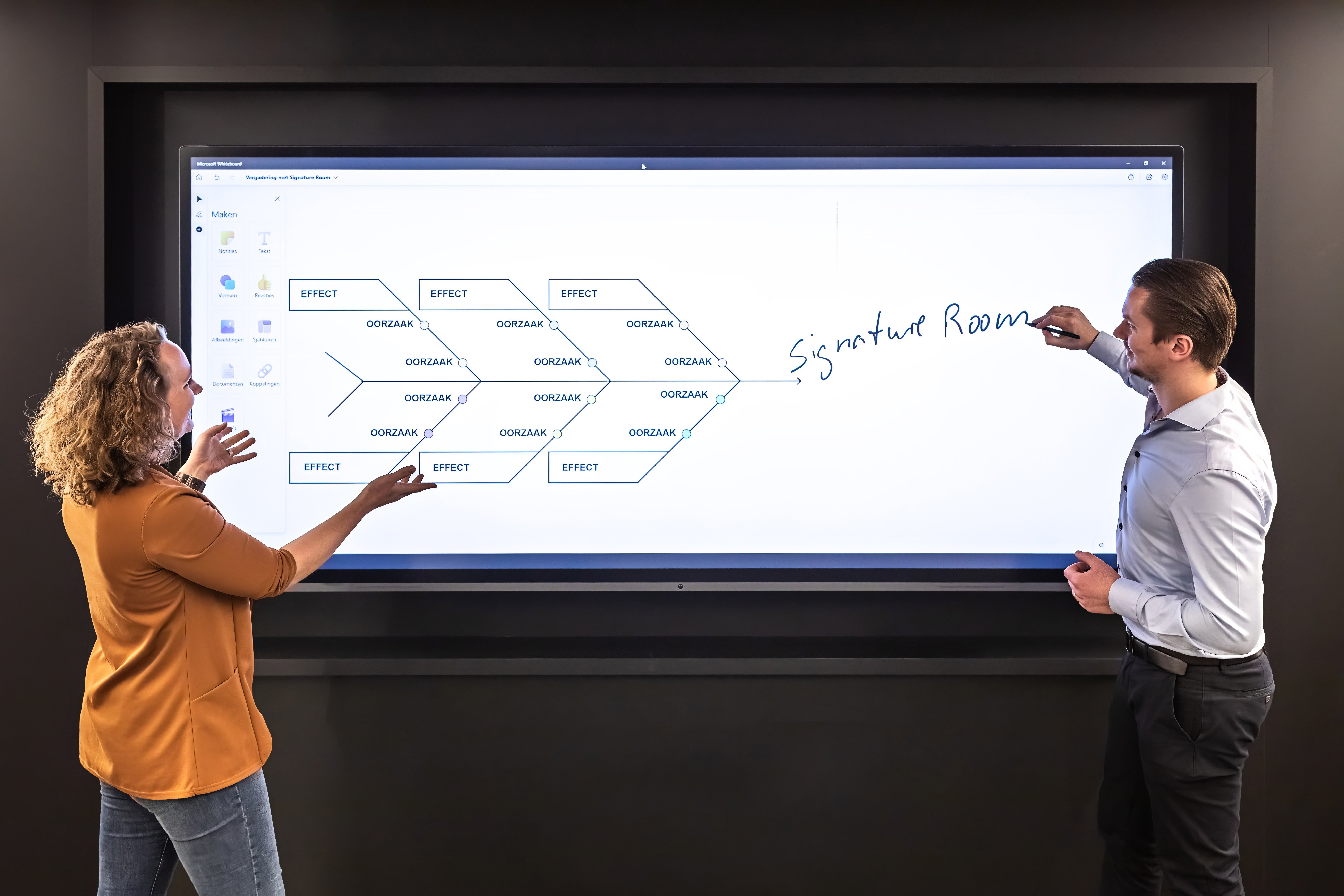 The L series is not just about meeting the challenges of hybrid work - it's about defining new standards. Our goal is to ensure every meeting participant can engage in boundaryless collaboration, fostering human connections that feel as real as in-person interactions. Whether it's enhancing room experiences or implementing Front Row in meeting spaces, Avocor is leading the way in defining the future of collaborative workspaces.
The L Series and Microsoft Teams: A Glimpse into the Future
Designed with cutting-edge platforms like Microsoft Teams in mind, the L series provides an immersive display experience that promotes better human connection. Avocor design engineers considered the evolving dynamics of workspaces, integrating features that make the virtual seem real; the remote feel close.
Unlocking the Power of Engagement and Collaboration
The L series stands as a testament to Avocor's commitment to revolutionizing the collaboration experience. "Built for maximized engagement and inclusive collaboration," is not just our tagline - it's our promise to you. With the launch of the L series, innovation comes to life, bridging distances and bringing teams together.

So, if you're a forward-thinking decision-maker, eager to bring a wave of transformation in your corporate culture, technology, and collaboration, let Avocor and AVI Systems guide you to the future. The Avocor L series is not just an option, it's your key to unlocking the future of collaboration.

Contact us today to discover your perfect AV solution.
©AVI Systems, Inc., 2023