Enterprise IT leaders are used to working across locations to meet a company's operational requirements. But new hybrid work arrangements have added strain to IT teams, many of which have fewer people to tackle their growing list of priorities.
This means more companies are partnering with outside vendors to keep operations running smoothly and make progress against longer-term goals. But handing off part of your operation to a vendor can be tricky – especially if you need a real-time view of their progress.
One of the biggest questions from IT leaders is how to incorporate a Managed Services vendor into their existing ticket-management platform. Specifically, they want an easy way to assign and route incidents to their vendors and then stay informed on progress (thereby freeing up their internal team to stay focused on bigger deliverables).
The solution may just be a tool you're already using.
What is ServiceNow eBonding?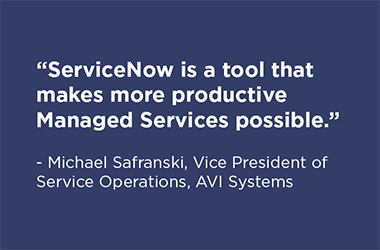 ServiceNow is a best-in-class IT Service Management system. Enterprise-level companies typically use it to manage service cases, implement change management, track IT assets, coordinate knowledge bases, request catalog items, and much more. One of the most significant advantages of using ServiceNow is that it can eBond with other instances of itself.
When you eBond (also called bridging), you can freely exchange data between applications and synchronize information across systems. With ServiceNow eBonding, you can seamlessly integrate vendors into your ServiceNow ticketing system and easily assign incidents to them for resolution.
The 3 benefits of using ServiceNow's eBonding capability
Benefit #1: Consistent with your existing workstream
No IT manager has the time or capacity to track multiple ticketing workstreams. When you take advantage of ServiceNow eBonding, you can keep everything within your current platform. No new tools. No new dashboards. Just one platform that can track and manage all your incidents and change requests, including those you delegate to vendors.
Benefit #2: Easy exchange of service cases and notes with vendors
After some upfront configuration and automation, you can add vendors as an assignment group within ServiceNow, essentially creating an extension of your IT team. This allows for the easy exchange of information and the promotion of the service case to specific resolver groups for faster resolution.
Say, for example, that you're a global company with more than 1,000 conference rooms across all your locations. Suppose an employee logs a ServiceNow issue related to a conference room's meeting technology. In that case, that ticket will be automatically routed to AVI as the resolver rather than your internal IT team.
Benefit #3: Full access and control
You set the ServiceNow rules and permissions and maintain full access and control of every service case. Even better, everything shows up in one dashboard, so you can easily monitor and change access levels at any time.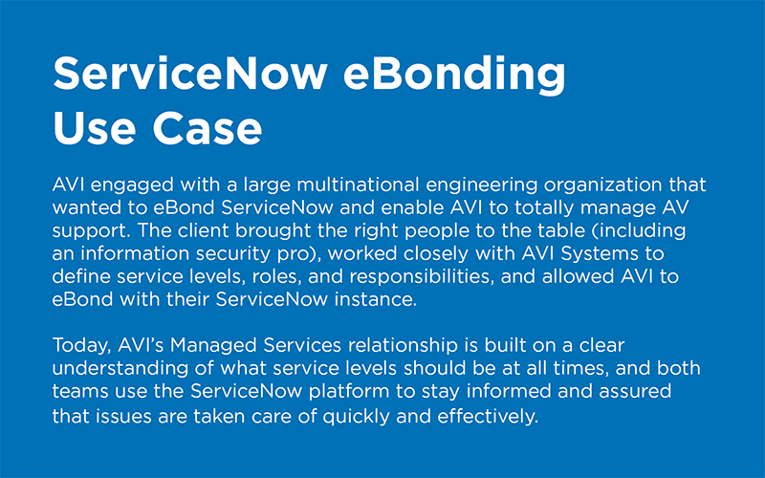 What companies get the most value from a Service Now ebonding arrangement?
ServiceNow takes some capital to stand up and launch, as well as ongoing care and feeding. As such, most companies that host their own instance are mid-sized to enterprise-level. Companies of this size tend to have more capital to work with, more structure in place, and enough resources to fully manage the ServiceNow platform. These mid-sized to enterprise-level companies are the perfect candidate to eBond with AVI.

However, even small businesses can partner with AVI Systems to get all the benefits of a "best in class" service platform. By selecting AVI Systems as your managed service provider, you will automatically receive access to instant notifications on service incidents, a convenient-to-use customer portal, and a service workflow that is custom-built for the priorities of your business.

Ready to take your Managed Services to the next level?
If you're strapped for resources and need to supplement your IT team with a managed services vendor, we understand the need to keep things simple. Otherwise, you're not saving time or making your team's life easier.
AVI Systems can align with your IT service management model – including ServiceNow's eBonding capabilities – to support your IT team and share our expertise. We meet you where you are and can take on just the management of systems we integrated or a full takeover plan from a previous integrator.
Learn more about our Managed Services.