Summary: Your organization is home to meeting spaces and conference rooms designed to help employees communicate and collaborate. But when was the last time you examined the actual technology in these spaces? Displays, cameras, microphones, speakers and the platforms used to make these spaces function all need to be monitored.
The last few years brought more change to the workplace than the previous decade. New hybrid work arrangements have employees splitting their time between the office and home. And customers and vendors are traveling less for meetings, opting instead to dial in.
As a result, people's expectations of meetings have changed. Now, they want an effortless online interface and a seamless connection that puts everyone on a level playing field. They also want technology that can keep pace with the conversation and make collaboration feel easy.
The right meeting room technology can solve all these challenges, but it's hard to know where to start – especially with the amount of innovation in this space. As the largest global AV/UC systems integrator, we've compiled the seven key components of conference room AV technology for the modern workplace.
1. Displays
The first thing most people notice when entering a conference room is the display on the wall or stand. In the past, this piece of hardware's job was to put the "visual" in conference-room audiovisual equipment. But today, your display also serves as the foundation for your collaboration tools (see next section).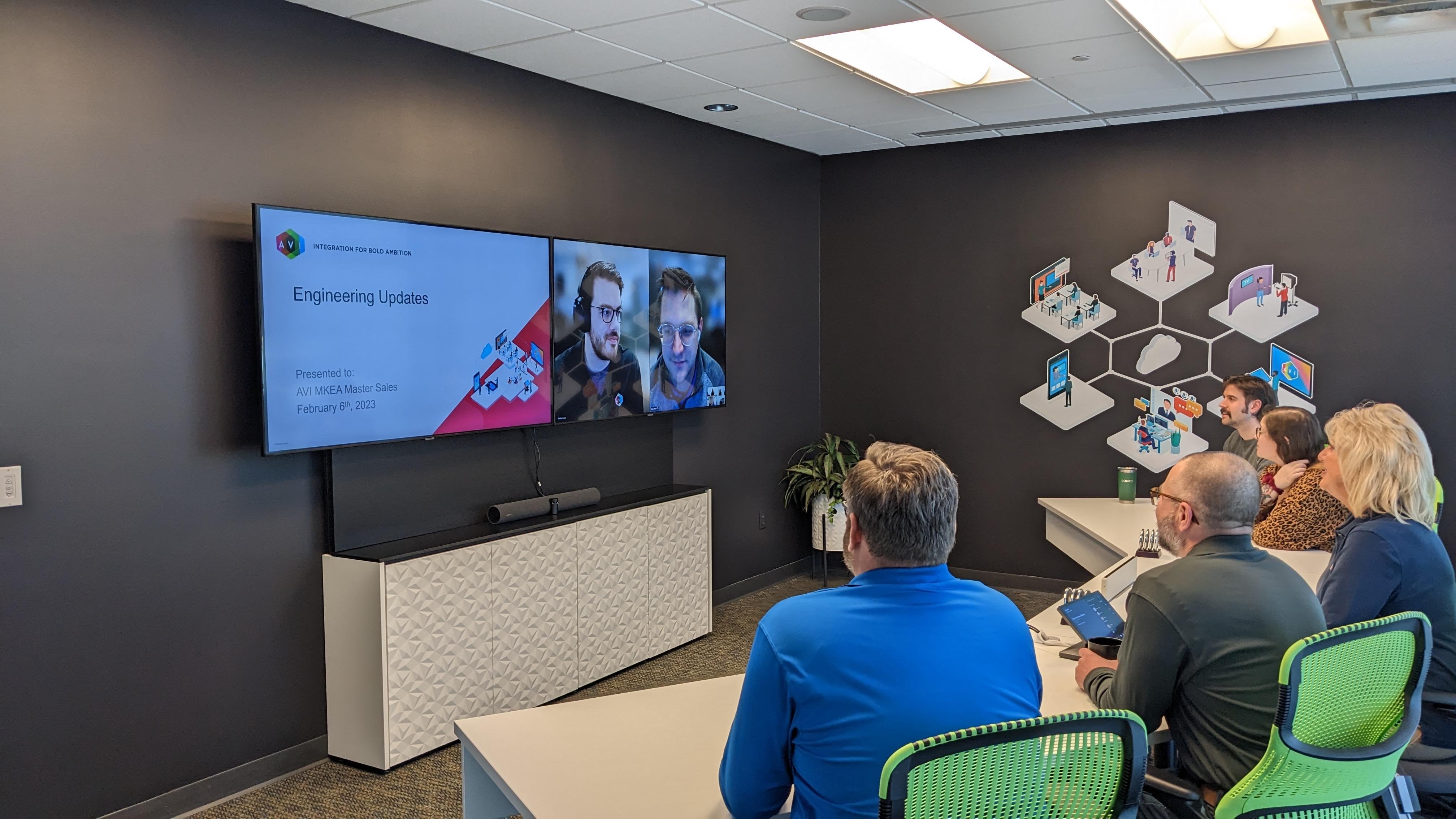 Manufacturers like LG, Samsung, Sony, and Sharp-NEC are known for developing state-of-the-art displays to fit a variety of needs.
If you haven't upgraded your display technology lately, you'll be amazed by some of the newest features:
8K resolution

– is the new standard in ultra-high-definition display technology and has a resolution of 7,680 x 4,320 (or about four times the number of pixels as 4k).

Dual displays

– offer more visual space for your meeting, allowing you to see both meeting content and participants simultaneously.

Layout-driven displays

– such as 21:9,

provide a more panoramic view and

accommodate ultrawide layouts like the one used in

Microsoft Teams Front Row

.
2. Collaboration Platforms
Pre-pandemic, many organizations still used an audio-only approach to conference calls. But that changed quickly in 2020, and now most companies use a video-first approach to decrease travel time and increase meeting and collaboration effectiveness.
Collaboration platforms like Zoom, Microsoft Teams, Google Workspace, Go-To Meeting, and Webex make videoconferencing easy and include a range of collaboration experiences. For example, Microsoft Teams does much more than let you see and hear people during meetings. It also provides file sharing, co-authoring, chatting, and more.
You've likely explored several collaboration platforms in the past year or two. Be sure you're using all the best features of the platform(s) you landed on, including:
Interoperability

– allows outside vendors, partners, or customers to join any videoconferencing or collaboration platform from any device.

Integrations

– makes it easy to complete tasks like scheduling meetings through Outlook or Google.
3. Mics & Speakers
Mics and speakers are also essential elements in your conference room design because they significantly impact the overall experience. The proper setup can reduce echo, feedback, and other noises conference participants hear.
The most current mics and speakers are typically located either inceiling, on-table or as part of a sound bar mounted below your display.

Depending on your space and how you plan to use it, your AV partner may recommend one of these new technologies:
All-in-one video bar.

The best example here is the

Logitech Rally Bar

and Rally Bar Mini. These all-in-one units include high-quality microphones, speakers, and cameras designed to ensure people throughout a meeting room can hear and see – and those who are remote can hear and see just as clearly!
Beamforming microphones

, like the

TeamConnect ceiling solution from Sennheiser

, are arrays of directional microphones that automatically sense where speakers are located and focus all their listening capabilities in that direction.
Your audiovisual solutions partner may also recommend other sound-related enhancements to improve the experience, such as sound masking, sound absorption, or noise cancellation.
For high-impact spaces like board rooms or large divisible conference rooms, we recommend working with an AV systems integrator to design and develop the best solution.
4. Cameras
Conference room cameras can range from a small camera in a huddle room to something far more sophisticated for larger spaces. Your primary consideration is making sure the camera's viewing angle is wide enough to include everyone in the room, regardless of where they're sitting in relation to the camera.
In addition, your collaboration platform may influence the type of camera you need. If so, AVI Systems' design engineers can specify one of the preferred solutions.
Among today's most popular options are:
180-degree viewing angle cameras

like the

Jabra PanaCast

are designed for small huddle rooms or collaboration spaces.

Pan-tilt-zoom (PTZ) cameras

are common in larger, high-impact spaces, including executive board rooms and large conference rooms.

Automatic tracking cameras

are typically used in large auditoriums or classrooms, making them of particular interest in higher-ed spaces. For example, the

Crestron 1 Beyond

camera effortlessly tracks and follows a speaker as they move around the space. Similar devices include presets that can track active talkers.

Intelligent cameras

can zoom in and out, switch focus as speakers change, and recompose the angle to ensure a great experience.
5. User Experience/Interfaces
In the past, most conference rooms had a panel controlling the in-room experience. Today, the experience is primarily driven by a collaboration platform (see above). So, if you're running Microsoft Teams, it doesn't matter if your room uses Crestron, Logi, or Poly components – they all provide the same user experience driven by Microsoft.
A well-thought-out and easy-to-use interface with a single click-to-join button is today's standard for traditional conference rooms. Your goal should be to make it easy for employees to quickly connect to your collaboration platform and share a presentation with one touch.
For high-impact spaces, some platforms offer what's called Page 2 experiences, which provide access to a sub-menu of advanced options and functions that control volume, camera presets, and more. Your systems integrator can help you set up these options.
If you're not using a collaboration platform, companies like QSC and Creston develop hardware for system control. Both offer excellent user experiences once programmed to work with the rest of your conference room equipment.
6. Connectivity
Most users want wireless connectivity, so it's easy for them to join video calls or meetings scheduled through your collaboration platform. For example, if they use Microsoft Teams on their mobile device, they can join a meeting as a peripheral and share their device's screen with the meeting.

In many cases, a wireless connectivity experience depends on whether a user is your tenant or a guest. If you host many external guests, a wired connection can serve as a backup and make it seamless for them to connect or present when needed. Table inserts can discreetly hide wired connectivity and provide a high-quality, stable presentation experience.
7. Interactive Whiteboards or Whiteboard Camera Capture
Technology is creeping into every part of the meeting experience, including how we capture notes.
On-platform capabilities like those offered within Zoom enable users to whiteboard while on the call and share with other participants in real-time or after the call has ended. This can be helpful if your employees present over video conferencing, creating a more engaging experience for the others on the call.
Interactive whiteboards can be a valuable tool to add to your system of conference room equipment. Options like Microsoft Surface Hub, Clevertouch, and Avocor allow you to write directly on the board in various colors, annotating over web pages or documents. These whiteboards also will enable you to share content back and forth and are now more cost-effective than previous versions.
Whiteboard cameras such as the Logitech Scribe, the Jabra PanaCast 50, or the Huddly Canvas enable various functionality connected with platform providers like Microsoft Teams and Zoom. When you share content, it defaults to the camera allowing a better user experience. This option is considered bi-directional collaboration, meaning remote participants can't share back with the presenter.
Bonus Component: Room Scheduling
As more people return to the office, they'll also return to the age-old frustration of finding an available meeting space. Room schedulers solve this challenge while also increasing efficiency and providing valuable analytics.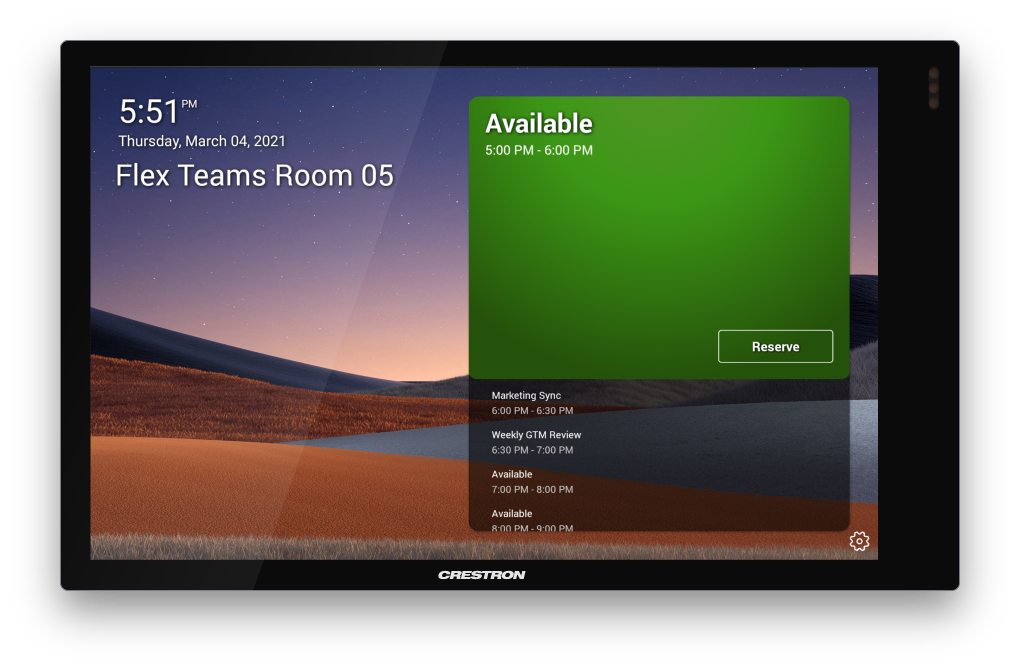 For example, room schedulers from Crestron, Logitech, and QSC feature a touch-panel display that sits outside the conference room. The scheduler automatically changes its status to red when the room is booked and green when it's available. This lets passersby quickly see which spaces are open for an impromptu meeting. If someone walks into the room without scheduling it, the software detects that and turns the touch panel red so others can't book the room.
In addition, room analytics share key usage data like hours each room is reserved, meeting frequency at certain times of the day, and the average length of the meetings.
Need to modernize your conference rooms?
AVI Systems has nearly 50 years of experience helping organizations design and implement conference room and meeting space AV solutions. Whether you need to upgrade a few huddle rooms or reimagine a space to create a high impact, our experts (at a location near you) are ready to listen to your goals.
Let's get the conversation started.