Summary: Get expert advice on how to build an esports arena in three simple steps.
Turns out that all the time kids have spent playing video games like Fortnite and League of Legends was well-spent. What was once a hobby or friendly competition for bragging rights is now one of the fastest-growing sports programs among high schools, colleges, and universities. In fact, esports participation was up 50% in 2022, according to the National Association of Collegiate Esports.

For schools, esports programs offer a way to increase enrollment by attracting students who aren't interested in or able to participate in traditional sports. And because competitions are broadcast online, you can raise awareness of your school or program to a massive virtual audience.

For students, esports provides a chance to compete at a high level, earn scholarships, network with other students, learn new skills, and have fun – all of which lead to increased student engagement and improved graduation rates.

"Esports has evolved, especially in the collegiate space," said Brad Sousa, Chief Technology Officer at AVI Systems. "Esports has leveled the field, allowing a small college or university to compete and win against Division 1 schools. What's more, it helps schools successfully create online communities and can influence admissions plans."

If you're new to the world of esports or curious about what equipment your school needs to start or enhance an esports program, this is the post for you. Here we break down three simple steps to build an esports arena.
Step #1: Design your esports arena spaces
Your first decision is the design of your esports arena – or the space players will use to practice and compete during tournaments. While each school's arena is slightly different, they usually include most, if not all, of the following spaces:
Practice space

for players to train for competition. Usually, this includes the same gaming equipment (i.e., PCs, monitors, and peripherals) but without the stage, lighting, and branding found on the main stage.

Competition area

that's

a designated space for esports athletes to compete. This space centers around gaming equipment and includes a stage that makes competitors visible to the in-person audience. Most schools also add branding and high-impact lighting that adds to the experience

.

Spectator seating

can range from a few rows of seats in a small facility to stadium-style seating for larger venues, depending on your needs and whether you plan to host competitions.

Casting/commentator booth

where your casters or commentators can watch the game and

provide

real-time commentary to the live-stream audience.

Backstage

area/player's lounge

gives players, coaches, and staff a spot to prepare for and recover from the competition. It usually includes locker rooms, training rooms, and meeting rooms.

Backstage production booth

provides

an area for technical staff to control and manage all aspects of an esports production – from lighting and sound to live streaming.
"When schools create a competitive esports arena, teams can compete together with some of the most powerful computing machines and esports technologies," said Sousa.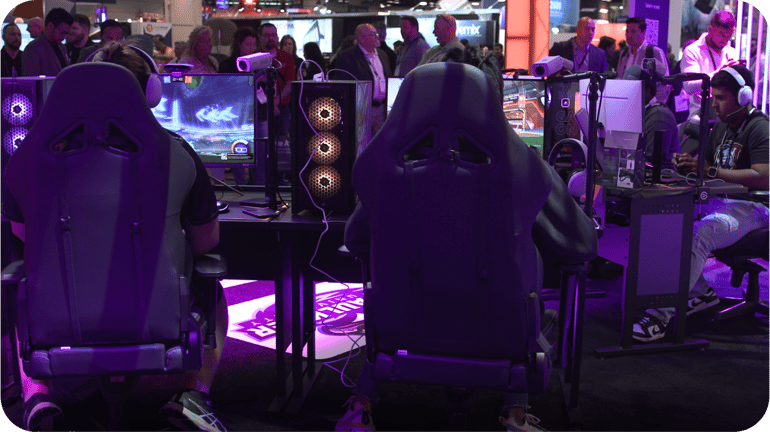 Step #2: Add the latest in esports technology
Once you've designed your esports arena, it's time to decide about equipment. Again, each school's goals and needs vary, but most esports arenas include the following equipment.
High-performance gaming PCs

that can run the latest games at high settings. These PCs should have at least an Intel Core i7 processor, 16GB of RAM, and an NVIDIA GeForce RTX 3060 Ti graphics card.

Gaming monitors

with high refresh rates of at least 144Hz that can display fast-paced action smoothly.

Gaming peripherals

such as gaming mice, keyboards, and headsets. These should be

comfortable for players and include features that help them improve their performance.

Lighting:

Custom lighting enhances the esports space by creating

gamer

-style ambiance. Color-changing LED strips create an e-sports spectacle,

providing

the ability to deliver customized responses to specific games,

sponsors,

or events.

Large screen displays

allow the audience to watch the competition and see other content like profiles and scores. The number and size of displays

you'll

need depends on the size of your arena.

Professional-grade sound system

to broadcast game audio, commentary, and announcements to the audience – both in-person and online.

Streaming/broadcasting equipment

like webcams, microphones, and capture cards to stream your esports competitions online. Other broadcasting considerations include:

Dedicated streaming PCs

to handle the broadcast without affecting game performance

Mixing console

to manage different audio and video feeds

Green screen

for background replacement

Video production tools

allow you to produce high-quality content that promotes your esports program. You may also want to consider dedicated video production hardware and video editing software.
"With broadcast and streaming technologies incorporated into the arena, teams can play online and create a viewership – a tribe of fans – who align with the brand and core values of that school or university," added Sousa.
Step 3: Partner with an esports systems integrator
The final step in setting up your esports arena is to work with an experienced esports systems integrator. This step ensures that all the audio-visual technologies in each part of your esports arena work well together, are easy to use on competition day, and deliver an excellent experience for the players, coaches, audience, and school.
When talking with potential vendors, ask how they approach integrating all of the key components that make up an esports program. It's important that each stage of the systems integration process, including design, installation, and support, is considered well before the first gaming console gets set up on the arena floor.
Full-service esports AV solutions
At AVI Systems, we've developed industry-leading esports reference designs that simplify the design process. We've also partnered with gaming PC manufacturer CORSAIR and other key manufacturers, including Logitech, Q-SYS, Sony, and Spectrum, to bundle and deliver complete, top-of-the-line esports packages. That means we can provide a complete solution for your school in one order – no more managing multiple vendors or waiting to set up your arena until different orders arrive.

"Esports is one of the applications that brings together the best of the AV industry," added Sousa. "Live media, live events production, broadcast and streaming, high-speed networks, and computing, all rolled together with a dose of healthy competition. That's what makes AVI such a perfect partner for an esports program."

If your high school, college, or university is ready to add or upgrade your esports program, we welcome the chance to introduce ourselves and share more about our esports AV expertise.
Is a global AV partner your missing puzzle piece?
©AVI Systems, Inc., 2023