Summary: Learn how intelligent cameras help you create more engaging and inclusive meeting experiences and what's next for Microsoft's Front Row.
The front-of-room cameras you had in your meeting rooms pre-pandemic weren't designed for the reality of hybrid work. Most of them have just one static camera angle, which makes it hard for people in different locations to feel connected to the experience.

This has been especially problematic as more companies head back to the office. Now, after people have gotten used to more of a gallery view when multiple people are on a call, the previous experience of an entire meeting room in one camera shot is no longer ideal.

To solve this challenge, audiovisual equipment manufacturers are introducing next-gen cameras that use artificial intelligence and machine learning. The result? A better meeting experience, automatically.
The primary features of intelligent cameras
Two of the most important features of intelligent cameras are intelligent framing and intelligent tracking. Here's what to expect with these features:

Intelligent framing uses facial recognition and tracking technology to identify the main speaker or speakers in the room and create a well-composed image. Then, it keeps the speaker in the center of the frame, even as they move around, making it easier for remote participants to see what's happening in the meeting.

Example: The Logitech Rally Bar has dual-camera and auto-framing technology that welcomes remote participants to the conversation, creating a more equitable meeting experience.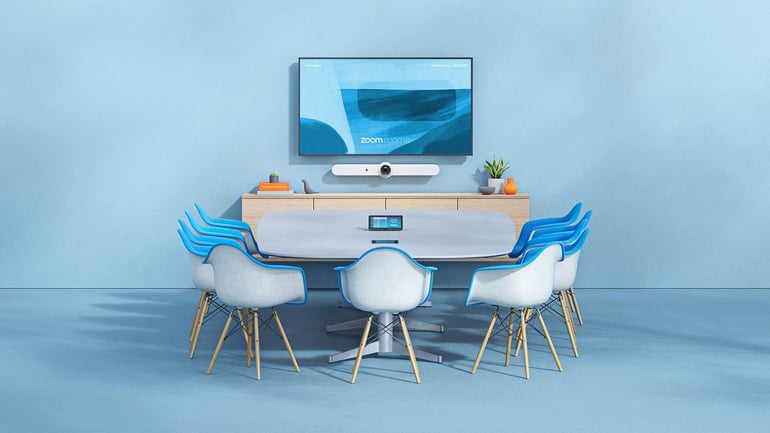 Intelligent tracking allows the camera to automatically track a person's movement, even if they're moving quickly or suddenly. This matters for video quality both during a meeting and for people who couldn't attend live and watch the video later.

In addition to intelligent framing and tracking, intelligent cameras can also include features like:
Facial recognition

Gesture recognition

Automatic zoom

Wide dynamic range

Low-light performance

Real-time transcription and translation



Combined, these features provide a more seamless and natural video conferencing experience that can improve the efficiency and effectiveness of meetings.
Next-gen cameras and Microsoft's Front Row
One of the biggest questions AV systems integrators get asked about is intelligent cameras and Microsoft's Front Row. Here's what we know:

Front Row works with Microsoft Teams Rooms and is a layout option that ensures everyone in the meeting can be seen and participate fully. But Front Row itself doesn't include any of the advanced technologies found in intelligent cameras (e.g., facial recognition, speaker tracking, automatic zoom).

More specifically, Front Row moves the camera's video gallery to the bottom of the screen so that in-room participants can see remote colleagues face-to-face in a horizontal plane – as if they were in the same room.

Microsoft plans to add Intelligent Camera to its Front Row capabilities this calendar year (2023). Based on the demos we've seen, it's clear that intelligent cameras will really start to shine when used in conjunction with the Microsoft Front Row layout.
Need help integrating intelligent cameras into your meeting room?
Our Solutions Architects are happy to answer your intelligent camera spec questions, including frame rates, resolution, image sensor technology, image compression, networking technology, and usage analytics.