Summary: This post shares the advantages of projectors designed for large spaces and hybrid meeting spaces. We highlight recent customer use cases and feature several products from projector manufacturers.
Think the only option for creating a high-impact visual experience is an expensive DV-LED display wall? Think again. Projectors have gotten a significant upgrade in the last few years, making them a solid choice in a broad range of environments, including:
Museums

Sports Venues

Houses of Worship

Government Facilities

Education

Retail

Business
Today's projectors are smaller, lighter, and brighter – and offer several advantages, especially in spaces with audiovisual limitations.
9 big advantages of projector technology
Are you trying to decide between technologies? Here are nine advantages of choosing projectors over digital displays.
1. Affordability
While costs vary by application, projectors cost about 25% of a similarly sized video wall array or direct-view LED solution and require comparatively much less power to operate. Maintenance costs are also lower because projectors have longer lifespans and don't require hands-on technicians to troubleshoot.
2. Resolution
Projectors are getting brighter, wider, and higher in resolution. Today, you can find plenty of options for ultra-short projection in tight spaces and ultra-wide projection in large venues. In addition, Epson is leading the way with 21:9 aspect ratio projectors that work well with the Microsoft Front Row layout.
3. Quality
When you need to project graphics onto a large space, some video walls end up with a distracting, stitched-together feel. Projectors eliminate that challenge and deliver high-quality, sharp graphics on various backdrops.
4. Ease of use
Digital display walls can have a steep learning curve and sometimes require external processing. Projectors are easy to set up, easy to use during a meeting or event, and have familiar controls that anyone can use – even on the latest models. In addition, if you want to upgrade an existing projector, it's easy to swap it out for a newer model without significant rewiring or retooling of the space.
5. Portability
Some projectors are compact, lightweight, and portable. That means you can tuck one into your briefcase or tote bag and bring it along to an offsite meeting. After a quick set-up, the projector's bright display can be used on nearly any surface.
6. Flexibility
If you're located in a historical building, an architecturally unique house of worship, or need to work with existing cabling, an installed digital display wall isn't an option. In contrast, projectors have a range of lens position options and lens-shifting capabilities, making it easy to use them nearly anywhere. You can also retract your screen when the projector's not in use, leaving the space uncluttered.
7. Integration
Projectors operate smoothly with the tools you already use, including productivity apps or collaboration platforms like Microsoft Teams. They're also easy to integrate into an existing space and rarely require the level of wiring or construction that direct-view LED displays need.
8. Reliability
When you need a reliable, low-maintenance solution, projectors are a great choice. Most models are virtually maintenance-free for up to 20,000 hours, and changing bulbs is easy.
9. Impact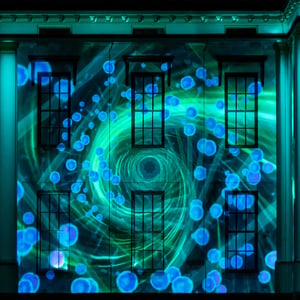 If you want to project images onto the side of a building (called building mapping), the floor of a stadium, or the ceiling in an art exhibit or retail experience, only projectors can achieve this. They can use practically any surface as a canvas, making them an excellent choice for creating an impactful WOW experience. You can even add interactive elements such as dynamic floors and walls that create immersive experiences.
Projection use cases
Here are two recent examples of how AVI Systems customers are using the latest projector technology:
Business campuses

– why settle for a basic lobby when you can deliver an experience for your employees and guests? Today's projector technology delivers rich, colorful, high-impact pictures in lobbies, experience centers, meeting rooms, and other public spaces -- even in daylight or with room lights on

. The result is a unique experience that makes employees and guests feel surrounded by content.
K-12 and higher education

– in this setting, customers tend to care far more about image quality than creating an immersive experience. And that was certainly the case when we recently worked with a university in the Midwest. Their goal was to ensure that every classroom seat could clearly see the professor's content. Because they had an existing projector, the project didn't require any construction and met their budget constraints.
Manufacturer spotlight
AVI Systems partners with several projection system manufacturers, that are consistently innovating projector offerings designed for a variety of commercial uses, including:
Epson

– has a

projector lineup

designed to fit your budget and support today's

K-12, faith, retail, and corporate

workplace needs – whether that's for

way-finding, classrooms, meeting rooms, auditoriums, or other

large venues.

Ultra-short throw projectors minimize shadows and eliminate glare while ultra-wide projectors allow users to project on a large screen from a short distance

. We've worked extensively with their large-venue high-lumen projectors with fantastic results.
Sony

has a wide range of professional projectors that offer high-quality images, reliability, and energy efficiency. One option is the

Sony 4K SXRD

, which has a 4K simulation and delivers bright, high-contrast images that look amazing in large spaces. Check out the

Sony Buying Guide

for tips on choosing your projector.
Panasonic

– has projectors that range from 1,000 to 50,000 lumens, giving you plenty of options no matter your venue or audience size. In particular, and surprisingly given its compact design, we've been impressed with their PT-RQ50KU large-venue laser projector, which has stunning image quality.
Find the best projector solution for your space and budget
If you want to create an incredible viewing experience with space and budget limitations, we recommend a projector rather than a digital display wall. The latest projectors are not only affordable, but they also deliver exceptional viewing quality in a wide range of spaces.
Not sure which option is best for you? Work with one of our experienced Solutions Architects. They'll listen closely to your goals, share options, and manage all the details from purchase orders to implementation. Just click the button below to get started.