Your hospital may not yet be staffed with holographic doctors and medical tricorders, but it should be preparing for the millions of patients who want to take advantage of other high-tech options.
There will be 7 million telemedicine patients by 2018, according to IHS Markit, a global intelligence company. That's a dramatic increase from 2013, at which time there were fewer than 350,000 patients.
Many of these telemedicine patients are individuals who want the convenience and cost efficiency of virtually visiting their health care providers by using their smartphone or other mobile devices.
"Telemedicine is changing the way we experience healthcare. It allows patients to consult medical professionals via technology for a range of illnesses or follow-up care from the comfort of their home," said eMDs, a health services software company, in a statement. "While telemedicine has existed for more than a decade now, recent advancements in technology have seen it re-emerge as a tremendous force."
The majority of doctors and nurses would like to be able to provide telemedicine and other high-tech services for ease, cost savings and broader access to care for more patients.
As technology becomes more refined and secure, hospitals and clinics could take on a new look in the not-so-distant future.
RELATED: 5 HEALTH CARE TRENDS TO CONSIDER WHEN PLANNING YOUR BUDGET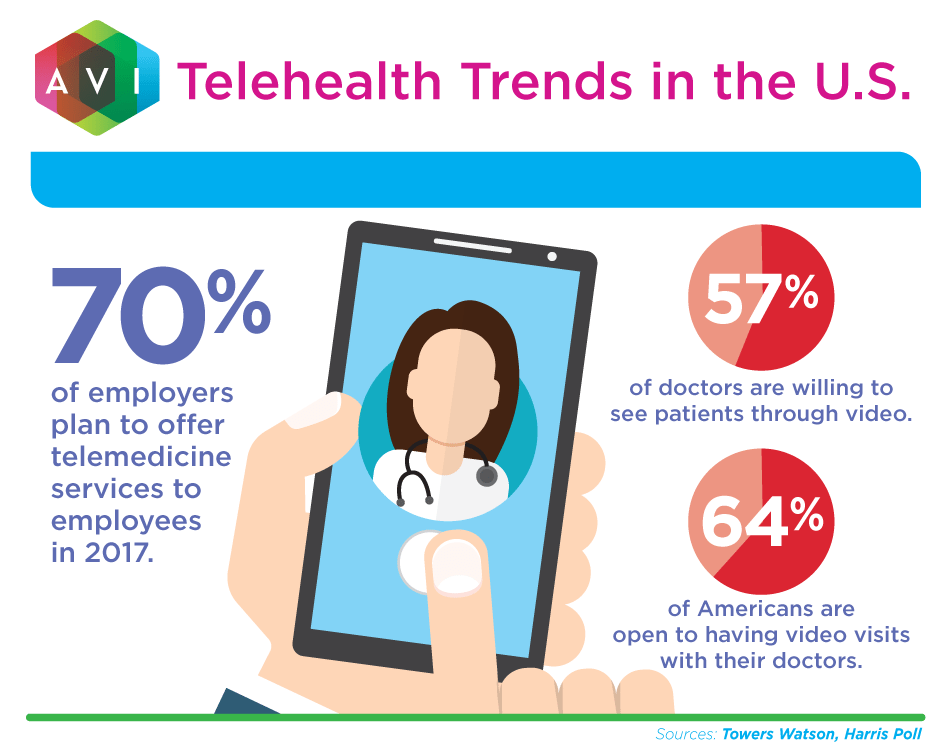 The Technology Behind Telemedicine

Global revenue associated with telehealth is predicted to reach $4.5 billion by 2018, making for a fast-changing health care landscape. While the patient may only need a smartphone or tablet for a virtual doctor visit, the health care facility at the other end of the call requires more sophisticated technology so that connections are secure and reliable.
Physicians need access to video consulting rooms where they can view and speak with patients behind closed doors to protect patient privacy. They also need to use secure networks and equipment to comply with privacy and data protection laws.
Consumers are less likely than health care decision makers (HCDMs) to think their medical information is secure, which makes it important to have the utmost capable technology in place to satisfy doubt and safeguard sensitive material.
"In the U.S., close to sixty percent of HCDMs expressed confidence while only forty percent of consumers shared that sentiment," Cisco reported in their 2013 Customer Experience Report focused on health care.
Despite a shaky confidence in security, 75 percent of patients around the world are "comfortable" with using technology to talk with doctors, rather than visit them in person.
One of the key findings in the "In-Person vs. Virtual Customers Service" section of the report was this:
"More than 60 percent of consumers from Germany, Japan and the U.S. indicate being comfortable with the idea of being treated by a specialist using virtual technology."
Seeing a doctor in this light certainly differs from a more traditional visit, but with time, this could become the norm given the widespread adoption of technology, including mobile devices with face-to-face calling options, like Apple's FaceTime.
Smartphones are with us more often than not, as nearly 90 percent of people in the millennial bracket have one. They've become our go-to method of communication. For health care, it's no different.
Almost half of those surveyed in the report said they would be interested in receiving automatic recommendations via their smartphone. It could be as easy as signing up for a newsletter or subscribing to updates. But some consumers depend on apps even more.
"While the majority of consumers who have health care apps on their mobile devices indicate their apps are related to healthy eating and exercise, 25 percent indicate they are for chronic disease management," the report said.
Mobile devices help make reaching doctors, nurses and medical information easier than traveling across town, or farther. Over half of all medical facilities in the U.S. implemented a telehealth program to accommodate this growing population of patients, who are largely in favor of the practice. For those that haven't integrated a program yet, now is the time.
The Path to Telehealth
With so many special considerations in health care, it's essential that medical facilities have secure, high-quality video equipment to make visits and communication easier for both parties.
Video consultation capabilities allow health care facilities to provide care to rural, homebound or long-distance patients in a way that lessens the strain. The telehealth visits save patients from having to take costly, uncomfortable or time-consuming trips to a doctor's office, which in turn also helps the doctors. These telemedicine conveniences contribute to an increase in patient satisfaction, while better access improves outcomes.
And with security and privacy issues, it is important that equipment is reliable. It's not only frustrating to have connectivity issues during a telehealth consultation, but it can potentially put the patient at risk if the doctor or patient misunderstands the information being shared.
Download this eBook to learn more about the high-tech investments other healthcare institutions are making to increase efficiency and improve care. The eBook also explains how to simplify budget planning for new tech projects.