Walk into any utility control center, and you'll probably see a large video wall display at the front of the room. These visual displays help control center operators monitor and route energy through the region and provide critical situational awareness in a crisis.

This case study shares how Austin Energy – a municipality serving more than 500,000 residential and commercial customers in Austin, Texas – retrofitted one of the largest video walls in North America. And they did it on a limited budget with minimal downtime.
The Challenge
While other venues might opt for the latest DVLED technology, control rooms lean toward rear-projection cubes for their video walls. They have excellent image quality and extreme longevity at a fraction of the price.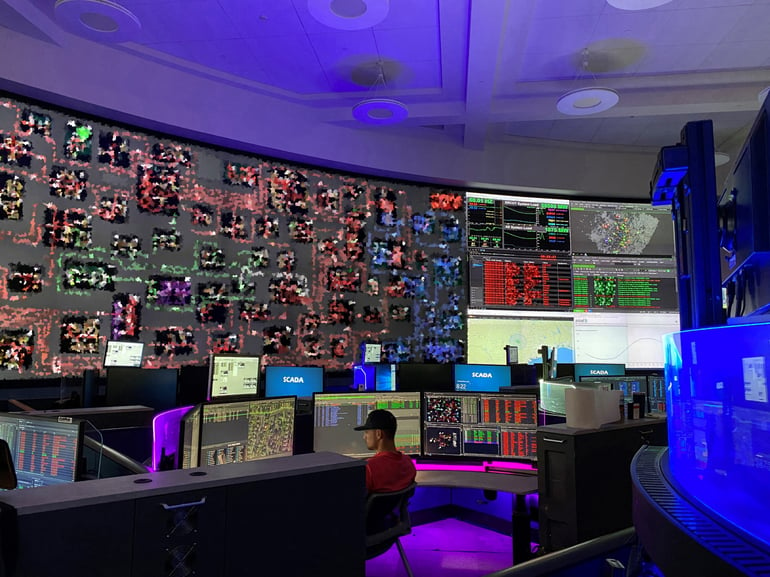 At 10 years and counting, Austin Energy's existing rear-projection system from Barco was nearing the end of its life expectancy. It was starting to require more troubleshooting and maintenance than the team could devote to keeping it functional. And they wanted to add more control functionality, reconfigure operators' workspaces, and optimize situational awareness and functionality.

"The display ports were really tight in the old configuration. That meant a lot of fiber was showing, and the cabling was more delicate than we wanted," said William King, a SCADA Analyst for Austin Energy.

The budget was a primary consideration because Austin Energy is a community-owned electric utility. Austin Energy went above and beyond the expected life expectancy by proper planning and configurations.

"We had some very specific requirements in our Invitation for Bid for this project. In particular, we wanted a partner with experience working on projects of this magnitude," explains Andy Ibarra, the Austin Energy Control Engineering Manager.

Their competitive pricing and proven experience won AVI the solicitation bid and the contract was awarded.

A Barco contact introduced Ibarra to Mike Scott, Senior Account Manager at AVI Systems. After talking with Mike and learning more about his experience, Ibarra invited AVI to bid on the project. "Their competitive pricing and proven experience won them the bid," said Ibarra.
The Solution
Based on Austin Energy's goals, the AVI team recommended removing the version one LED engines from 68 existing Barco 4x17 cubes and replacing them with lasers – a newer technology that delivers sharper, more vivid content and provides a longer lifespan.

"It's important in a retrofit to minimize construction and manage disruption. Our design kept some of what Austin Energy had in place but significantly upgraded the functionality," said Scott.
The design also included the Barco TransForm N advanced control room management suite, Barco Sidebar software, and a Crestron touch control system to improve the system's overall functionality. And the entire configuration is backed by a five-year AVI Systems Managed Services contract that keeps the Austin Energy team focused on their customers.

A note about installation:

Behind the scenes, the Austin Energy video wall is managed by two Barco NSD 420 app servers, CMS servers, and WME 110 wall managers.

One of Austin Energy's requirements was to complete the upgrade quickly. AVI's install team compressed the standard four- to six-week timeline and delivered their new video wall in just two months.

"We had to change course a couple of times during the project," said Heidi Schrab, a Project Manager in Austin Energy's IT department. "The AVI team worked with us to meet the schedule and bring the project in on time. When you work in an unpredictable industry like ours, that flexibility is super helpful in a partner."
The Results & Human Impact
Austin Energy's primary goals were to extend the usable life of their Barco cubes, improve the video wall's performance, manage costs, and keep downtime to a minimum. The project also delivered the following outcomes.

Greater situational awareness: Control center operators can see what's happening across their 83 substations at a glance, making it easier to identify issues and deploy resources quickly. The new technology also offers faster processing and less latency, producing smooth and responsive visuals.

Stronger incident response: The improved system and additional redundancies helps the team better manage the power grid. This became obvious during the first postimplementation storm, a critical early measure of success and ROI.

"The new control applications helped us better manage the video wall during Winter Storm Mara. We could see more perspectives and use the Crestron control to move through different information sources quickly," said Ibarra.

Improved user experience: Operators and other staff can easily control the video wall and related hardware systems from a Crestron touch panel screen. A Barco Sidebar also allows them to quickly reconfigure source data into custom layouts in response to what's happening. And operators can even edit the control center video wall remotely through a VNC session.

The video display wall provides 24/7 situational awareness for system operations to identify outages and respond to emergencies.

"The upgraded video wall and ergonomic consoles have enhanced the safety, and functionality for 24/7 System Operations," IBarra added.

Reduced eye fatigue: Because the updated video wall can be color-calibrated and has better image quality, the operators who spend their days in the control room have less eye fatigue.
Technology Partners
Barco laser engines

Barco Linux servers (with Windows 11

servers for redundancy)

Barco

TransForm

N advanced control room

management suite

Crestron wired touch panel