About Clemson Tigers Basketball
Founded in 1889, Clemson University is a leading public research institution located in Upstate South Carolina. The university offers more than 80 undergraduate majors and 130 graduate degree programs.
In addition to educating artists, scientists, authors and engineers, Clemson has an extensive, high performing student athletics program. As of July 2021, the Clemson Tigers Men's Basketball Team has appeared in the NCAA Tournament 13 times.
The Challenge
As part of its Littlejohn Coliseum locker room upgrade, the Clemson coaches and administration wanted a way to engage more deeply with their student-athletes and potential recruits in the Men's Basketball program. But, when you're competing for attention with TikTok, SnapChat and Instagram, that's no easy feat.
Clemson had a vision for adding digital displays in the locker room area but wanted something more than the standard pre-loaded static displays found in most locker rooms. They wanted a modern content delivery system they could update in real-time.
Together with their locker room partner Hollman, Inc. – the industry leader in locker design and solutions – Clemson brought AVI onto the project team to design and incorporate usable technology into what's typically a non-tech space.
The Solution
"We wanted to go beyond a traditional locker nameplate and implement a more custom option," says Eric Sabin, Associate Athletic Director of Facilities Management and Capital Projects at Clemson. "The goal was to create an innovative, dynamic display – something that nobody else is doing in this space."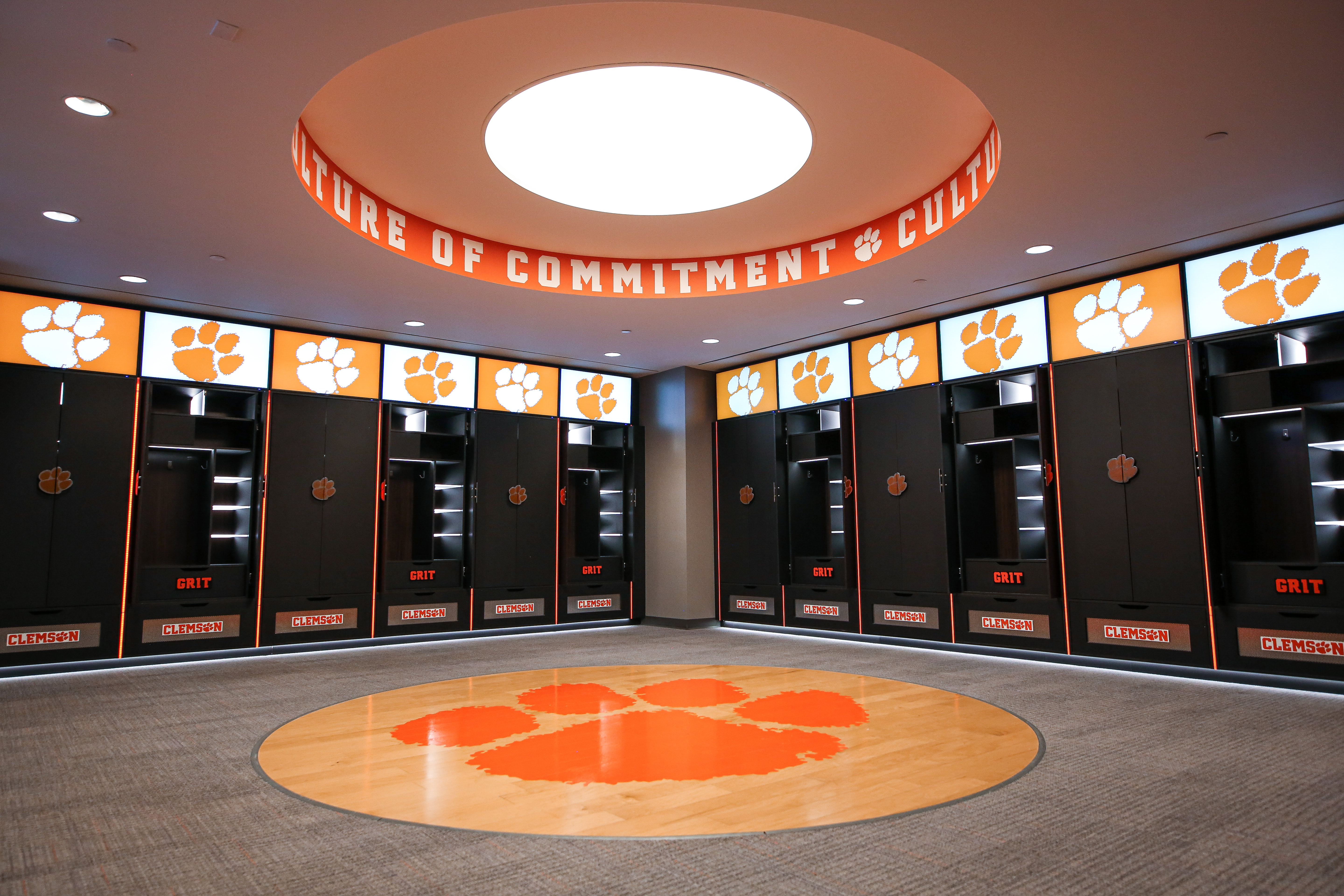 Digital Displays
The Clemson solution includes high-definition displays above each of the room's 18 lockers that run off a BrightSign player. Content on the displays can be changed on individual lockers or across all displays to create one continuous image or video.
"Imagine being a potential recruit on a college tour, coming into the locker room and seeing highlight reels playing above the lockers," says Brady Jolet, AVI Senior Account Manager. "That's going to create an impression."
Display Panel
The locker room solution also includes a display panel mounted vertically in the locker room for the coaching staff to share the day's schedule as well as important information, stats and clips for the entire team.
The Result
"With these displays, coaches can offer timely and tailored messaging for our athletes whether it's a practice day, game day or recruiting event," explains Sabin. "We can change the content as often as we want, and we can adapt it based on how the team is performing."
Sabin has no shortage of creative ideas for taking their displays even further – like showing players their stats at half-time, sharing game footage and highlights and creating .mp4 videos that loop together to create a video that travels around the room.
AVI trained several members of the Clemson athletics department on using the content management system so the coaches and staff can make updates and push new content live quickly and easily. And Clemson's video and graphic design team built custom content templates. The player's favorite content so far? Seeing their personal avatars above their lockers.
"Thanks to AVI's partnership and technical expertise, the outcome is exactly what we envisioned," added Sabin. "We're already working together on another project for the Clemson Tigers Women's Basketball team."