Since 1941, Dairyland Power Cooperative has provided wholesale electrical requirements for 24 distribution cooperatives and 27 municipal utilities in America's dairy region. Their service area covers 700,000 customers in Wisconsin, Minnesota, Iowa, and Illinois.

This case study shares how Dairyland Power Cooperative improved its ability to serve customers by upgrading its System Operation Center. At the heart of the newly redesigned space is a video wall system that increases situational awareness while meeting the critical infrastructure protection (CIP) space requirements set forth by NERC for a Medium-Impact control room.
The Challenge
The existing map board in Dairyland's control center was a popular solution in the '90s. However, the series of one-inch tiles were no longer supported, nor were they dynamic enough to keep up with Dairyland's expanding power grid. And the Dairyland team was spending more time troubleshooting and creating workarounds than they wanted to.

In addition, certain critical information could only be viewed at individual workstations, which meant the team didn't have the full situational awareness they craved. Dairyland decided to give its team more options and capabilities by completing a top-to-bottom upgrade of its control room.

As part of that process, they brought on RE Lamb, an architectural consulting firm known for control centers. Lamb invited AVI Systems to submit a proposal request as the project's systems integrator, which AVI won.

"There aren't a lot of experts who work on video walls at this level. So, we knew we needed a systems integrator like AVI Systems to walk us through the available options and ensure we ended up with a quality product that was usable for our operators," said Eric Hammes, who manages the Dairyland operations center. "This project would have been nearly impossible for a group like ours to complete on our own."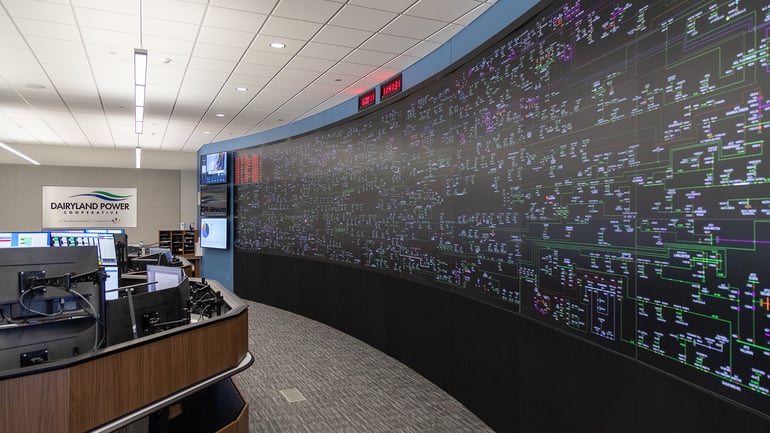 The Solution
Mike Scott, a senior account manager from AVI Systems, worked with the RE Lamb team to understand Dairyland's needs and design a solution to meet their requirements and budget. They recommended Dairyland replace its tile map board with a new BARCO RGB Laser rear projection video wall.

"I've worked on dozens of control room installations, and the BARCO rear-projection cube is the gold standard for utility spaces. It offers impressive longevity and outstanding image quality at a much lower price than comparably sized LED or DVLED video walls. BARCO also offers processors so that we can work with just one vendor for the entire system. Our customers appreciate that," said Scott.

The finished video wall consists of 27 70-inch HD cubes in a 9x3 configuration, measuring 8.5 feet high and 45 feet wide and filling the room's front. AMD acoustic panels were added along the bottom of the video wall to reduce background noise, improve sound quality throughout the space, and create a more finished look.

AVI Systems designed the video wall processing solution with BARCO's TransForm N and CMS platform. The solution uses an architecture that is distributed, network-based, and modular by design. Mission-critical, security-hardened hardware is provided for the encoding and decoding of sources, while the software platform provides operators the ability to easily interact with the sources and visual canvas to view better and share faster with a single keyboard and mouse.

"The room is a NERC/CIP controlled space, which means security and compliance is at the forefront of the design," said Jon Wheeler, BARCO's Utilities Sales Manager. "The first step is knowing how to navigate NERC/CIP rules and selecting products to which we can apply the rules. BARCO worked closely with Dairyland's IT and compliance teams to apply NERC/CIP rules and their own internal rules and regulations to BARCO products as they are classified."

As part of the project, Dairyland added new operator consoles with ergonomic sit-stand stations and a support desk where people can work during events. They also updated the offices, training, and study spaces and added new lighting that gives their team plenty of options depending on their needs.
The Results & Human Impact
By upgrading its control room space, Dairyland shifted from a static, dated solution to a dynamic, modern solution that improves its ability to serve customers. Their most important outcomes include:
Improved situational awareness: Everyone in the control center can view a real-time overview of the entire Dairyland service area. This includes access to various data inputs previously limited to just one person's screen.

"We're in the Midwest, so we usually have at least one major winter storm each year. The new video wall will be much more effective during events like this because everyone can see the entire system simultaneously. We now have true situational awareness," said Staci Pieper, a project engineer for Dairyland who managed the control center upgrade project.

Dairyland Power Cooperative's upgraded System Operation Center
Better employee experience: features like adjustable lighting and flexible content displays offer a better, more comfortable working experience, improving human ergonomics for the team.

Enhanced functionality: the team appreciates that the new video wall has more functionality than their previous solution and continues fine-tuning the experience based on their needs.
Technology Partners
RE Lamb, Inc.

BARCO Video Wall Displays

BARCO Video Wall Processing

AMD acoustical panels