Once the domain of teenagers who spent hours in their rooms, esports has exploded in popularity in recent years. It's now a full-fledged sport in high schools, colleges, and universities. And because esports tournaments are broadcast live online, having a dedicated esports arena is essential for any school that wants to compete at the highest level.

This case study shares how Faulkner University – a private, Christian liberal arts school in Montgomery, Alabama – went from concept to tournament-winning eSports team in just one year.
The Challenge
Faulkner University recognized the potential of adding an esports program to their collegiate sports line-up after a casual esports tournament with a local radio station showed strong student interest.

They spent a semester building the program from the ground up, including hiring e-Footprints as a consultant, selecting AVI as their AV partner, hiring a head coach, and recruiting their first team of esports athletes. Their goals were simple: leverage their esports program to attract new and historically underserved students to the university, create community among student-athletes, and build esports into an established competitive sport.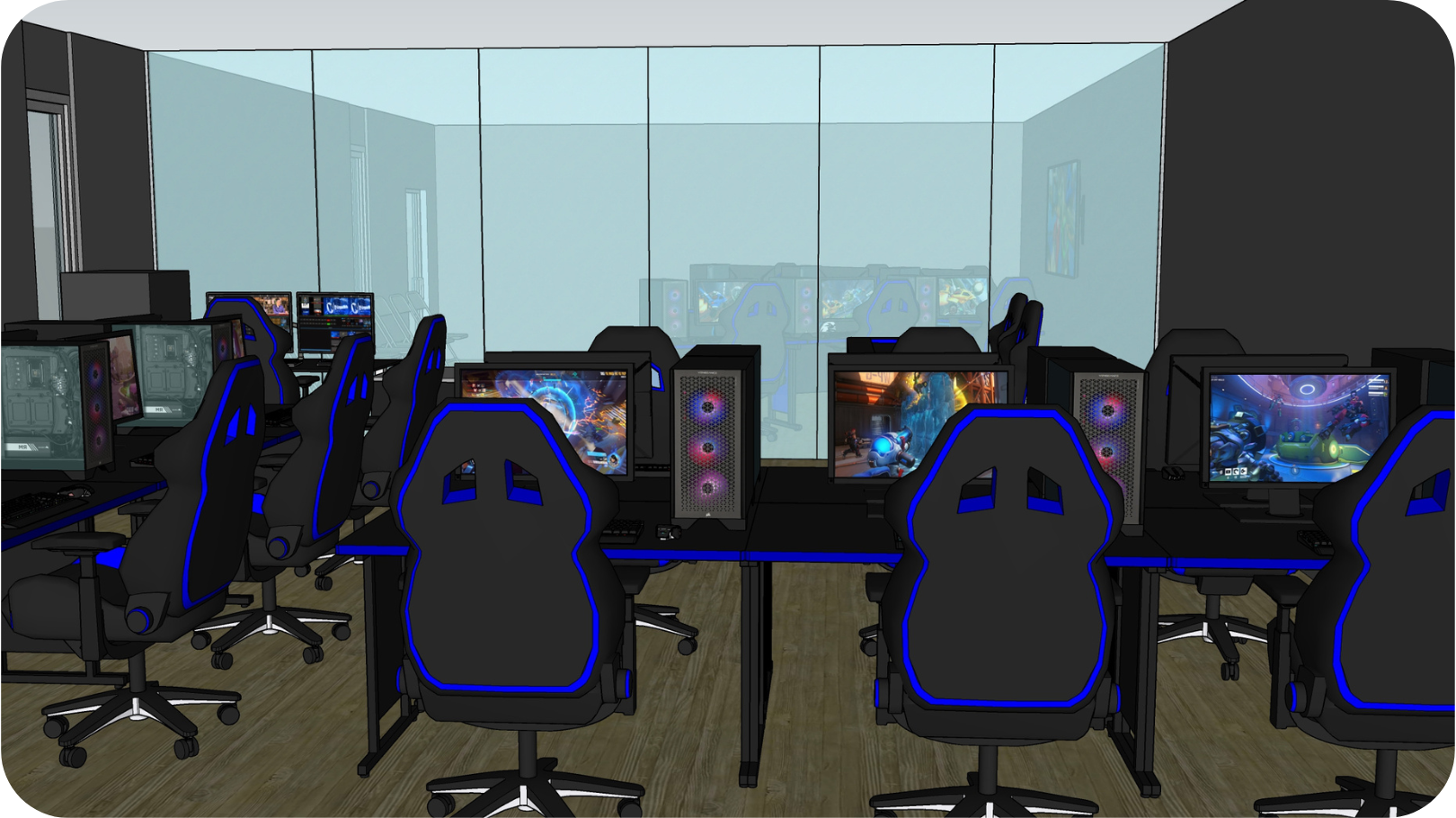 The Solution
Because this was a new program for the university, involving a broad range of stakeholders and gaining consensus before moving ahead was critical. To get there, AVI held design workshops to learn more about the school's vision, create a custom design to achieve its goals, and provide a cost estimate for the new arena.

AVI's design engineer and lifelong gamer, Jen Ehland, said the excitement level on the project team went up exponentially when AVI shared its 3-D renderings. "When we showed everyone how all the elements worked together in the space, including graphics and simulated images, the project came to life for everyone involved. They could see the finished product before starting construction."

The design repurposed an existing campus game room that was largely unused by students. The space was divided into multiple zones, each with its own purpose and enough space to be ADA-compliant and accessible. But function alone wasn't enough for Faulkner.

"An esports tournament arena is essentially your home field, so you want to optimize how it looks on camera. And just like with any of the more traditional college sports, you want to blow people away when they see your arena," said Caleb Colquitt, Faulkner's esports coach. "And that's what we've done."
Faulkner's esports arena includes: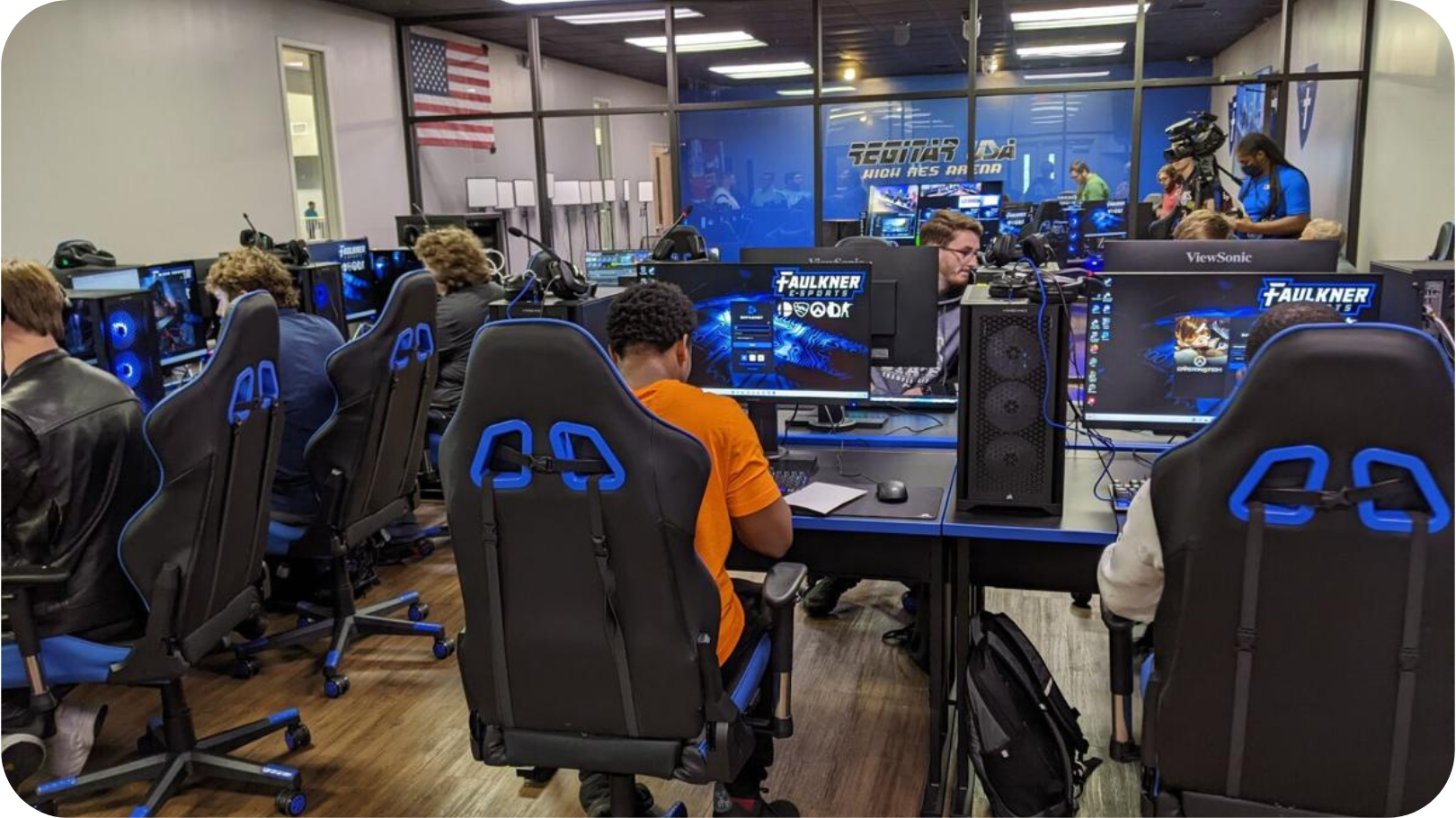 Tournament arena

with an 82-inch high-definition Samsung display and six Corsair gaming stations. This area also includes branding and LED lighting to create a distinct Faulkner Eagles look. Camera placement in this zone was critical to ensure the broadcast audience could see players' faces, but their hands and playing style (considered their intellectual property) remained offscreen.
Broadcast station

with space for behind-the-scenes producers and their on-camera talent called Shoutcasters. Sound separation for this space is essential so players remain undisturbed, but the virtual audience can hear the commentary and feel part of the tournament.
Practice arena

with 18 Corsair game stations set apart from the tournament space. This allows competitors to warm up and practice before their game or gives visitors to the area a chance to play esports for themselves.
Skyloft

lounge

for console gaming and a small viewing area used for multimedia events. The Results and Human Impact
Faulkner set out to attract 20 new students to its esports program's inaugural year and achieved nearly twice their goal.

"From the seller's perspective, it doesn't get much better than to see an account go from an idea into a full-on implementation that drives results," said Brady Jolet, Senior Account Manager, AVI Systems. "For Faulkner to double their recruiting goal in the program's first year was extremely rewarding for the entire AVI team."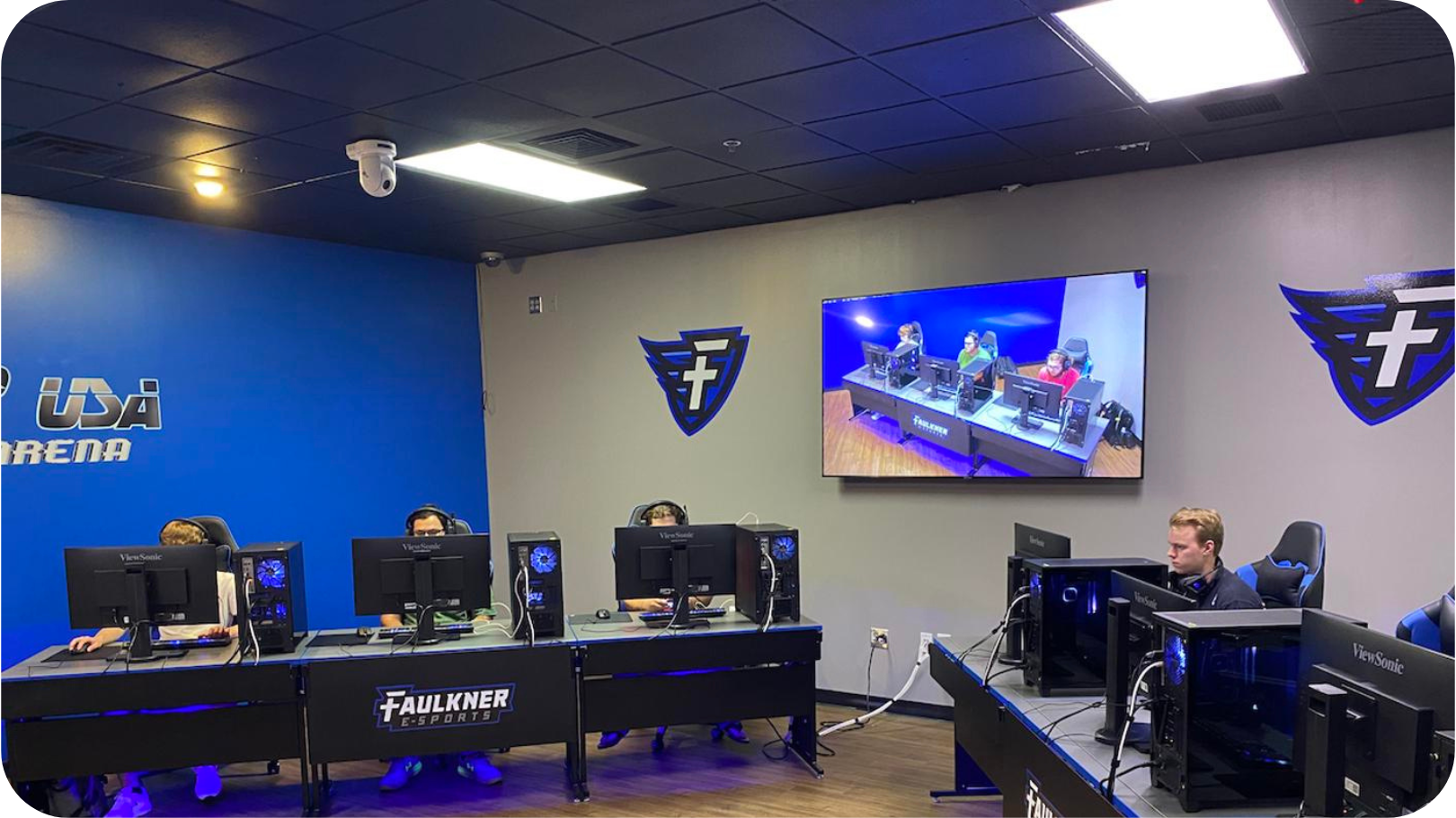 Part of the student-athlete experience is creating community and allowing students to learn and grow as a team. And that was certainly the case for the Faulkner University Eagles. Their Rocket League team went undefeated and won the division championship. Their League of Legends team also had a strong showing, making it into the final round of the playoffs.

And while Coach Colquitt is proud of his team's first-year performance, he's already looking ahead to the 2023 academic year and what he hopes will be the team's breakout season, especially from a recruitment standpoint.

"I'm able to reach a whole new level of student that would never have considered Faulkner University before we had an esports arena, said Colquitt. "Now, prospects can check out our arena and tournament style online as part of their consideration process. That means I'm not just reaching people already considering Faulkner, I'm reaching an entirely new pool of students."
Partners and Technology
E-Footprints Partners

Samsung 82-inch 4K displays

Corsair Gaming station packages, including all peripherals

Spectrum esports furniture, includes gaming desks, gaming chairs, and Shoutcast station

TCB Consoles production furniture

Viewsonic

27-inch gaming displays

QSC Q-Sys audio processing and control system

Newtek Tricaster 1 Pro live production system

LG

43-inch mobile video display on Chief cart

BirdDog Eyes P200 HD PTZ Cameras

Neewer

bi-color LED light panels

BOSE Portable Line Array Systems

Complete audio solution including headsets, headphones, wireless lavalier, handheld microphones