In late 2020, the Hyatt House LA — University Medical Center opened the doors of its new 200-room hotel near downtown Los Angeles. The facility includes a Conference Center with four meeting rooms totaling 8,700-square-feet that can accommodate up to 700 people.

The center is located on the University of Southern California (USC) Health Sciences Campus and the Keck School of Medicine of USC.
THE CHALLENGE
The facilities team for the Hyatt House Conference Center knew they wanted to implement an audiovisual system to meet their client's unique needs. But they didn't have previous experience to determine specific AV technology for a facility of this type. As a result, everyone involved in the project had identified some requirements, but there was no clear path for how to translate those requirements into technical terms and identify the best solution on their own.

The Associate Director of Hospitality Projects, Deepal Jayasooriya, recommended to the team that they find an AV expert who could take their collective ideas and turn them into an audiovisual strategy and clear plan.
THE SOLUTION
Starting with a blank canvas in a new facility provided the team with a wide range of options. Their initial goal was to build digital signage and event capabilities to serve the hospitality center today — and to be prepared for the future.

In addition, they wanted to bring technology into the space while keeping it user-friendly and easy to expand. This would allow them to add new capabilities when they had additional budget dollars available or identified new needs.

After consulting with AVI Systems, which used its PRO Design team to create various technology options, the team landed on an initial implementation of digital signage for the divisible conference center's pre-function space and two classroom spaces used for presentations and overflow. They also identified locations where they could add cameras in the future and completed some initial cabling in those locations.

Equipment Checklist
Crestron NVX switching/routing and touch-panel control
Laser projectors and large motorized projection screens, and flat panel displays for presentations
Overflow flat panel displays for digital signage
THE RESULTS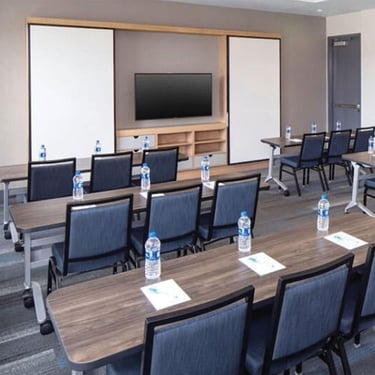 The conference center now has an audiovisual system that meets its current meeting space needs — sharing content and essential information in shared spaces. Plus, video streaming for presentations and virtual events in its two primary classrooms.

In addition, the facility is well-positioned for the future. The hope is to broadcast medical procedures in real-time from surgical rooms to audiences at the conference center.

"This was an educational process for me because I'm not an AV subject matter expert," said Deepal. "What I found helpful is how AVI Systems worked to understand our high level scope, shared multiple options — which was helpful from a budget standpoint — and recommended the options we should consider."

The Hyatt House team was restricted in the kinds of meetings it could host due to COVID-19. They're looking forward to using the new AV systems once events in their new conference center hit their post-pandemic stride.