About Renown Health
Recently recognized as one of America's best hospitals, Renown
Regional Medical Center includes a trauma center, two acute care hospitals, a children's hospital, a rehabilitation hospital, a medical group and urgent care network. They also have clinical institutes for cancer, heart and vascular health, and neurosciences.
With more than 7,000 employees and 800 patient beds, Renown receives and cares for patients with varying health needs throughout a 100,000 square mile service area.
THE CHALLENGE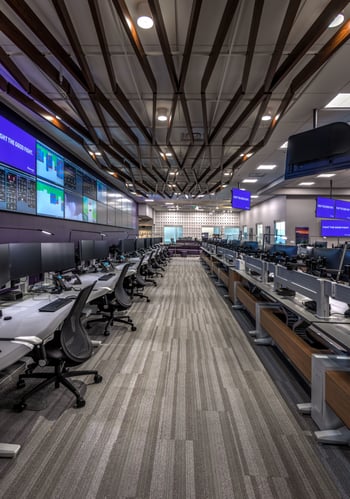 When you're the only trauma center between Sacramento and Salt Lake City, and you treat more than 80,000 emergency room and trauma patients each year, you need more than just a plan for how to manage your hospital's logistics. You need real-time situational awareness that helps you make decisions that are literally life and death.
Every unit in the hospital must work in concert to make decisions about patients being transferred in from rural hospitals, coming into
the emergency room, heading into the operating room, or transferring between hospital units.
"Without a solution in place, hospital units can operate in siloes because they're looking at information only for their unit," says Mel Morris, the director of Renown's Transfer Center. "We wanted to approach our decision-making from a centralized, system-wide point of view."
THE SOLUTION
Technology Solutions Used
• Crestron NVX video distribution and control
• Samsung displays
• Biamp audio system
• Legrand mounts and racks
Morris reached out to the AVI team to help her stand up a new space called the Renown Transfer and Operations Center (RTOC).
"Similar to how air traffic control towers manage traffic in and out of airports, our new operations center offers a view of what's happening across our entire hospital system," explains Morris. "Having access to this real-time information is critical because in healthcare, every action you take is tied to a patient's life. Time is always of the essence."
The 6,000 square foot RTOC consists of 28 Samsung displays, which form a series of custom dashboards to monitor occupancy in every
hospital unit. Ceiling-mounted Samsung displays allow Renown's team to watch real-time news feeds and triage what might be coming into
the hospital. And there's a separate conference room adjacent to the main RTOC area with dual displays for videoconferencing and accessing feeds from the RTOC dashboards.
THE RESULT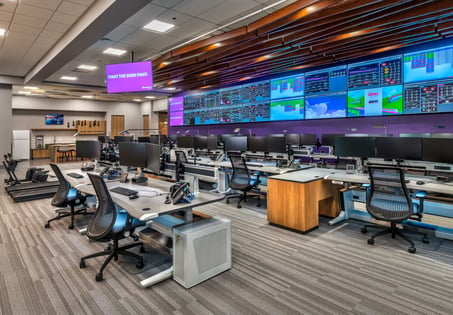 "The RTOC is helping us maximize efficiency in every part of the hospital," states Morris. "Transfer volumes are going up, and wait
times for inpatient bed assignments continue to improve."
A unique feature of their solution is the decision to run video encoders and decoders across Renown's network. This makes the system expandable and allows Renown to add camera sources from anywhere on their network, adding to their situational awareness and real-time
decision-making. They're already planning for the RTOC's next phase: adding point-of-view cameras to their helicopter landing pad and
emergency room entrances.
Take a tour of Renown Health's Transfer and Operations Center. Click here to watch the video.