ECS Inc. International is one of the leading developers and manufacturers in the billion-dollar frequency control devices market. The company serves customers in dozens of countries and operates globally with offices in Japan, South Korea, China and Taiwan.
Its global headquarters is based in Lenexa, KS, USA. Recently, the company moved to a new building. In the process of moving, ECS Inc. partnered with AVI Systems to design, integrate and support its technology systems for the new space.
The Challenge
In the company's 35 years of doing business on an international scale, it's suffered growing pains in the process. Connecting various branches from around the world is no easy task.
ECS Inc. needed a way to seamlessly unite all of its offices from Japan to China to the U.S. and beyond. But, the collaborative infrastructure that the staff was working with couldn't keep pace.
Staff used many different platforms for collaboration; one for productivity, one for email, one for phone, and another for video conferencing. What ECS Inc. needed, on top of a physical technological ecosystem that could handle international collaboration, was a unified way to organize the business from the top down.
Have a pressing AV need? Contact us for a free assessment today.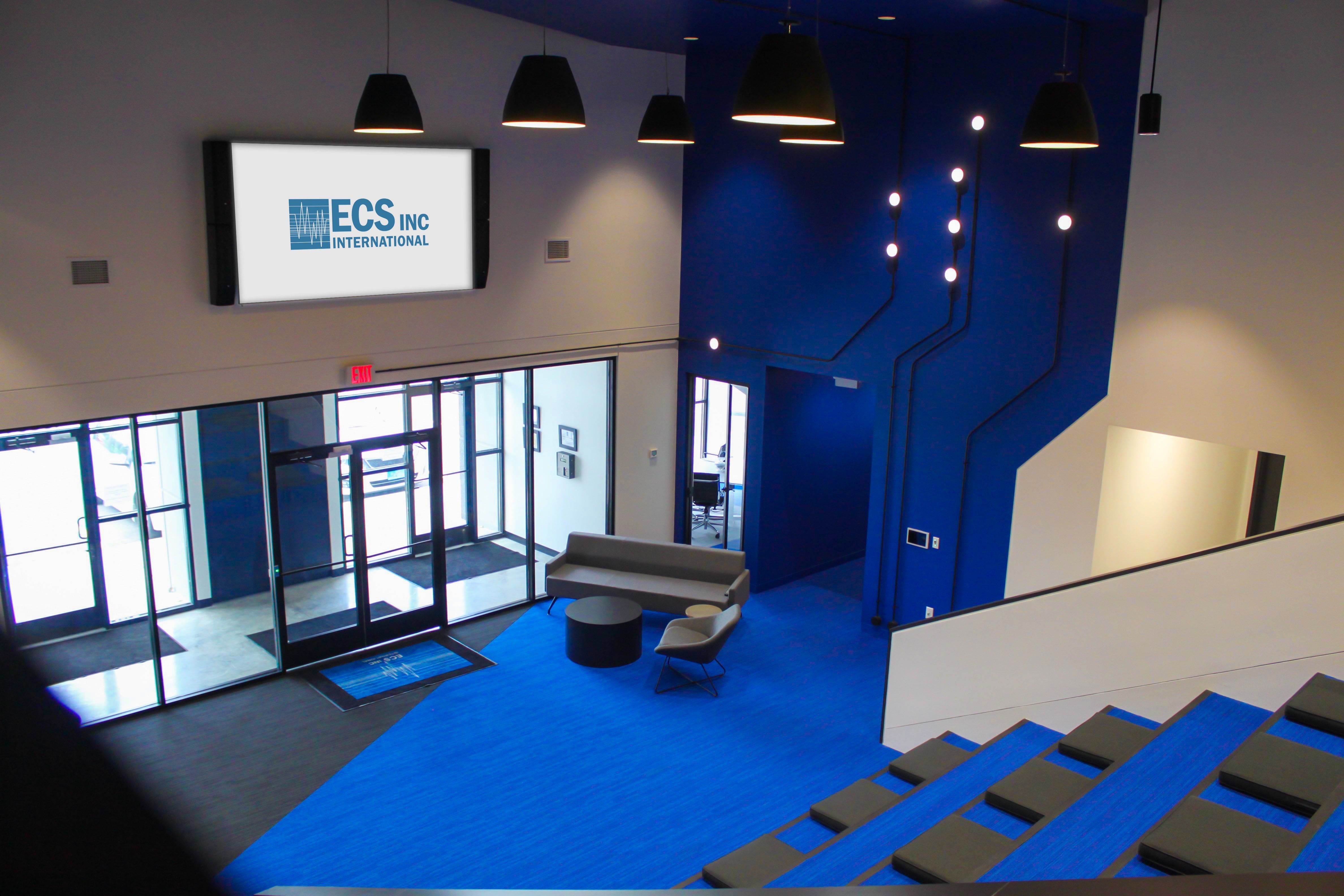 Our Solution
In a way, this project was transformative for ECS Inc. Before, the company was split among many different platforms and technologies – including some that weren't available in countries like China. But now, the entire organization enjoys uniformity and simplicity when it comes to its AV and unified collaboration (UC) systems.
AVI Systems migrated ECS Inc. over to Microsoft O365 for email and phone, consolidating its UC into a single, cloud-based platform. That change had a significant impact on the way the company operates internally because, historically, platforms changed from region to region. It's made their internal workflows simpler from storing data, to sharing content, and even just sending email.
In addition to this transition, ECS Inc. also faced changes in its headquarters.
Walking into the new lobby, you're immediately welcomed by a tiered auditorium-style room that faces a two-by-two video wall flanked with speakers. This multipurpose space is used for company-wide announcements, meetings and more. Throughout the building, you find meeting rooms of different sizes used for corporate meetings to off-the-cuff huddles.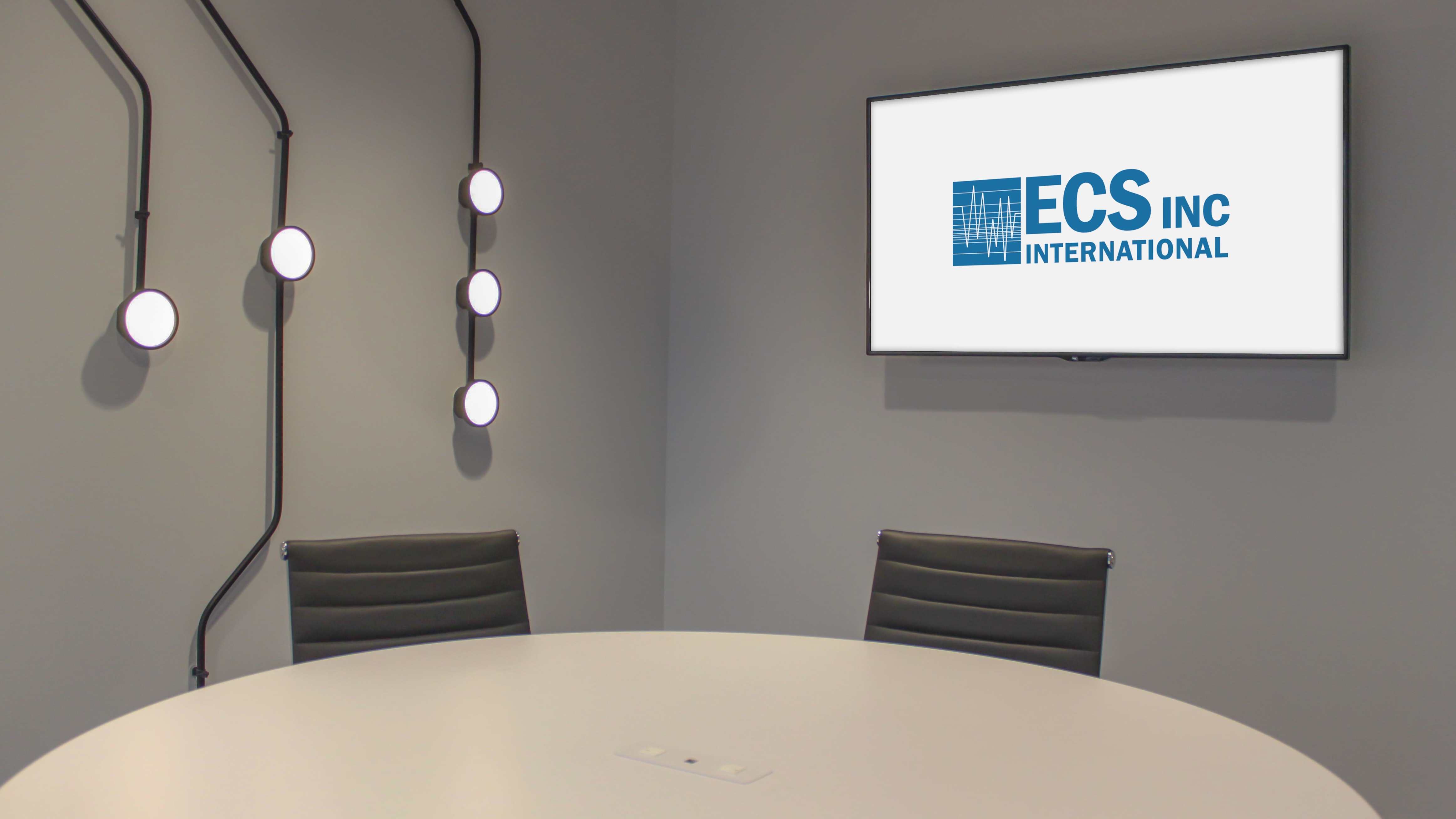 The headquarters features cool blue highlights and the varying shades of gray that accent the walls and floors of this modern office. AVI Systems worked with the architectural firm to ensure that the design and space requirements fit with how the technology functions and will be used.
Part of the integration was a board room for executive-level calls. Video conferencing equipment was installed in the space, with overhead speakers and microphones, wireless content sharing technology, and a control panel. The system operates just like a typical board room, but its intuitive design and integration with the technology make it an ideal space for the decision-makers at ECS Inc., who are working with people all over the world.
AVI Systems took a similar approach to outfitting the president and vice president's offices, as well as small meeting rooms, a multipurpose room, and the lobby. Each space has a system in place that's easy to use and yields the results needed for accomplishing the work at hand.
On top of the traditional AV equipment, AVI also provided sound masking for staff workspaces, wired an unfinished area of the headquarters to be used for future expansion, and installed surveillance equipment and secured entry technology for the building.
AVI Systems was the only partner contracted for all technology involved in the project – from conference rooms to surveillance equipment. AVI continues to support ECS Inc.'s AV systems.