Live interviews. Background visuals. Onset guests. Few workplaces rely on technology the way news stations do — especially during a live news broadcast. From the first cue to the last, every audiovisual element of the production must look flawless to those watching at home, or the broadcast loses its luster. That's why WTTW, the PBS member station in Chicago, turned to AVI Systems to update the studio for their flagship nightly news program, Chicago Tonight.
THE CHALLENGE
The 30-year-old Chicago Tonight studio and set had grown outdated and stale. Producers wanted a fresh look with upgraded audiovisual capabilities to enhance their long-form storytelling and increase viewership. But impressing viewers when you're in the third-largest TV market in the country is no easy task. So, they set out to design a studio experience that not only attracts a broader demographic and increases viewership but also makes Chicago Tonight the premier news entity in Chicago.
To highlight the art of the possibility of a new studio design, the AVI project team took producers on a tour of other TV stations. From there, AVI completed a needs analysis and worked with WTTW's producers and technology team to create a design and develop renderings. Their solution is an experience the Chicago news market has never seen.
"Audiences don't want to watch someone read the news. They want to feel like they're part of the story. Chicago Tonight's new studio creates an immersive experience for the viewer and brings WTTW to the leading edge of what's possible in TV news," said Pete DeBenny, AVI Sales Manager.
THE SOLUTION
The new Chicago Tonight set blends physical scenery with virtual elements and surrounding technology. Producers can easily change the set's entire background or seamlessly add elements like music and graphics.
The on-set cameras are robotic Ross CamBots, and there's a Furio SkyDolly ceiling-mounted track camera that's controlled remotely. The cameras and other on-set tech are driven by the latest control room and audio suite solutions — a Ross Ultrachrome multi-channel keyer and a Ross Acuity production switcher.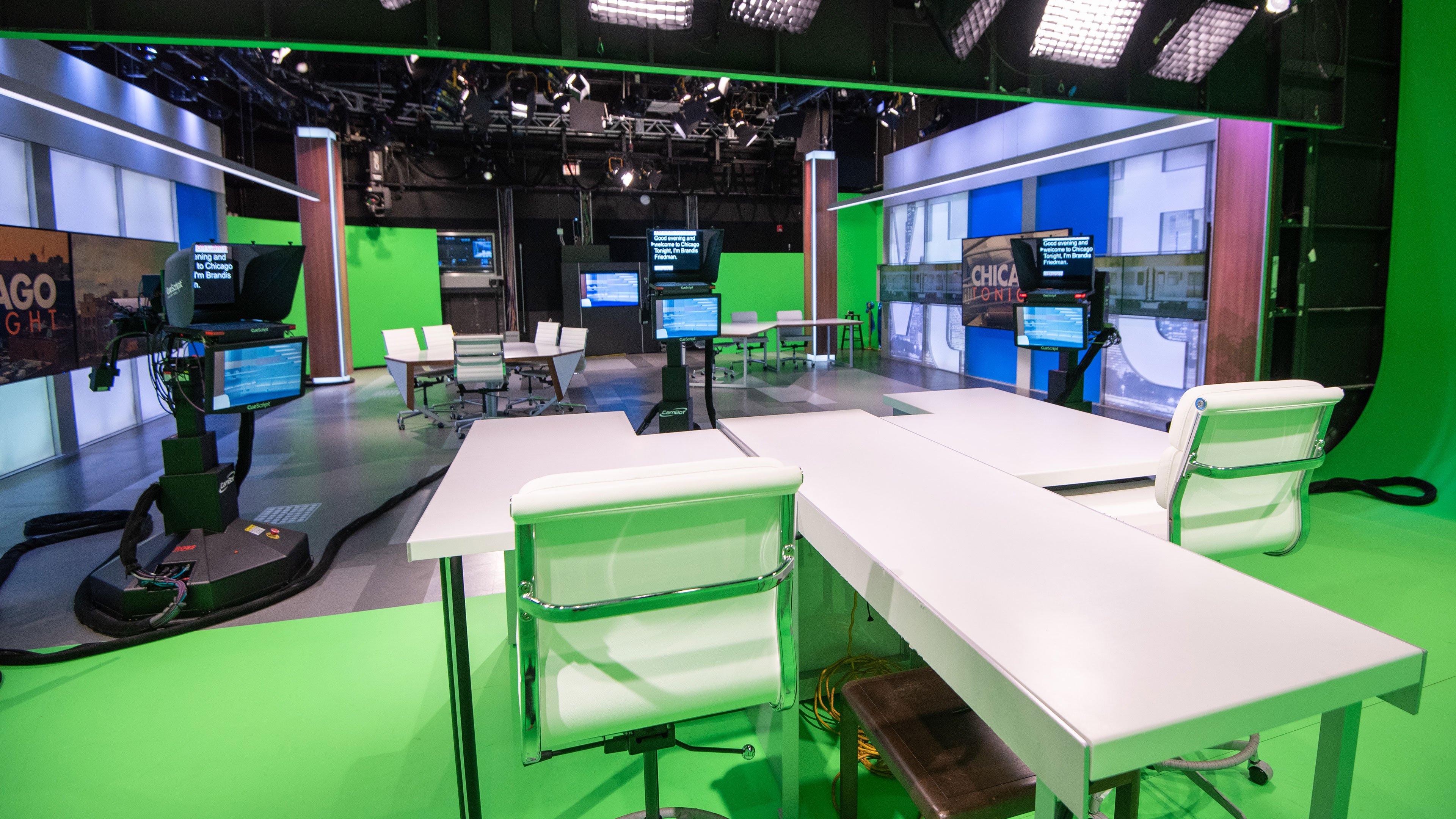 WTTW's Chicago Tonight studio includes three Ross CamBots driven by a control room team.
"I was impressed with how AVI's design team got into the nitty gritty detail to put this studio together. It shows they really know what they're doing," said Mike Tompary, WTTW's director of Broadcast and Technology.
The changes impact every aspect of the show's visual design and production. And because TV stations are notoriously complex environments, the project required deep expertise in not just the equipment and solutions but understanding what it's like to work at a television news station. AVI designers worked closely with each technology manufacturer and the station's engineers and technical staff to integrate the new equipment into the space.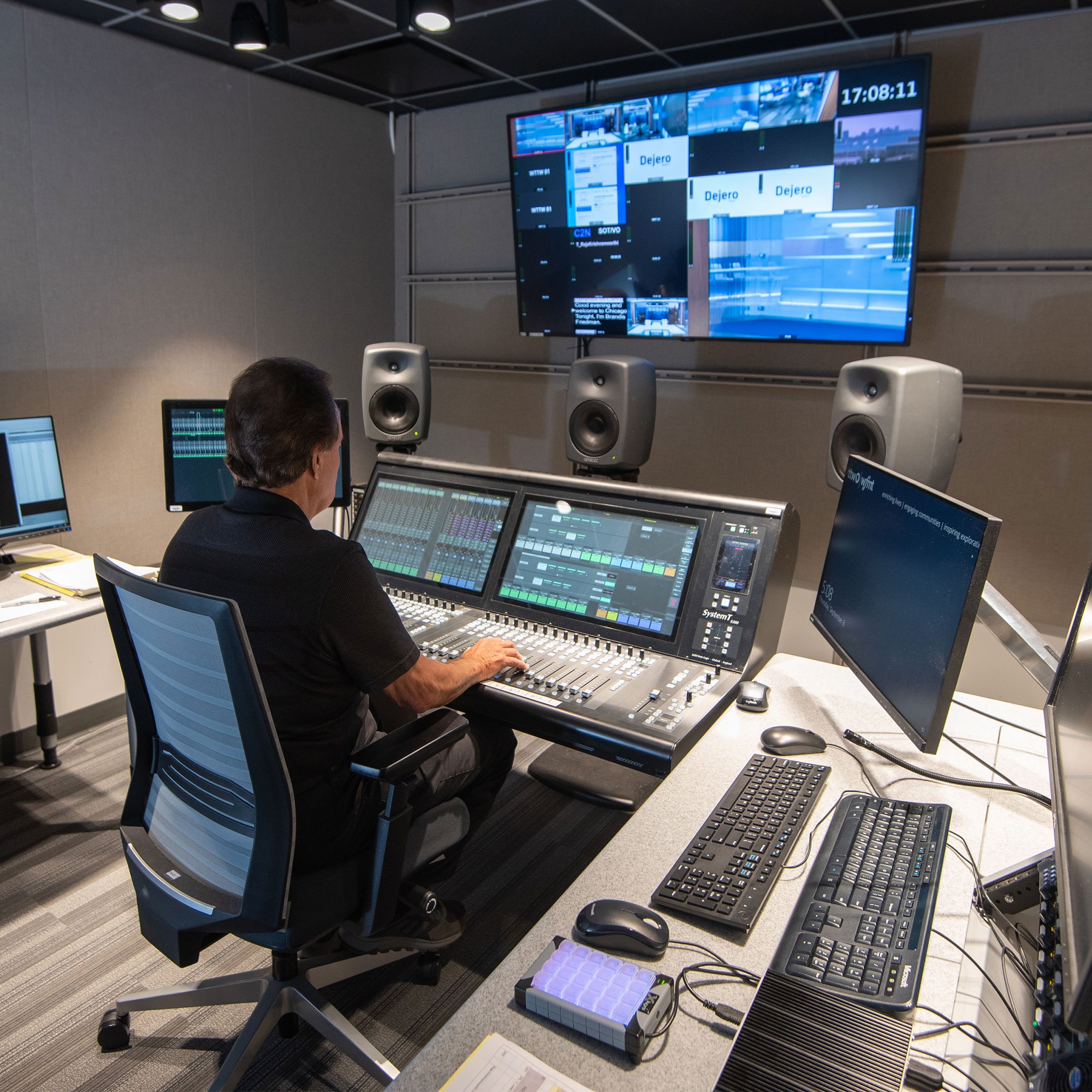 Sound engineers for Chicago Tonight have all the controls at their fingertips.
"Customers get new equipment all the time," said Chad Thielen, Design Engineer at AVI Systems. "But in a case like this — where every piece of equipment is new, and it's never worked together as a system — customers see the value of working with an experienced systems integrator like AVI."
THE RESULTS
Chicago Tonight debuted its new studio set on October 3, 2022. Since then, they've been leveraging their new audiovisual capabilities to advance the station's mission of producing and presenting best-in-class content.
Each night, the show covers three to four stories, spending eight to 12 minutes on each story. The updated technology helps them go in-depth and deliver more vivid storytelling, host more thoughtful interview conversations, and share more content that reflects their diverse community.
"The new set is a shining moment for us as a PBS station and has made Chicago Tonight a more compelling and dynamic show," added Tompary. "We have AVI to thank for that. They were an essential part of this project's success."
Donor recognition: The Chicago Tonight set design and technology are made possible by Alexandra and John Nichols. Studio facility and infrastructure are provided by The Crown Family. Studio control and audio suite are provided by The Grainger Foundation.



From the Chicago Tonight control room, producers and technicians manage every facet of show production.

Read more? See related article

TECHNOLOGY PARTNERS

Ross CamBots robotic cameras

Furio SkyDolly ceiling-mounted camera

Ross Ultrachrome multi-channel keyers

Ross Acuity production switcher

Studio routing switcher

House router