If you've yet to attend InfoComm, we'll just put it this way: it's a Big Deal in the audiovisual industry and the only training and exhibition event that is 100% focused on professional-level AV equipment.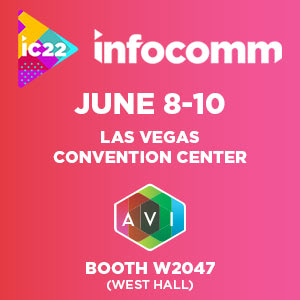 InfoComm 2022 will explore the largest, fastest-growing, and most critical pro AV solutions that drive this nearly $260 billion industry. Between the trade show floor and education programs, the event will cover everything from content, production and streaming, digital signage, learning technologies, live events, audio, and more.

In this post, we share how we plan to spend our time at this year's event: seeing the latest products, learning more about the latest audiovisual trends, and networking within the industry. To learn more about AVI's presence at InfoComm 2022, check out our news release.
"Our presence at InfoComm 2022, includes a large 20 X 40-foot booth where we'll engage with customers and prospects to discuss AVI's enterprise capabilities, new executive broadcast solutions, and our unique buy or subscribe Velocity pre-configured meeting room solutions," said Craig Gudorf, vice president of marketing at AVI. "Multi-national companies will also get access to our GPA Global Lounge where they can learn how AVI supports deployments practically anywhere in the world."
Products we want to see
Hundreds of top AV manufacturers and solution providers will showcase their newest products at the event. So, we'll have the chance to see and experience some of the most exciting products in categories like:
Audio

Conferencing and collaboration

Digital signage

Content

Production and streaming

Video capture and producing

Control


Live events
As the largest global audiovisual service provider, we're interested in all these product categories. In particular, we're excited to see how original equipment manufacturers are taking conferencing and collaboration solutions to the next level.
What we want to learn
InfoComm has more than 200 hours of training sessions and workshops led by the leading innovators in our industry. We're excited about the broad range of topics they're offering this year. You might see us in the following sessions. If you're there, say hello and introduce yourself!
Design Considerations for the Hybrid Workplace

Why Meeting Equity is the Lifeblood of the Hybrid Workplace

Trend Forecast: Conferencing and Collaboration


Hybrid Work: What Lies Ahead
Who we want to meet
At AVI, we believe that technology exists to create human impact. So more than anything else, we're at InfoComm to meet people like you! We're looking forward to reconnecting with our industry friends and colleagues, so we can geek out about the innovation that's happening as we speak.

One session we'll be watching closely focuses on next-generation meeting spaces. Our friends at Poly, Natalia Herrera and Justin McArdle will lead this discussion.

We'll also be on the lookout to have deeper discussions with industry thought leaders including, Ilya Bukshteyn, vice president of Microsoft Teams Calling and Devices; and Klaus Berberich, founder, and CRO at Thing-it.
See you at InfoComm 2022
In case we've never met, AVI Systems is headquartered in the United States and has a global reach. With 25 locations in North America, and the ability to do business in 164 cities and 50 countries worldwide, we can help your organization with practically any audiovisual, unified collaboration, or digital media project.

If you're going to Las Vegas for InfoComm 2022, let's meet. We enjoy sharing our new strategies designed to help you implement the best technology for hybrid work environments, including executive broadcast/townhall systems, new solutions to improve video conferencing, and collaborative environments focused on meeting equity.

Learn more or connect with us in our booth and get exclusive access to the GPA Global Lounge.