Summary: This is the second in a series of posts highlighting how to leverage audiovisual technologies to create high-impact spaces. This article's focus is on education.
In the late 1990s and early 2000s, interactive whiteboards hit the scene, marking a significant leap forward in education-focused audiovisual equipment. And that was just the beginning.

Today, advanced AV solutions like high-definition projectors, interactive displays, and digital sound systems are common on school campuses. These technologies and digital resources have transformed education, making it more interactive, engaging, and accessible.

This guide explores the range of high-impact solutions that elevate K-12 and Higher-Ed spaces and includes a special section on the hottest AV trend on campus: esports arenas.
K-12 campuses

Audiovisual solutions play a pivotal role in creating engaging and interactive learning environments for a variety of K-12 campus spaces, including:
Campus public address systems.

These systems are

essential for school-wide announcements, emergency communications, and school events, ensuring clear communication across large campuses.

Building digital signage.

Digital solutions

help schools share

important information

,

showcase

student achievements, and promote school spirit.

Classroom audio systems.

With the right microphones for teachers and integrated speaker systems in every

classroom

, schools ensure every student can clearly hear no matter where

they're

seated.

Interactive flat panels.

Display technology

helps

teachers create dynamic lessons with multimedia content, promoting increased student engagement and improved learning outcomes.

Sports venues.

Gyms and outdoor playfields with LED scoreboards, sound systems, and digital signage create more engaging and interactive student and fan experiences.

Gymnasium/multi-use space projector systems.

These unique technologies help create immersive and highly engaging spaces for various student activities.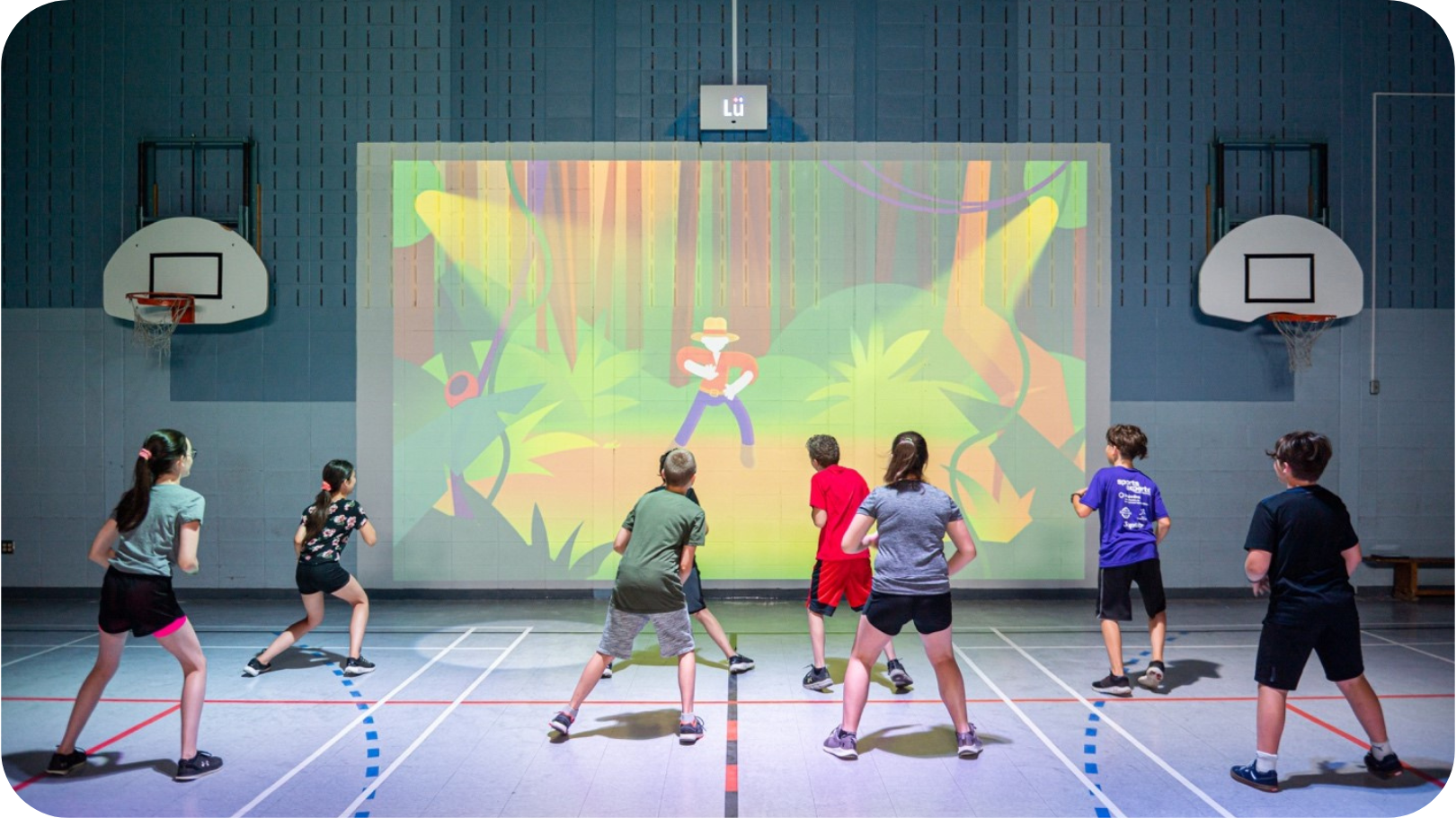 Image courtesy of Lu Interactive
STEAM/STEM solutions.

Solutions like zSpace provide immersive and interactive learning experiences for science, math, and more.

Virtual reality and augmented reality.

VR and AR technologies provide immersive experiences, bring abstract concepts to life and facilitate experiential learning. For example, students can take virtual field trips or interact with 3D models of complex scientific structures.

Visual coding platforms.

These platforms designed for educational use provide students with an engaging, interactive experience. They often incorporate game-like interfaces and colorful, dynamic visuals that can be projected for the whole class to participate in.
AVI Case Study: Technology at Rockford Public Schools Aims to Engage Kids
Higher education campuses

Colleges and universities rely on AV solutions to create a campus community that is connected and engaged. From learning environments to improve collaboration, as well as enhanced communication between students and faculty, well-designed audiovisual systems are a must.
Campus digital signage

shares campus news, events, and wayfinding information to keep students and faculty informed and connected.

Lecture hall and auditorium AV systems

ensure clear audio and visual presentations, accommodating in-person and remote learning. For a more immersive in-person experience, projection systems offer strong value.

Collaborative learning spaces

integrate interactive displays and video conferencing to support group projects and remote collaboration.

Sports venues

can attract and engage athletes and fans with LED scoreboards, sound systems, wayfinding, and digital signage.

Locker room digital signage

helps coaches engage with athletes, review game footage, or share timely updates.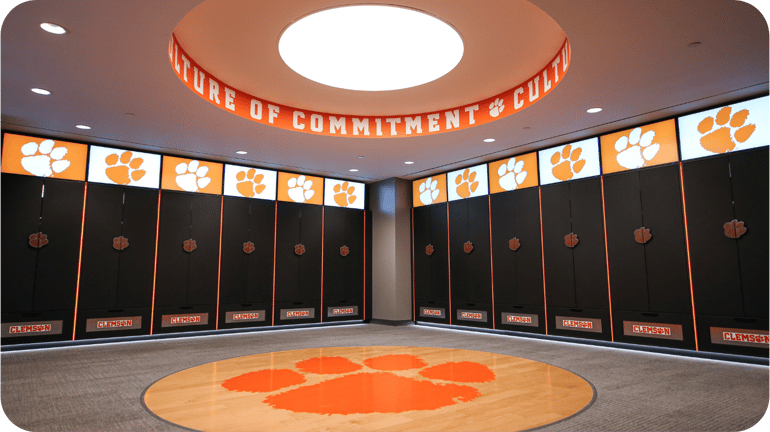 AVI Case Study: Clemson Tigers Locker Room Gets Digital Makeover
Esports arenas
Esports, or competitive video gaming, is growing worldwide, and schools at every level are embracing it as a sport for student engagement and an area of academic study. At the heart of any esports program is a thoughtfully designed esports arena that's packed with AV technology:
High-definition displays

can range from large LED video walls for spectators to high-refresh-rate monitors for the players, ensuring crystal clear visuals and real-time response during gameplay.

RGB LED lighting systems

can adapt to different games, teams, and events, enhancing the atmosphere in the arena.

Advanced sound systems

provide immersive audio experiences for players and spectators, making gameplay more thrilling and engaging.

Live-streaming capabilities

are a crucial element of esports that

allows matches to be broadcast in real-time to audiences worldwide, expanding your esports program's visibility and reach.
AVI Case Study: Faulkner University Wins Big with New Esports Arena
Stay tuned for more high-impact AV use cases
Watch the AVI blog for the next post in our series about creating high-impact spaces with modern AV solutions, including:
Government

Healthcare

Sports/Entertainment/Retail

Museums
Want to get notified by email when these posts are live? Subscribe to AVI's blog by scrolling to the footer.
Your trusted AV partner for high-impact spaces
Looking for a trusted systems integration partner to create a unique digital experience on your K-12 or Higher-Ed campus? We're AVI Systems, the largest global AV systems integrator and a leader in high-impact audiovisual solutions since 1974. With our proven process and experienced team of education solution experts, we've helped hundreds of education facilities move confidently from initial concept to final implementation.

Contact us today to discover your perfect AV solution.
©AVI Systems, Inc., 2023