Summary: This is the third in a series of posts highlighting how to create high-impact spaces in any industry.
The government sector has been using AV technology since the days of overhead projectors. But times and technology have changed a lot since then.

Today, government entities including city councils, county courthouses, and public safety offices, use a broad range of AV solutions and technologies to streamline internal operations and enhance public services and engagement. Their journey illustrates technology's critical role in shaping an efficient, accessible, and citizen-centric public administration. And their progress hints at an even more connected and interactive future, with AV solutions at the helm.

Let's explore how high-impact audiovisual solutions can be integrated into various government spaces.
Government Offices

In government workspace settings, high-impact AV solutions can enhance communication and create more efficient, connected, and user-friendly environments. For example:
Video conferencing solutions

, including cameras, microphones, and display screens, enable clear and reliable communication for remote meetings and collaboration.

Interactive displays or whiteboards

facilitate

dynamic presentations, discussions, and collaborative problem-solving in meeting rooms and other shared spaces.

Digital signage

provides employees with real-time updates, announcements, and other crucial information.

Projection systems

are used in training centers to enhance staff learning and development.

Command and control centers

integrate advanced AV technology to

monitor

and manage critical operations in real-time.
Courthouses & Council Chambers

Courthouses and council chambers are critical public administration infrastructure and can significantly benefit from high-impact AV solutions. For example:
Video conferencing solutions

allow for remote participation in council meetings, making them more accessible to council members and the public.

Sound systems

, microphones, and professional-grade speakers are essential for clear and crisp audio during meetings, court proceedings, and public hearings.

Video display systems or projectors

can present relevant data, maps, plans, and video content, which helps enhance understanding and participation for council members and the public.

Broadcast and streaming solutions

allow councils to broadcast or live-stream proceedings to wider audiences online, leading to greater transparency and public involvement.

Assistive listening systems

make council chambers accessible to all citizens, including those with hearing impairments.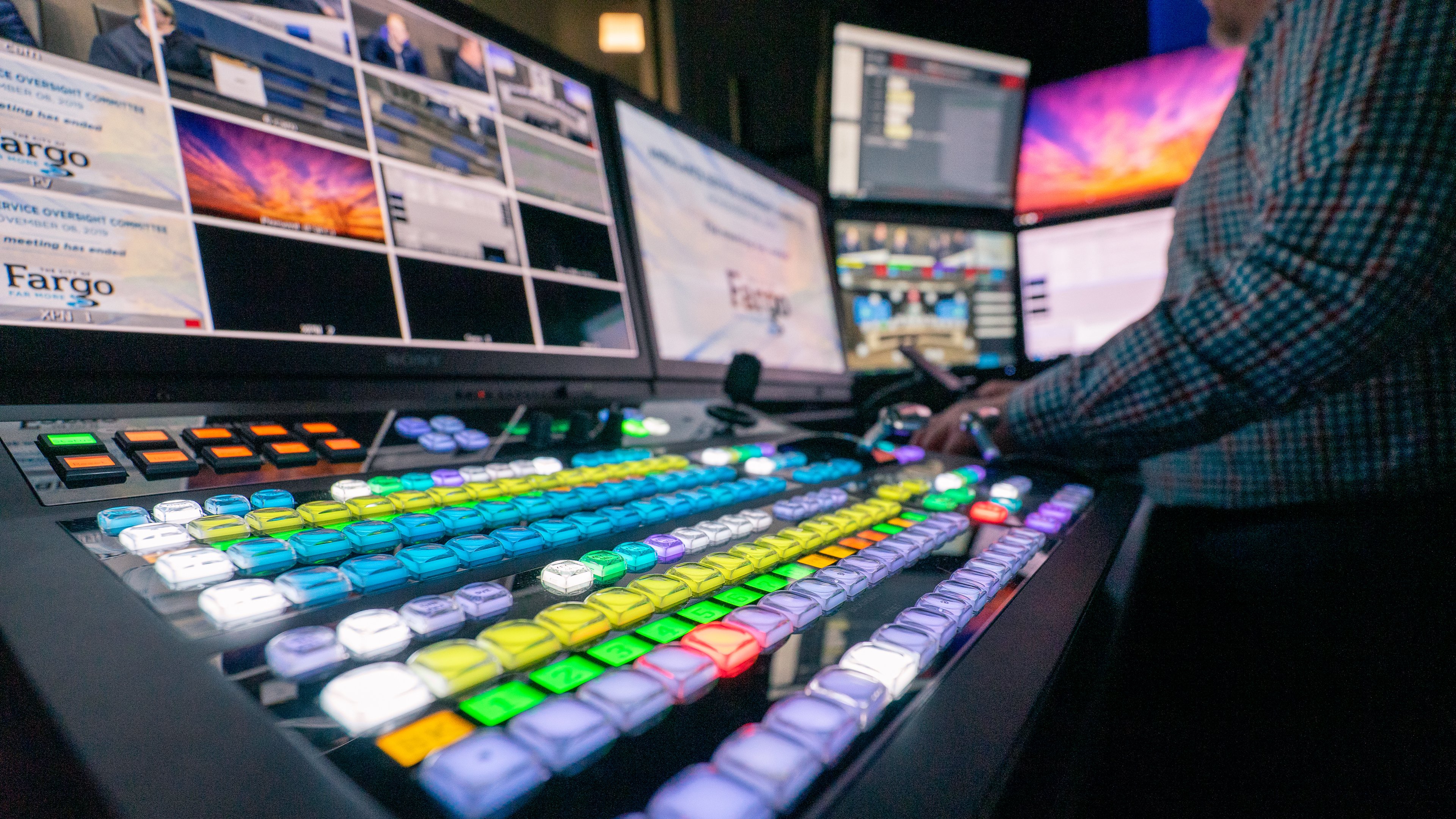 AVI Case Study: City of Fargo Overhauls Broadcast Capabilities to Increase Public Access
Government-Run or Supported Public Spaces
AV solutions can improve the visitor and staff experience in a range of government-run or supported spaces, including libraries, parks and rec, transit stations, and public safety facilities. For example:
Public address systems

are crucial for broadcasting announcements and emergency alerts throughout a facility. High-quality audio ensures these messages are clearly heard, even in noisy environments.

Digital signage

can

provide

wayfinding, display real-time information visitors need, and

showcase

interactive maps, local information, or historical facts about the area. You can also use digital signage to display interactive content or integrate with social media to enhance engagement.

Interactive displays and kiosks

allow visitors to

purchase

tickets, plan their visit, book facilities, learn more about services, or

provide

feedback. This reduces queues and reliance on staff, enhancing operational efficiency.

Projection mapping

brings buildings and objects to life, telling stories or

providing

additional

information in a visually captivating way.

Outdoor audio systems

are critical for hosting community gatherings, outdoor movie nights, concerts, and sports events. They can also be used for public announcements or emergency alerts.
Stay tuned for more high-impact AV use cases
Watch the AVI blog for the next post in our series about creating high-impact spaces with modern AV solutions, including:
Healthcare

Sports/Entertainment/Retail

Museums
Want to get notified by email when these posts are live? Subscribe to AVI's blog by scrolling to the footer.
Your trusted AV partner for high-impact spaces
Looking for a trusted partner to create a unique experience in a government facility? We're AVI Systems, the largest global AV systems integrator and a leader in high-impact audiovisual solutions for nearly 50 years. With our proven process and experienced team of experts, we've successfully moved dozens of government projects from initial concept to final implementation.
©AVI Systems, Inc., 2023